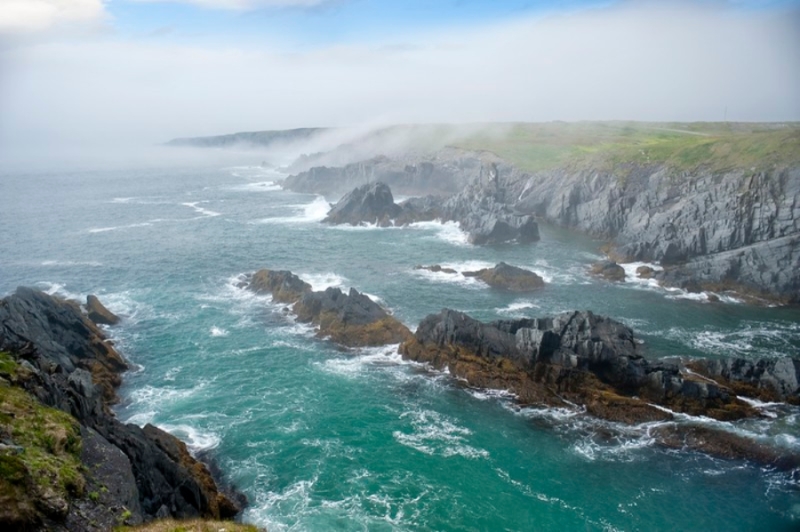 Monday 11 May 1863 Total Wreck of the Anglo Saxon, 237 Lives Lost
(The 'S.S. Anglo Saxon' left County Londonderry on 17th April 1863 and the Mersey the day before (16th Apr.). She had on board 84 crew and 360 passengers.)
The melancholy news reached us by telegraph on Saturday morning that the splendid screw steamship 'Anglo-Saxon', Captain Thomas BURGESS, which left the Foyle on the 17th April for Quebec, was totally wrecked off Cape Race on the 27th April, when, dreadful to relate, 237 lives were lost.
The Anglo-Saxon was a fine and favorite vessel of 1,123 tons, built on the Clyde and launched at Dumbarton in 1854. She sailed from the Mersey on the 16th of April for Quebec and Montreal (the "pioneer" vessel of the Canadian trade direct for the summer season) and from the port of Londonderry on the succeeding day. It would appear that, when off Cape Race, where it was probably intended to land the latest telegrams, the vessel encountered one of those dense fogs, which are so common off the banks; for we learn by telegram that she was wrecked 4 miles East of Cape Race, at noon of the 27th during a dense fog.

The deck broke up an hour after the vessel struck and Captain BURGESS, part of the crew and a great many passengers who were on deck when the vessel sunk in deep water were all lost. The crew and passengers numbered 445 persons, of whom 187 are known to have been saved. It is barely possible that some others, may also have been rescued, for we read that 2 of the steamer's boats and raft, which left the vessel, have not been heard of, but a search is being made for them.

The 'Times' correspondent states that steamers have been despatched to the scene of the disaster with the hope of rescuing any of the survivors who may have taken to rafts or boats belonging to the steamer, which have not yet been heard from. A despatch from the mail officer, dated the 29th, states that all the mails are lost and that 237 lives are lost, out of a total of 445 souls.
We have received from our own correspondent in Liverpool, the following list of passengers who joined the Anglo-Saxon at Derry;
Matilda GANLEY 27, and one child
James KIRK 21
Robert BRUCE, 20
Hamilton MAGEE, 20
Edward KERR, 20, wife and 1 child
Wm. JOHNSTON, 20
Mary KEANNY, 20
Alice STEWART, 20
John KEELY 22
Daniel FERGUSON, 21
John MEANEY, 28
Daniel COULTER, 28
Mary COULTER, 20
Catherine EARLY, 20
Bernard EARLY, 21
John MORROW, 28, and wife
Marjorie MORROW, 20
John CARROLL, 35
John REIDY 26, and wife
George ATKINSON, 20
Robert ATKINSON, 18
Ellen ATKINSON, 22
Jos. EAGAN, 30
Mary EAGAN, 48
Wm. ROGERS, 19
John M'NALLY, 20
Francis M'DONALD, 18
Peter NOLAN, 30, wife and 2 children
Peter WATSON, 35
John DAVISON, 23, wife, and child
Thomas POWER, 21
Mary A. ADAM, 18
Martha RIMP, 17
Francis GORNLEY, 30
Patrick GORNLEY, 18
Anne GORNLEY, 18
Samuel COTTER, 22
William GLOVER, 48, wife and 7 children
John M'CREW, 25
Alexander STOREY, 22
Thomas M. CORNBRIDGE, 20
James A. DIREA, 20
James FINLAY, 21
Rose A. GARTIN 19
Sarah SMITH, 28
Charles M'CLOSKEY 21
David DINSMAN, 31
Daniel GERAHTY, 30
James MURTAGH, 30
C. CRAWFORD, 50
Mary BINNEK, 22
Margaret BINNEK, 25
Mrs. BLACK
George BLACK
Ann ORR
John LIVINGSTON
Samuel MENCE, 25
Peter CRUMPLIN, 23
John WRIGHT, 30
Peter CONAGHER, 42
Margaret FERNIE, 25
James BARKLEY 30
Peter M'MILLAN 36
Thomas ANDERSON, 22
John SMALL, 21
Rose WINCH, 25
Catherine CAMERON, 27
Rose BELL, 27
Michael DAVIES, 41
Hugh STRACHAN, 50
Samuel MORGAN, 82
M. HENDERSON, 21
Rose JAMIESON, 36
Louisa GIBBS, 30 and 2 children
John NORMAN, 21
W. S. FINLAY, 25
Angus M'LANE 22
F. MACKENZIE
Robert PARKER
In publishing lists of those who were saved, we would impress upon our readers the fact that names sent by telegraph are frequently misspelled and often become wholly unintelligible by the transposition of a letter, or the substitution of one letter for another. It is therefore possible that some whose names do not appear amongst the saved, may nevertheless, have been rescued and until full and accurate lists are published, it will be unwise of those who had friends on board, to give way to utter despondency, at the same time with the fearful fact before us, that 237 lives have been lost, it is only too certain that many a household will be plunged into mourning.
Thirty-three cabin, 103 steerage passengers and 21 of the crew were saved.

The following are the names, as reported by telegraph, of the cabin passengers saved;
The Hon. John YOUNG and family.
Females-
HOPE, BETRAM, INGLIS, KEERWOOD, STODDARD, CHRETIEN, WRIGHT, JAMES, JACKSON, and child.

Males-
CALDWELL, RATON, KIRKWOOD, CHRETIEN, TOWERS, KIRKNESS, FRAZER, MARTIN, SEALY, WHITES, Captain REED, HILES, CASSIDY, Lieut. SIMPSON

Amongst these names are some which will be recognised by our readers. The Mr. MARTIN mentioned is Mr. John MARTIN jun., son of John MARTIN Esq., Killyleagh. The Mr. KIRKWOOD is a gentleman of that name who resided on the Falls Road, Belfast and who had his sister with him. Whether that lady was saved is uncertain, but there is at least a hope that it was so, as amongst the females saved we find the name KEERWOOD, which possibly should be KIRKWOOD. The name RATON, it is believed and hoped, is telegraphed in mistake for PATTON; Dr. PATTON, a County Down gentleman and a relative of Robert CORRY Esq., having been on board as surgeon of the ship. It is at all events, probable that he is among the saved.
Out of thirty-three cabin passengers saved, there are but 25 specified. It is uncertain how many of the remaining 8 are included in the family of the Hon. John YOUNG. Amongst the saved we also find the following;
Mr. HART, 1st officer; Mr. Robert ALLAN, 3rd officer; Mr. SCOTT, 4th officer; Mr. James HENDERSON, 4th engineer, and Mr. GREEVE, the mail officer.

The following is a list of the steerage passengers saved from the Anglo-Saxon; PARKER, PASONS, SAINT MARIE, COLLOGAN, DALTIE, COOTH, FLECK, FERGUSON, CALLAGHAN, PAUTRO, WILPOLIN, GEORGE, WOOD, STANLEY, NAGLIES, LAHU, BARBOUR, COULTER, FINLAY, MORGAN, ROOKE, LLOYD, FURRIO, JONES, GRIFFITHS, CHURCHARD, WICKETT, BURROW, NANCE, BLOCK, JONES and wife, FIDELIS, JONES, LOUBRER?, BARCLAY, JAMIESON, SMALL, BISHOP, GOURLEY, CORDER, MacKILLAREY, JOHNSTON, BUSSMAN, REID, HOWELL, MACKAY, MURTAGH, GARETTY, CHRISTIANSON, DAVIES, TUPPER, M'NEILLY, ATKINSON, CHRISTIANSON, REES and child, TOWNSEND, DAMSELL, CROSS, CRONEW, BERRY, CRAWFORD, GOURLEY, and child, Christiana BROWN, Elizabeth WOOD, DANCE, POLE, HARRISON, WALTER, BRUCE, JONES, WAMLEY, Mary Ann THOMAS, Mary Ann ADAMS, Mina CHRISTIAN, Jessie CHRISTIAN, Mary WALDRON, Mary LENWICK, Martha LENWICK, Maggie LENWICK, Ann GORMELLEY, Jane COTTON, Mary RALSTON, Ann STEVENS, Mary CALLAN, Mary CALLINGHAM, Alice STEWART, Mary KENNY, Fanny M'KENZIE, Mary REED, Jane WALKER, Ellen RYAH, Sarah SMITH, Kate EARLY, Margaret EVANS, Sophia DANES and child, Eliza GRATY and 2 children, and 2 children unknown.
It has been ascertained that all the mails and 237 lives were lost in the Anglo-Saxon. The New York journals say the terrible disaster to the Anglo-Saxon would most undoubtedly have been avoided, but for the unaccountable refusal of the British Government to permit the Associated Press, the New York underwriters, the Transatlantic Steam Company and other parties in New York, to place one of Daboll's powerful air-trumpets at Cape Race, which could be distinctly heard in foggy weather from 6 to 10 miles at sea and would save millions of property and hundreds of lives.
The Anglo-Saxon and cargo mostly were insured in London at £12 on the hull and 12s. on the cargo. She was an iron steamer of the first class. We have made inquiries from the Belfast agents, Messrs. CHARLEY & MALCOLM and find that most fortunately, only 3 steerage passengers were booked by them for the Anglo-Saxon. They were humble people from the neighbourhood of Belfast, but their names have not been ascertained.
As a general rule, a very large number of steerage passengers are booked by this firm for the route from Derry to Quebec and for the next sailing numerous passages have been already taken. We have thus collected all the particulars that we can for the present to be ascertained as to this most lamentable shipwreck. Probably the next arrival will bring further details and accurate lists of the saved; but further papers that have reached us by the 'Arabia' contained no fuller intelligence.
Transcribed by Teena from the Belfast Newsletter
Loss of the Steamship "Anglo Saxon"
The Montreal Steamship Company's iron screw steamer 'Anglo Saxon', which left Liverpool on the 16th of April for Quebec and Montreal, was wrecked four miles east of Cape Race on the 27th ult., during a dense fog. This vessel carried mails for Canada and the United States, and had on board 84 of a crew and 360 passengers, making a total of 444 persons. Of this number 187 have been saved, but all the others (257 it is believed) have perished. Seventy ­three persons escaped. on spars and the others in boats. The vessel struck upon a rock and the deck broke up in about an hour afterwards. This com­pany has been very unfortunate in the loss of vessels, as the Anglo Saxon is their sixth which has been wrecked since 1857. In order to make short voyages, the commanders of steamers are much too reckless in hugging the dangerous North-eastern coast, and running too fast during fogs. (The Scientific American Vol. 8 1863)
Clam Cove, nearly 4 miles N. by S. E. of Cape Race, is the outlet of a shallow stream. In this cove were buried the remains of the 240 passengers drowned in the SS Anglo Saxon; a neat fence and inscription marks the place. In ordinary weather, boats can land here safely. Between this cove and Cape Race the coast is cliffy and broken, with here and there, a small cove where a boat might land in favorable weather. (from the book "Newfoundland and Labrador: The Coast and Banks of Newfoundland and the Coast of Labador, from Grand Point to the Koksoak River, with the Adjacent Islands and Banks")