Please note – this is a page in progress and if you would like to add information, or biographical sketches, of one of your 'Artistic Ancestors', please contact Teena 4theloveoftyrone <at> gmail.com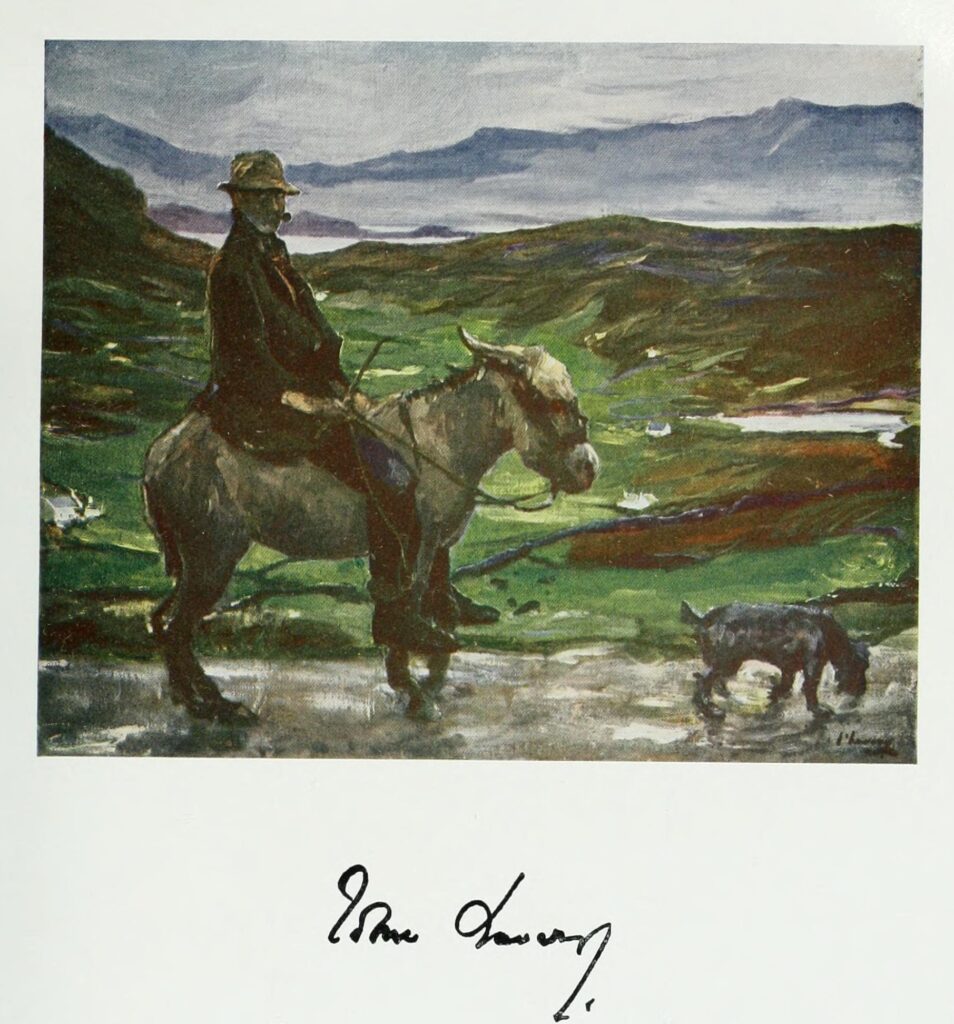 The following list was drawn up by a subscriber (D. J. O'DONAGHUE of Dublin) and sent to the Ulster Journal of Archaeology in 1895. He was interested in expanding the list of Ulster Artists that he had compiled. These are those names. "I have drawn up a list, a very rough and incomplete one, from the multitudinous notes in my possession of artists, who were either born in the North, or probably practised there."
transcribed by Teena from the source mentioned.
ATKINS James
ARMSTRONG R.W.
BOYNE John
BLAKELY N.
BAYNES T. M.
BATT Wm.
BELL John
BURGESS J. H.
BEATTY F. S.
BRADSHAW G.
BRISTOW W. H.
CLARKE David
CLOSE S
CLOSE S. P., A.R.H.A
CAMPBELL J. H.
CUMING W., R.H.A.
CHESNEY John
CLASSON J.
CRAWFORD E., R.S.A
CRAIG Wm.
COLDWELL W. F.
DUFF John
DUFF T. G.
DOBBIN John
ELSAM Richard
FOWKE Capt. F.
FOWKE Thos.
FOWLER T. T.
FLINTOFF T.
FOLINGSBY G. F.
FRAZER Hugh, R.H.A
GIBSON Wm.
GOODMAN Thos.
GRAHAM Henry
HAMILTON N. E.
HAMILTON D.
HAMILTON John
HAMILTON James
HAMILTON Robt. & Gideon
HENDERSON James
HUNTER Robert
HOUSTON Richard
HOUSTON H.
HAWKSETT John
HAWKSETT Samuel
HEFFERNAN James
HANNAH Robt.
HOOKE R.
HARPUR H.
JOY Arthur, R.H.A
JOHNSTON J.
JOHNSTON F., P.R.H.A
JOHNSTON Richard
JOHNSTON Samuel
JACKSON J. F.
KEELING John
KIRK Thomas, R.H.A
LAMONTE Miss E.
LECKIE Mrs
LANYON Sir C., R.H.A
LAVERY John *
LIVINGSTON John
LYNN John M.
LYNN S, F., A.R.H.A
LYNN W H., R.H.A
CLEAVE Stewart M.
DOWELL P., R.H.A.M.
MANUS Henry, R.H.A
MOORE Jas., H.R.H.A
MAGUIRE J. R.
MACKAY Wallis
MURRAY Jas.
MURRAY J.
MURRAY Wm., R.H.A.
M'CORMICK A. D.
M'CONNELL Wm.
M'GAHEY J.
MARSHALL Miss
M'CLOY Samuel
MACARTHUR Blanche
MILLAR J. W.
NAIRN G., A.R.H.A
NICHOLL Andrew, R.H.A
NICHOLL Wm.
NIXON W. C.
NIXON J.
NEWELL Hugh
ORR John W.
PERRY P. R.
PHILLIPS _(?)
ROOKE R.
ROSS W. C.
ROSS J.
ROBERTSON Walter
ROBINSON Thos. *
RUSSELL J. J., R.H.A
RICHARDSON Daniel
STANNUS A. C.
STANNUS Hugh
SEMPLE Geo.
STEWART R.
STIRLING Wm.
THOMPSON John
THOMPSON Wm.
THOMSON T. C., R.H.A
THOMSON Hugh
TROBRIDGE Geo.
TEMPLETON J. H.
TALBOT Hugh
WARRINGTON Robt.
WARRINGTON Thos
WILSON J.
WILLIAMSON B.
More on the above-mentioned names;
*Sir John LAVERY R.A, R.S.A, R.H.A born Belfast 1856-1941
*John THOMSON, engraver, Belfast
*Thomas ROBINSON, painter, Belfast
In 1801 Thomas ROBINSON, a pupil of Romney settled in Belfast, where he lived till 1808. He was patronised by Dr Percy, Bishop of Dromore and painted several of the portraits exhibited. Thomas ROBINSON was President of the Society of Artists, Dublin, and died there 1810.
For anyone who wanted to become an artist, the following may have been where they went to learn.
The Dublin Society was founded in 1731 and was incorporated by royal charter in 1749, having for its object the promotion of the useful arts and sciences in Ireland, including agriculture, the Fine Arts, botany, and natural history.
The Dublin Schools of Art were established in the year 1749 and were called the 'Drawing Schools' of the Dublin Society. From the date of their establishment, they received an annual grant from the Irish Parliament of £500, which was continued for 105 years. In 1849, an additional grant of £500 was made by the Board of Trade upon the amalgamation of the old schools, whose aim was chiefly high Art education, and which, up to this period, had produced many eminent artists, with the newly instituted 'Schools of Design', which had for their object more particularly, the application of Art to manufactures. From the date of the establishment of the schools in 1749, to the year 1849, pupils were admitted to study, gratuitously, on submitting to the committee specimens of their work, evidencing a certain amount of ability. These arrangements continued in force until 1854. (from the Dublin Penny Journal.)
To O'DONAGHUE'S list of artists may be added;
James Humbert CRAIG 1877-1944 – was born in Belfast, to Alexander CRAIG, a tea merchant, and Marie METZENEN.
Edward Montgomery O'Rourke DICKEY born in Belfast
Celia S. HARRISON – born County Down
Paul HENRY – born in Belfast, the son of the Rev Robert Mitchell HENRY, a Baptist minister (who later joined the Plymouth Brethren), and Kate Ann BERRY.
Patrick MacDOWELL sculptor, Belfast, was born in Belfast August 1799, son of a small tradesman who lost all his money in a building speculation. His schoolmaster had been an engraver and encouraged him to draw. Apprenticed to a coachmaker in London, at the end of four years he became the pupil of Peter CHENU, the sculptor and exhibited a bust in the Royal Academy 1822. Entering the Academy Schools he quickly gained a leading position. He was elected R.A., in 1846 in which year was completed his noteworthy statue of Viscount Exmouth, at Greenwich. In 1850, the fine bronze figure of Frederick Richard, Earl of Belfast, now in the Free Library was executed. He continued to exhibit at the Royal Academy up to 1869, when he completed his magnificent group of Europe, for the Albert Memorial and died on December 9th 1870. (from The Town Book of the Corporation of Belfast, 1613-1816)
Photograph source Irish life and landscape by J. Crampton Walker, 1900