This page is a work in progress and if you have information you would like to contribute, please contact Teena.
NEWBUILDINGS is a village in the parish of Clondermot, barony of Tyrkeeran, Co. Londonderry, Ulster. It stands on the river Foyle and on the mail road from Londonderry to Dublin 2½ miles south, south-west of Londonderry bridge. Area 9 acres. Population in 1841, 96. Houses 21. (1846)
Historically Newbuildings (Goldsmiths Town) was in the townland of Ballyorr, and within the London Goldsmith's Company estates. Besides Ballyore, the townlands which Newbuildings now encompasses are; Dunhugh, Gortin, Kittybane, Magheracanon, Primity, Prehen and Rossnagalliagh.
Unless otherwise noted articles are transcribed by Teena from the Derry Journal, Londonderry Sentinel, and Saunders Newsletter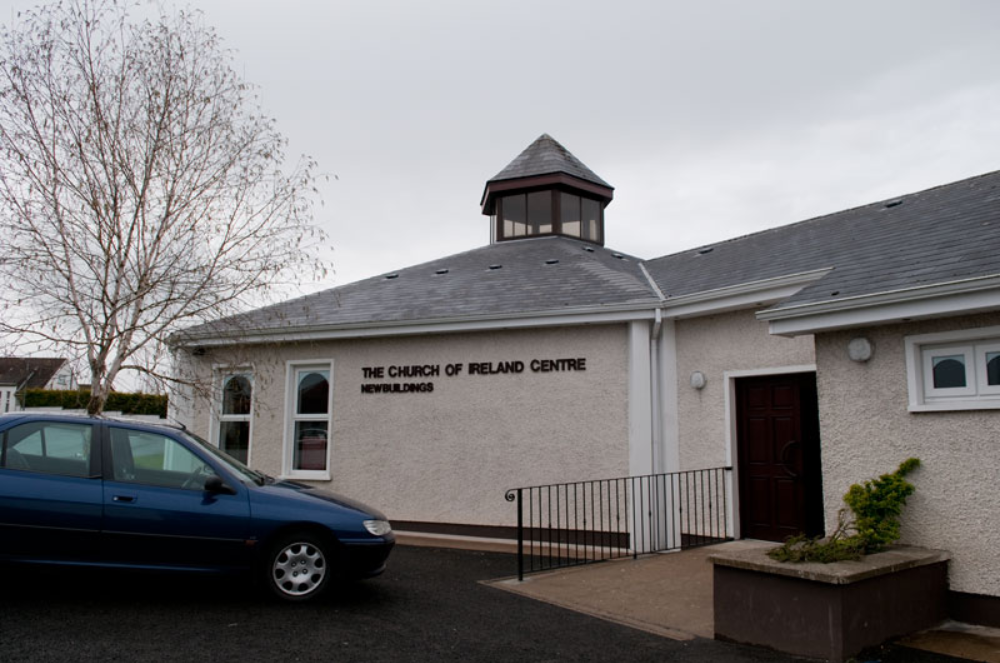 6 Nov. 1838
Leslie ALEXANDER Esq., the proprietor of the Ponsonby estate, gave permission to raise in the Dunhugh, or, as is generally called, the Prehen quarry, stones, to Alex James M'CARRON.
5th Jun. 1849 Parts of the Lands of Leslie ALEXANDER Esq. that are for sale by Auction;
Eastern Division – Altnagelvin, Lisaghmore, Fincarn, Gortree, Drumahoe, Gortica, Lismacarrol, Killenan, Ballynamore, Fawney, and Crossballycormack.
Western Division – Dunhugh, Kittybane, Primity, Ballyore, Magheracanon, Upper and Lower Tully, Clampernowe, Tagharina, Drumagore, Craigtown, Tirkeeveny, Disertown, Cloghore, Drumcoran, Curryfree, Creevdonnel, Carnafarn, Glenderowen and Warbleshinny.
16 Nov. 1855 Valuations by R.H. NOLAN & Co. made in 1848
Ballyore (Ballyoyer) £116 16s.1d.; area 120a 3r. 20p. leased to 2 tenants
Dunhugh (Donhugh) £105 12s. 3d.; area 139a 3r 35p.; let to 8 yearly tenants
Kittybane (Redibane) £134 12s. 9d.; area 211a 2r. 16p. part leased, part yearly tenants
Magheracanon £96 16s. 7d.; area 116a 0r. 22p. Let to 3 yearly tenants
Primity (Tromata) £170 0s. 8d.; area 190a 3r. 14p. part leased, part yearly tenants
Upper Tully £125 5s 4d.; area 161a 2r 8p.
Lower Tully £ 185 18s 8d.; area 195a 1r 11p.
Clampernow £91 13s. 11d.; area 97a 3r. 31p.
Tagharina £104 13s. 1d.; area 121a 0r. 29p.
Drumagor £175 19s 3d.; area 219a 2r. 4p.
Craigtown (or Cregan) £160 13s 11d.; area 243a 2r. 16p.
Tirkeveeny £150 15s. 5d.; area 225a. 2r. 26p.
Desertone £162. 2s. 0d.; area 195a 2r. 7p.
Bogough (or Boga or Bogs) £136 3s. 10d.; area 168a 1r. 28p.
Cloghore £159 14s. 5d.; area 183a 2r. 8p.
Drumcorran £141 6s. 10d.: area 156a 0r. 3p.
Curryfree (or Colrafree) £233 11s 7d.; area 625a 3r. 12p.
Cravedonnell £109 6s. 4d.; area 362a 1r.10p.
Carnafern £153 3s. 2d.; area 346a 0r 24p
Glenderown £73 0s. 9d.; area 135a 0r. 9p.
Warbleshiny £161 6s. 1d.; area 223a 1r. 5p.
21 Nov. 1855 Londonderry Encumbered Estates Court
In re: estate of the official and the creditor assignees of Leslie ALEXANDER, a bankrupt: Owners and Petitioners. The fee-simple estate of the Manor of Goldsmiths Hall, in the half-Barony of Tirkeeran, in the above county, and within 2 miles of the city of Londonderry. (a partial list of the sales)
Lots 5 and 9 were sold, subject to an annuity of £500 for the life of Mrs. ALEXANDER, but lot 9 was indemnified by lot 5.
Lot 1- Altnagalvin, 284a 3r 18p; net profit rent, £259 8s 8½d. Mr. ADAMS purchased for £6,325
2 – Lisaghmore, 292a 2r 14p; nett profit rent, £186 11s 9d. Mr. ADAMS purchased for £4,800
3 – Fincairne, 267a 0r 37p nett profit rent, £19814s 3d. Mr. HUFFINGTON purchased, in trust, for S. GORDON, for £4,650.
4 – Gortree, 328a 0r 7p; nett profit rent, £206 4s 7d. Mr. KNOX purchased, in trust, for the trustees of Henry KYLE, for £4,350.
5 – Drumahoe, Gorticaw, and Lismacarrol, 1,042a 1r 32p; nett profit rent £795 4s. 7d. Mr. H. HILL purchased for £13,500.
6 – Killenan, 358a 1r 5p; nett profit rent, £81 2s 9d, Mr. ADAMS purchased for £3,525.
7 – Ballynamoor, 488a 3r 39p; nett profit rent, £228 12s 8d. Mr. CHRISTIE purchased for £5,525.
8 – Fawney, 292 a 3r 34p; nett profit rent, £147 12s 6d. Mr. CHRISTIE purchased for £4,175.
9 – Crossballycormack, 317a 3r 35p; nett profit rent, £147 12 6d. Mr. SMITH purchased for £4,575.
10 – Dunhugh, 139a 3r 35p; nett profit rent, £101 2s 8d. Mr. COLQUHOUN purchased, in trust, for G. KNOX for £2,300.
11 – Kittybane, 211a 2r 16p; nett profit rent, £102 1s 3d. Mr. COLQUHOUN purchased for £2,550
12 – Primity, 190a 3r 14p; nett profit rent, £124 8s. 3d. Mr. COLQUHOUN purchased for £3,300.
13 – Ballyare, 120a 3r 20p; nett profit, £ 50 11s 1d. Mr. M. P. LANE purchased, in trust, for W. HYNDMAN for £2,550.
14 – Magheracannon, (size is unreadable) nett profits, £92 10s 4d. Mr. COLQUHOUN for £2,150.
Map of some of the townlands https://bit.ly/3cv7oge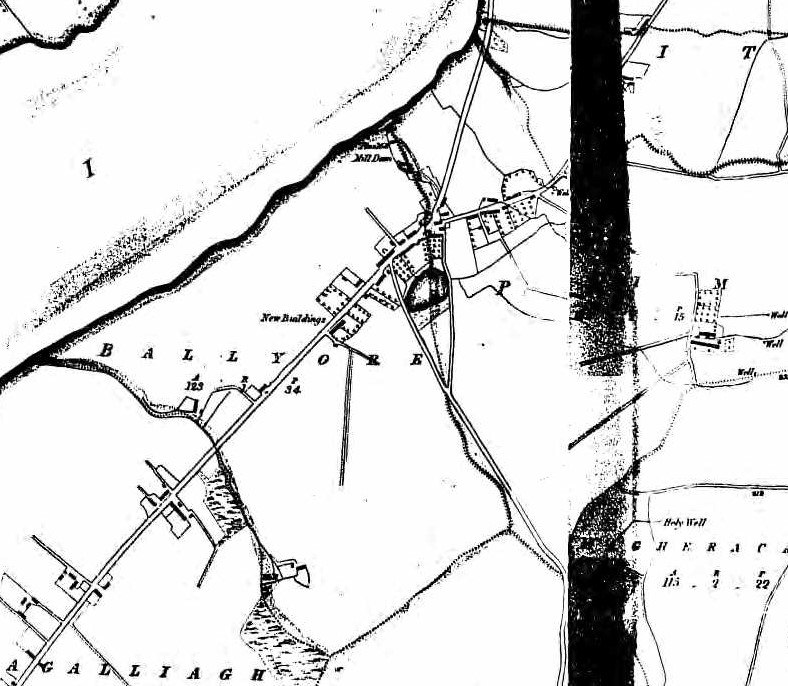 Ballyorr Townland Ballyore, Ballyoyer Ballyore (Ir: Baile Odhar) is 123 acres. A Scutch-Flax mill was located here.
Marriage 2nd Feb. 1793 – Mr SCOTT of Ballyorr to Miss KELSO of Maghrecregan
1831 index to the census abstracts
ADAMS Wm.
BLACKBURN Margt.
CULLION Mary
DOHERTY Wm.
HALL Mary
HAMILTON Jane
JACKSON Geo.
JACKSON Geo.
JOHNSON Arch'd.
JOHNSTON Jane
LOGUE Jno.
LYNCH George
LYNCH Jno.
LYNCH Matw.
M'CONNELL Jno.
M'DADE Sarah
M'GOURK Jno.
MALOY Hugh
MILLS Mary
NIXON Robt.
ORR Martha
SMITH Sarah
STUART Mathw.
WILLIAMSON Sarah
Surviving census fragments and substitutes for 1831-51
noted as Bally Orr in the 1831 census
http://www.census.nationalarchives.ie/help/pre1901.html
1834 Index of the Tithe Applotment Books, Ballyorr
William ADAMS
Joseph CURRY
David HYNDMAN
George JACKSON
William McGLINCHY
Robert NIXON
James ORR
1859 Index from Griffith's Valuation
William HYNDMAN
William ADAMS
Charles CULLEN
Joseph CURRY
Joseph CURRY Jun.
James M'CONNELL
Jane LECKIE
Matilda M'CLURE
Edward PHILLIPS
John NELIS
Robert NIXON
Allan STEWART
Thomas M'GLINCHEY
Robert HAMILTON
William LYNCH
James CAROLAN
Hugh MALLOY
James ORR
Robert M'CORKLE
Cornelius M'DEVITT
Matthew LYNCH
George JACKSON
Griffith's Valuation
http://goo.gl/eUWLJS
The Old Age Pensions Act 1908 introduced a non-contributory pension for eligible people aged 70 and over. It was implemented from January 1909 in England, Wales, Scotland and Ireland. To be eligible, applicants had to be 70 years old, to have an income of less than £31.10.00 per annum and to 'be of good character'.
Some applicants who specified the townland Ballyore
1851 census index from the substitute
Applicant Ellen MAILEY present address P. McMINAMIN, 7 Lomond Avenue, Fairview, Dublin
Father Edward MAILEY
Mother's name Mary Jane McDAID
Name of each family member
Margaret MAILEY
Bridget MAILEY
William MAILEY
Elizabeth MAILEY
Applicant Mary Ann McCONNELL present address Mrs Mary Ann BLEE, 223 Bishop Street, Londonderry
Father – James McCONNELL
Mother – Ann DUFFY
The Irish Law Times and Solicitors Journal, Vol. 27 1894
Advertisements for encumbrances
Pursuant to an Order of the Chancery Division of the High Court of Justice in Ireland made in the matter of Alexander THOMPSON Plaintiff The Londonderry Provident Building Society Mary HYNDMAN, James HYNDMAN and John HYNDMAN Defendants.
All persons claiming to have debts or incumbrancers affecting part of the Town and lands of Ballyorr alias Ballyore alias Ballyoyer containing by estimation 40 acres 3 roods Cunningham measure or thereabouts situate in the Parish of Glendermott, Half Barony of Tirkeeran and County of Londonderry lately in the possession of David HYNDMAN and his under tenants are by their Solicitors to come in and prove their claims at the Chambers of the Right Honourable The Master of the Rolls Four Courts City of Dublin on or before the 16th day of March 1893 or in default thereof they will be peremptorily excluded from the benefit of the said Order Wednesday the 20th day of March 1893 at 11 o'clock in the forenoon is appointed for adjudicating on the claims. Dated this 10th day of February 1893
1901 census Index- addresses all Ballyore, Glendermot, Londonderry

Name / age / Occupation / Relationship/ where born/ marital status
House # 1
John O'DONNELL 45 general labourer, head of family, Co. Donegal, m.
Margaret O'DONNELL 40, wife Co. Londonderry, m
Maggie O'DONNELL 19, shirt cutter, daughter, ", single
Charles O'DONNELL 9, scholar, son ", s.
Bella O'DONNELL 6, daughter, ",
John O'DONNELL 4, son, "
House #2 all born Co. Tyrone
Nancy M'GOWAN 52, housekeeper, head of family, w
Elizabeth M'GOWAN 28, seamstress, daughter, s.
Agnes M'GOWAN 26, seamstress, daughter, s.
Robert M'GOWAN 22, agricultural labourer, son, s.
House # 3 (
Anne M'CARTER 49, seamstress, Head of Family widow Co. Donegal, W.
Rebekah M'CARTER 20, seamstress, daughter, born Co. Tyrone, s.
House # 4 both born Co. Donegal
Michael DOHERTY 50, farm servant, head of family, m.
Jane DOHERTY 55, wife, House Keeper, m.
House # 5 all born Co. Londonderry
Samuel MILLAR 40, Blacksmith, Head of Family, m.
Eliza MILLAR 38, wife, m
Maggie MILLAR 15, scholar, daughter, s
Minnie MILLAR 13, scholar, daughter
Jane MILLAR 11, scholar, daughter
John MILLAR 9, scholar, son
Robert MILLAR 6, scholar, son
Herbert MILLAR 4, son
Florence MILLAR 2, daughter
house # 6 all born Co. Londonderry
Mary M'DAID 64, head of family, widow
Sarah M'DAID 27, farmer, daughter, single
Cornelius F. M'DAID 26, farmer, son, s.
Patrick M'DAID 24, farmer, son, s.
Ellen M. P M'DAID 22, farmer, daughter, s.
House # 7 all born Co. Londonderry
Hugh STRAWBRIIDGE 49, blacksmith, head of family, m.
Maryann STRAWBRIIDGE 46, wife, m.
Mary Jane STRAWBRIIDGE 24, seamstress, daughter, single
Annie STRAWBRIIDGE 21, seamstress, daughter s.
George STRAWBRIIDGE 18, blacksmith, son, s.
Francis B. M. STRAWBRIIDGE 10, scholar, son ,
House # 8 both born Co. Tyrone
William RODEN 86, retired farm labourer, head of family, widower
Margaret RODEN 55, seamstress, daughter, single
House # 9
William NIXON 59, grocer, head of family, Co. Londonderry, s.
Sarah PARKE 69,, sister, Co. Londonderry, widow
Christena Jane PARKE 24, seamstress, niece, Co. Donegal, single
House # 10
John KERR 46, head of family, Co.Tyrone, m.
Catherin KERR 46, wife, Co.Tyrone, m.
Rose KERR 15, scholar, daughter, Derry City, Co. Londonderry
Patrick KERR 14, scholar son, Derry City
Jane KERR 11, scholar, daughter, Derry City
Catheren KERR 9, scholar daughter, Derry City
John KERR 5, scholar, son, Derry City
Neal KERR 2, son, Derry City
Susan MELLON 36, visitor, Co.Tyrone
Mick MELLON 26, boarder, Co.Tyrone
Mary McBERTY 38, servant, Co. Donegal
House # 11 all born Co. Londonderry
Matilda ORR 65, head of family, widow
Annie ORR 35, daughter, single
Robert ORR 33, farmer, son, single,
James ORR 28, farmer, son, single
House # 12
William PHILLIPS 75, retired farmer, head of family, m.
Bridget PHILLIPS 60, wife Co. Donegal, m
Mary DEENEY 38, daughter, Co. Donegal, w
Mary PHILLIPS 13, scholar, grand-daughter Co. Donegal
Sarah PHILLIPS 10, scholar, grand-daughter Co. Londonderry
James PHILLIPS 6, scholar, Co. Londonderry
House # 13
Fanny OSBORNE 60, house keeper, head of family, widow
Robert OSBORNE 25, farm labourer, son, single
Mary Ann OSBORNE 28, factory worker daughter single
Matilda OSBORNE 26, factory worker, daughter, single
Jane OSBORNE 23, factory worker, daughter, single
House # 14 all born Co. Londonderry
James McCLOSKEY 56, general labourer, head of family, m
Eliza McCLOSKEY 54, wife, house-keeper, m,
Kate McCLOSKEY 25, machinist, daughter, single
Mary McCLOSKEY 22, machinist, daughter, s.
George McCLOSKEY 19, general labourer, son, s.
John McCLOSKEY 17, general labourer, son, s.
Susan McCLOSKEY 17, machinist, daughter, s.
Ellen McCLOSKEY 15, scholar, daughter s.
Bridget McCLOSKEY 13, scholar, daughter
House # 15
Samuel BROWN 30, cattle dealer, head of family, m.
Sarah BROWN 27, wife, Co. Donegal, m.
Sarah BROWN 5, scholar, daughter, Co. Londonderry
John BROWN 3, son, "
Kate BROWN 1, daughter, "
House # 16
George LYNCH 35, farmer, head of family, Co. Londonderry, m
Lizzie LYNCH 21, wife, ", m.
Lizzie LYNCH 33, sister, "
John CUREY16, farm servant, "
Annie RODEN 15, domestic servant, Co.Tyrone
Dunhugh Townland – size 138 acres; Population in 1841, 109; in 1851, 66; in 1862 24 males and 29 females;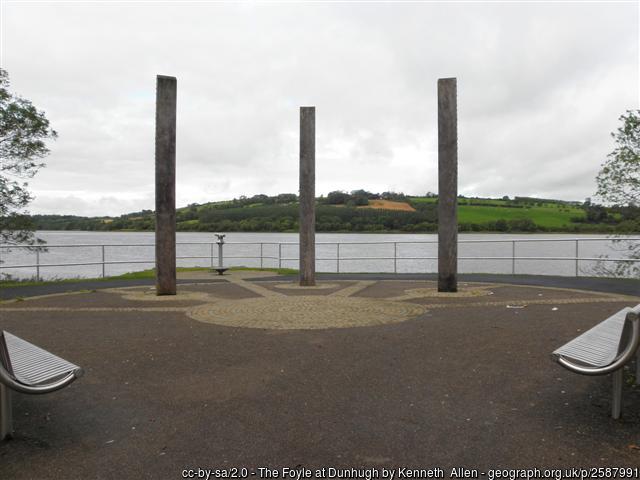 1740 Protestant Household Returns Dunhugh
Thomas BOYLE
John CLEMENTS
William GRIFFIN
Samuel MILLS
James SHAW
John SHAW
Wm. SHAW
Index to the Griffiths Valuation Dunhugh
James ABRAHAM
Joseph CURRY
John DALY
Robert DEVINE
Daniel DUFFY
James LECKY
Michael LYNN
William LYNN
Edward MALLEY
William M'GARRIGLE
Samuel MORRISON
Joseph REA
Ellen WILSON
Gortin Townland is currently 244a 2r. 13p. – Population in 1841, 93; in 1851, 63; in 1862 20 Males and 26 Females;
1740 Gortin Protestant Household Returns
Mr. BRODERICK
John CLERK
Robert GODFRY
James KNOX
Index to the Griffiths Valuation Gortin
William BURKE
Michael DOHERTY
Robert DUNN
Samuel ELDER
James GALLAGHER
William GILGOUR
John GODFREY
John KELLY
John M'CONNELL
George MOORE
Daniel RODDY
John TOUCHE
Kittybane Townland (Kittyban) currently 210a 2r. 14p. – Population in 1841, 72; in 1851, 75; in 1862, 25 Males and 22 females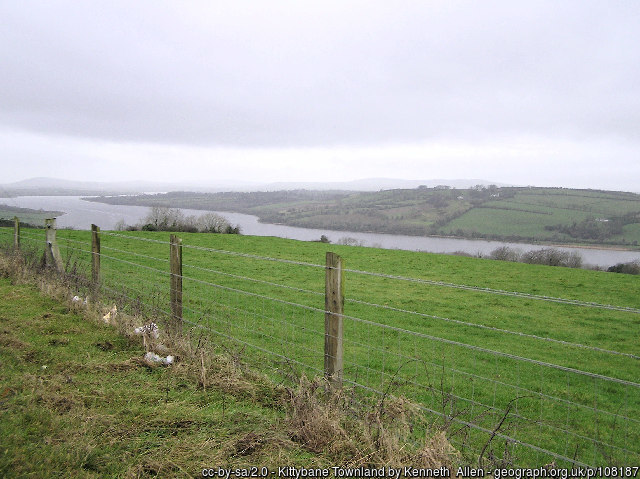 Index to the Griffiths Valuation Kittybane
John CLEMENTS
John COLLINS
Hugh DOHERTY
Samuel HALL
James LYNCH
Michael LYNCH
John MAGILL
James SMYLEY
17 Apr. 1837 -died
At Kittybane, near Londonderry, aged 100 years, Warren MONTGARRET Esq.
3 Jul. 1841 – died
At Kittybane, on the 25th ult. in the 86th year of her age, Sarah, relict of the late Mr. Warren MONTGARRET of said place.
21 May. 1858 – married
May 11th at Second Presbyterian Glendermott, by the Rev. Marshall Moore, John HYNDMAN of Greerstown to Catherine, third daughter of James SMYLY Kittybane.
21 Jul. 1884 – died
July 11th at the residence of Henry ADAIR Kittyban, Robert THOMPSON, late of Lisdillon, aged 75 years.
16 Jun. 1904 Sudden Death
Dr. Thomas LINDSAY, city coroner, held an inquest on Tuesday at Mr. James CLEMENTS house, Kittyban, near Newbuildings, on the body of a woman named Mary ARMSTRONG, who died suddenly on the previous afternoon. Sergeant MILLS, Waterside Station, was present on behalf of the constabulary. Robert ARMSTRONG, son of the deceased, deposed that he last saw his mother alive between 6 and 7 o'clock on Monday morning, when he went to his work. She was then in her usual health. At 3 o'clock the same afternoon he was informed that she was dead. She was about sixty years of age, and a widow. Ellen GERVAIS said she was servant to James CLEMENTS of Kittyban and about three o'clock on Monday the deceased came to Mr. CLEMENTS house for milk, which was her usual custom. She sat down in a chair in the yard to wait for the milk. Witness saw her falling off the chair and ran to her calling for assistance. The woman died immediately. Dr. ELLIOTT deposed that he had examined the body of deceased and came to the conclusion that the cause of death was sudden failure of the heart's action. The jury returned a verdict in accordance with the medical testimony.
Magheracanon Townland (Magheracannon, Maharakeenan) size 116a 0r. 22p. – Population in 1841, 33; in 1851 34; in 1862 12 Males, and 15 Females;
1740 Protestant Household Returns Magheracanon
Robert HALL
William MILLS
John STUART
Index to the Griffiths Valuation Magheracanon
Isabella STEWART
James STEWART
Wesley M'DEVITT
John RAMSAY
11 Oct. 1882 – died
On Saturday, 7th instant, at her residence, Magheracannon, Isabella STEWART, aged 76 years.
8 Sept. 1884 – died
September 5th at her father's residence, Magheracannon, Matilda Mary, youngest daughter of John STEWART, aged 7 years.
30 Aug. 1888 Social Gathering Magheracannon
A social gathering of young children was held in Magheracannon on Thursday evening week, in connection with a reunion inaugurated some years ago with great success by Mr. Joseph M'GOWAN. This year 57 children attended at Mr. M'GOWAN'S home. The children were arranged in processional order and marched, singing, through Newbuildings. After a good march the procession returned to Mr. M'GOWAN'S house, where a plentiful supply of tea and fruit-bread was served out. A good many sympathisers from Derry and elsewhere visited the place of meeting. After a pleasant evening, the meeting was dismissed with the benediction.
19 Jun. 1895 Alleged Stabbing near Derry
Yesterday a married woman named Mary ARMSTRONG was brought before Mr. John IRVINE J.P., charged with having assaulted and done bodily injury to William M'CLOSKEY of Magheracannon, by inflicting a wound on his face. The accused was remanded on bail of £10, and two bounties of £5 each, to appear at the Rural Petty sessions. It appears that M'CLOSKEY and the defendant had an altercation arising through a dispute between the latter and M'CLOSKEY'S wife. As a remit, Mary ARMSTRONG, it is alleged, hit M'CLOSKEY in the face with a knife. The weapon inflicted a severe stab, extending from the eyebrow to the lip and severing a portion of the cartilage of the nose. The injured man was at once driven to Derry by Mr. STEWART of Magheracannon, and was attended by Dr. CRAIG, who stitched the wound. The police were communicated with and Constable MILLS of the Waterside station, at once proceeded to Magheracannon and arrested the accused.
28 Apr. 1898 – married
April 20th by special license, at the residence of the bride's mother, by Rev. T. Lyle M A., Dublin, assisted by by Rev. T. Thompson, M.A. Glendermott, the Rev. David STEWART M.A., Muckamore. son of the late Mr. John STEWART, of Magheracannon to Mary Helen (Nelly), daughter of the late John COWAN Clady Cottage, Dunadry.
23 Apr. 1908 Injury to a Lad
Patrick BOYLE, a servant lad, applied to recover compensation from Robert KEE, farmer. Magheracanon, for injuries received. Mr. W. P. MOODY appeared for the applicant and Mr. W. WILSON for the respondent. The case for the applicant was that the respondent sent him to work at Mr. GLENN'S threshing mill. While there his hand got caught in the machinery and he lost two fingers. For the defence it was stated that Mr. KEE had made a liberal offer to the father of the lad. Evidence was also given to prove that the boy was larking around the machine and was wholly responsible for the accident. His Honour said he must fix compensation and as it was the case of a boy, full wages would have to be allowed for. These, calculated at 8s a week up to date, came to £5 12s, but as it appeared defendant had already given £2 the decree would be for £3 12.s. and a payment of 8s weekly in future until the boy was fit for work again.
Newbuildings 1740 Protestant Household Returns
David ADAMS
John BLACKBURN
Robt. BLACKBURN
Joseph CARR
John CONNINGHAM
Robt. DONNAN
James FORSYTHE
Philip HUGHS
John KEETH
Wm. LOGAN
James MILLS
Adam ORR
Joseph ORR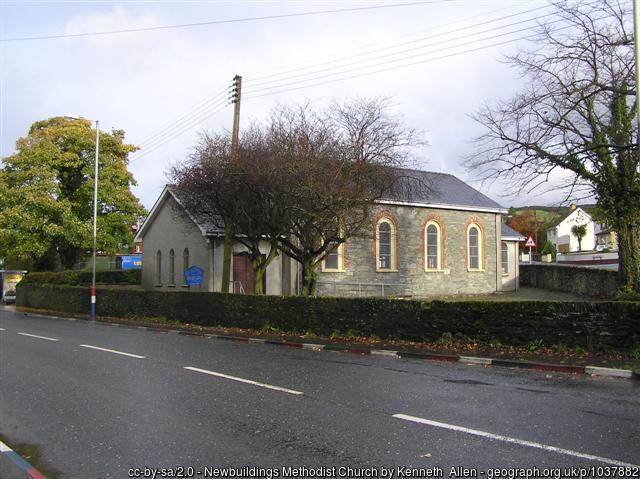 3 Apr. 1830
A man named George ORR who resided at Newbuildings, in this neighbourhood, aged about fifty years, went out on Wednesday morning sow oats and was shortly after found lying in the field quite dead. He has left a wife and family. There is no doubt that his death was by the visitation of God. One of his sons was killed about six weeks since, in consequence of his own horse and cart passing over his body.
26 Dec. 1843 died
On the 7th instant, Mr. John CUNNINGHAM, of New-buildings, age 76 years. The deceased was a member of the Wesleyan Methodist Society. He supported an unblemished character through his life and died very generally regretted. It was in his father's house, about sixty years ago, that the celebrated Dr. Adam CLARKE preached his first sermon.
10 Jan. 1849 – To the Editor of the Derry Journal
Sir – Will you please allow me to acknowledge the receipt of £10 10s., from his worship the Mayor (Alex. LINDSAY Esq.) and £7 from the Rev. Edward M'BRIDE, being the amount of a collection taken up for me and my family, and the proceeds of Temperance tea party, and to return them and to the Temperance friends in general, my grateful and humble thanks for the very kind manner they sympathise with me and my children on the unexpected bereavement of an affectionate and loving husband and father.
Mark LYNCH. Barracks New-Buildings, Dec. 27th 1848
30 Mar. 1864 – died
March 24th at Newbuildings, Coleraine, Elizabeth MURDOCK aged 80 years.
31 Mar. 1866 – died
At Newbuildings, on the 23rd instant. Ann M'LAUGHLIN aged 86 years.
11 Mar. 1875
Mar. 9th at her residence, Newbuildings, Isabella SHERRARD, aged 68 years
10 Mar. 1887 – died
March 7th at Newbuildings, Sarah Blackburn, widow of the late Robert NIXON, aged 88 years. Funeral will leave for Glendermott Church on this (Thursday) morning, 10th inst. at ten o'clock. Friends will please accept this intimation.
21 Apr. 1887 – died
Apr. 19th at Ballyorr Newbuildings James ORR aged 75 years
9 Jun. 1899 – died
June 5th at Magheracannon, Newbuildings, Londonderry, Annie, the beloved wife of Thomas PORTER aged 38 years.
10 Sept. 1901 – married
September 9th Carlisle road Presbyterian Church, Londonderry, by Rev. John Huey, M.A., B. D., Joseph Wilson, eldest son of James Orr STAFFORD, Londonderry to Eliza Mason (Lizzie) third daughter of the late David HYNDMAN, Newbuildings, Londonderry.
24 Dec. 1904 – died
December 24th at her residence, Rossnagalls, Newbuildings, Londonderry, Anne, relict of the late James CRAWFORD. The funeral will leave for the City cemetery on Tuesday morning, the 27th inst. at one o'clock.
7 Oct. 1905 – died
September 30th accidentally drowned in the river Foyle near Newbuildings, Londonderry, James WARD, lighterman, second son of Daniel WARD, St. Johnston. R I.P. His remains will be removed from his father's residence for interment in the Old Burying-ground, St. Johnston, this (Saturday) afternoon, 7th instant, at two o'clock. Friends will please accept this the only intimation.
15 Jul. 1916 – soldiers
Private George CUNNINGHAM, Newbuildings, Londonderry, wounded.
Prehen Townland – Population in 1841, 98; in 1851 75; 1862 30 Males, and 38 Females;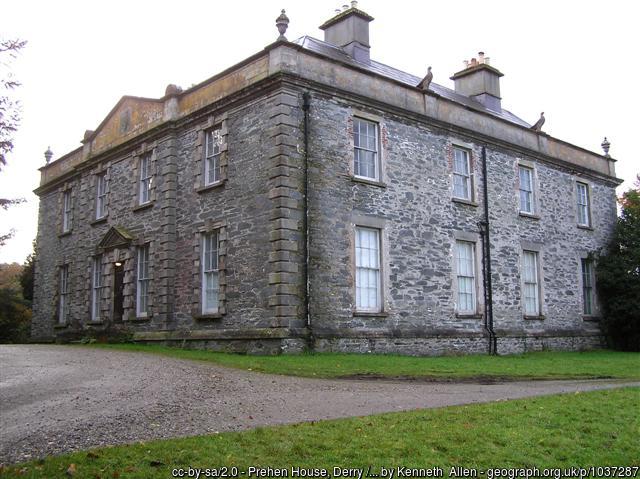 Index to the Griffiths Valuation Prehen
James CROCKETT
William CROCKETT
Patrick CROSSAN
William DALY
William DOGHERTY
William DOHERTY
George KNOX
George LYNCH
Mary LYNCH
Patrick M'INTYRE
Robert M'LOUGHLIN
William MAINSEY
William SMYTH
James TAGGART
Robert WILL
17 May 1823 – died
On Monday, 5th inst. at Strokestown, County Roscommon, in her 76th year, Mrs. Jane KNOX, relict of Colonel KNOX Prehen, Londonderry, and sister of the late Lord Hartland.
30 Apr. 1829
On Sunday last, between twelve and one o'clock, four young men belonging to the water side, went into a crazy old boat, which they found on the beach opposite Prehen, for the purpose of amusing themselves. They had neither sail nor oars, but as a substitute for the latter, they procured two shovels. They had not proceeded far when she began to fill with water, and fearing she would instantly go down, they sprang out, Three of them were fortunate enough to make the shore; the young man who first quitted her, sunk to rise more. His remains have not yet been got.
9 May 1829 – Married
On the 30th ult. in the Cathedral Church of Londonderry, by the Rev. John Olphert, Dominick KNOX Esq. son of Andrew KNOX Esq. of Prehen, Co. Londonderry, to Sarah, eldest daughter of John DYSART Esq. of Derry, and of Mill-End Hall Cheshire (Belfast Commercial Chronicle)
19 Sept. 1835
We, the undersigned, request the creditors of Colonel KNOX, of Prehen, to furnish with as little delay as possible a statement of their several accounts to us, directed to Rev. C. GALWEY, at Prehen, Co. Londonderry
John OLPHERT
Thos. J. ATKINSON
Charles GALWEY
4 Sept. 1840 – died
On the 23rd ult., at Brussels, Colonel KNOX, aged 65, of Prehen, county of Londonderry, Ireland. (Liverpool Standard)
14 Apr.1841 Distressing Accident
An accident of painful description occurred on the road between the Waterside and Prehen, on the evening of Saturday, the 3rd inst., the particulars of which are as follow – A respectable young man of the name of James CUNNINGHAM, a resident at Tully, was returning from Derry with a horse and a loaded cart and when near Prehen Wood, a young woman with a bandbox in her hand, came suddenly on the road from the adjoining field, which startled the horse, which was young and spirited, that he attempted to run away, CUNNINGHAM was walking beside the horse at the time, but had not a hold of the reins, as he had previously fixed them to the cart, and before he could catch them to restrain the animal, the cart came in contact with his shoulder and threw him with great violence to the ground. While lying in this situation, one of the wheels passed over his legs, and, strange to tell, the right leg sustained no injury, while the left was almost crushed to pieces, so much so, that the foot was all but severed from it. In a state of excruciating torture he was carried home on a hurdle, where Dr. BAIRD was promptly in attendance and rendered all the assistance that professional skill could suggest. It is highly gratifying to state that amputation was deemed unnecessary, although the injury was of the most serious kind. Mr. CUNNINGHAM is a young man of the most excellent character and his friends were greatly grieved hearing that he had sustained so dreadful an accident.
2 Oct. 1847 Harvest Home at Prehen
On Monday evening last, the 27th ult., the harvest operations having been completed at Prehen, Captain KNOX, the hospitable proprietor, kindly entertained at his residence, upwards of 70 of his labourers and tenants. The dinner consisted of an abundant supply of roast beef and pudding, and the company were regaled with plenty of ale. After dinner the assembly retired to a large room, which was tastefully fitted up for the occasion, where dancing commenced and was kept up with extraordinary animation and energy during the night. At eight o'clock, the generous and popular host, with his lady, the Misses KNOX, and Miss GREENE, their governess, entered the room, which was the signal for a hearty burst of applause. Captain KNOX then addressed the meeting, saying that he was rejoiced to see them all there, and as long as they they continued the same peaceable and industrious tenantry they had hithertofore been, they would find him a considerate and indulgent landlord. This declaration was responded with hearty cheers. At twelve o'clock a lighted tar-barrel was set down before the hall-door and the night being very fine, the assembly repaired thither, and kept the merry dance for some time, after which they returned to the ball-room and protracted their enjoyments till 6 o'clock in the morning, when they separated for their respective homes highly pleased with the night's entertainment. The company was supplied with tea, fruit and cakes, and while the festive scene lasted, those who chose to drink of more potent liquours, enjoyed the opportunity of indulging their taste 'ad libitum', an indulgence, however, which none curried beyond the limits of decorum and moderation.
15 Jul. 1848 – died
June 24th at his residence, Prehen, Londonderry, Capt. George KNOX
(Limerick Chronicle)
16 Feb. 1866 Assizes Londonderry
John THOMPSON of Dullerton, was charged with assaulting John DUFFY at Prehen, on the night of Wednesday week. It appeared that both the parties had met near Prehen on the night in question, and that the complainant assaulted the defendant, when both began to fight and rolled over each other in the mud on the public road. Both parties, by mutual consent, then ceased fighting, but later in the evening complainant was severely beaten on the road, but he would not swear that his assailant was the defendant. No evidence being forthcoming against the defendant, the case was dismissed.
25 Jan. 1867 The Foyle Frozen
Your readers will surprised to learn that such is the intensity of frost in this neighbourhood that, Friday last, the 18th, parties crossed the river Foyle, opposite Prehen, about a quarter of mile above the New Bridge of Derry and where the river measures a quarter of a mile across. On yesterday (Sunday) some hundreds of parties crossed and re-crossed the river at the same place. This event is unprecedented since 53 years ago and it is remarkable that then, on the same day of the month of January (the 18th) the river Foyle was first crossed on the ice, collected by the severe snow storm of that year, when three fourths of the old wooden bridge was curried away. In 1814, however, parties able to cross the river so far down as Pennyburn a mile below the town, many of the adventurers being on horseback; but at the present time the river below the bridge is not frozen over, but studded with masses of broken ice. During the storm of 1814, it is recorded that the crew of a Swedish vessel, anchored at Derry quay, killed or captured no less than 150 eels in a single tide. They were in a torpid state, owing to a severe frost. A similar year of intense severity was experienced in the year 1739. At present a ground thaw has set in, and the masses of ice in the river are all in motion. (Tyrone Constitution)
13 Mar. 1867 – died
At Prehen, on Friday the 8th March, Mary the beloved wife of William MENZIES, aged 54 years.
24 Nov. 1877 – assizes
Robert WRAY, who stands charged with having dangerously wounded a man named M'GOWAN, by stabbing him in the throat at Prehen, on the 14th inst, was brought up on remand on Thursday before Captain STOKES K.M., who, after hearing additional evidence in support of the charge, granted a further adjournment of the case until Thursday next. M'GOWAN is now out of danger. (Northern Whig)
5 Nov. 1878 – married
Oct. 31st at Glendermott Church by the Rev. Canon Babington, rector of the parish, William, eldest son of Mr. Wm. GRAHAM, Ann Street, Londonderry, to Margaret, second daughter of the late Mr John M'INTYRE, Prehen.
29 Apr. 1879 died
April 25th at his father's residence, Prehen, Londonderry, John James KAVANAGH, aged 4 years.
16 Sept. 1879 died
September 18th at Prehen, Londonderry, Madge M'CAFFERTY
6 Oct. 1881 Deplorable case of Drowning on the Foyle
Two young men named M'DAID and LOGUE were drowned on Sunday last in the River Foyle, about one mile from Londonderry. They had pulled up the river in a jolly boat and put in at Prehen Wood, where, having got a bush, they placed it in the prow. They then allowed the boat to drift with the wind and tide, the bush answering the purpose of a sail. By some mishap the boat was capsized and the two occupants drowned within a few yards of the shore. M'DAID was the son of a respectable widow woman, residing in Bishop Street (without). LOGUE was the son of a decent man of that name, who is employed at the Morecambe Wharf. Both young men were about 18 years of age. M'DAID was apprenticed to the gas-fitting business. LOGUE had been working on board a steamer and later was engaged in employment on the railway. (Ballymoney Free Press)
14 Oct. 1881 Pehen Road – To Let
To let and immediate possession given, the house at Prehen Rd. facing the Bridge, at present occupied by Mr. CREED, who is leaving Derry. The house is in first-class condition. Apply to Thomas M'CULLY corner of Spencer rd. Waterside, Derry.
28 Dec. 1883 died
December 23rd at his brother's residence, Prehen, James SMYTH, aged 51 years.
28 May 1884 died
May 26th at her residence. Prehen, Mary, relict of the late James LYNCH, aged 72 years. Her remains will be removed for interment in Ardmore burying-ground, this (Wednesday) morning, the 28th inst., at ten o'clock. Friends will please accept this the only intimation.
18 Aug. 1888 Sad Fatality
Yesterday afternoon Mr. Thomas LINDSAY, city coroner, held an inquest on the premises of Mr. James CONNOR, Strand road, touching the cause of death of a married woman, aged 70 years, named Anne M'LAUGHLIN, whose lifeless body had been discovered floating in the Foyle, opposite Prehen House, in the early part of the day. A jury having been sworn of which Mr. John DOHERTY was foreman, James M'LAUGHLIN, son of deceased, residing at Foyle view, identified the body and afterwards stated that he last saw deceased alive at his own house about twenty minutes to ten o'clock in the morning. She had been 3 months in the infirmary and was discharged on the previous day. It was for weak turns that she was in the infirmary and complained that morning of a severe pain in her side.
Bridget M'LAUGHLIN, Fahan street, said she was up Prehen road about 11 o'clock and was engaged gathering rack. (rock?) She saw the deceased coming down a lea field on to the shore. She passed witness and sat down on a stone under a bush. Afterwards witness went past where deceased was sitting. She then arose, took off her cloak and her clothes, and threw herself into the river off a rock.
Edward BROLLY, Simpson's brae, said he was sitting in a field on Prehen road, when he observed something floating in the river, and went down to the beach. He then saw what he supposed was a man or a woman in the water, and threw off his clothes and went in. Robert GRAY threw him a piece of a rope, and he put it round the body, but it slipped off. The body then went further out in the river towards the channel and he could not reach it. He then went to the Foyle Fishery and got a boat and brought the body ashore. At the time he attempted to draw out the body with the rope he believed the woman was dead. When the body was found the deceased had on her petticoat, stockings, one boot, cap, and a handkerchief about her neck. One boot fell off when she was being brought out. The coroner re-called the deceased's son, and questioned him as to the state of the woman's mind. He replied that he had never known anything wrong with her mind. She always lived on the best of terms with the family, and he had never known her to take drink during her lifetime. The jury returned an open verdict, to the effect that Anne M'LAUGHLIN was found drowned in the river Foyle, opposite Prehen, on the 17th August. It may be stated that after the body was found, it was taken charge of by the constabulary at the Waterside, who had it conveyed to the morgue. During the proceedings of the inquest, the coroner, with the object of ascertaining the state of mind in which the woman left the infirmary, despatched a constable for the house surgeon. The constable returned with the intelligence that the house surgeon was absent.
27 Dec. 1890 died
At Prehen, Londonderry, on the 22nd inst. Isaac KAVANAGH
9 Jan. 1892 died
January 6th at her residence, Prehen, Londonderry, Elizabeth, relict of the late Charles GILLESPIE, aged 70 years
15 Mar. 1906 Fatality at Prehen
On Tuesday Mr. Thomas LINDSAY held an inquiry at Dunhugh, Prehen, into the circumstances connected with the death of Mrs. Kathleen Ann MORRISON aged sixty-five years, which oocurred at her residence the previous evening. Sergeant ARMSTRONG, of Waterside Barrack, represented the constabulary.
Samuel MORRISON, husband of the deceased, stated that the last time he saw the deceased alive was about six o'clock on Monday evening. At the time she was milking a cow in the byre, when another cow knocked her down. He lifted her from under the cow, but she never spoke. Dr. BROWNE deposed he was called to see the deceased about nine o'clock. On his arrival life was extinct. On examination he found a lacerated wound on deceased's left leg about eight inches long and a vein burst and torn. There was also a lacerated wound on the right leg. In his opinion the cause of death was hemorrhage and shock. The jury found a verdict accordingly and expressed their sympathy with deceased's husband in his bereavement.
Primity Townland size 189a 2r. 15p. – Population in 1841, 149; in 1851, 118; in 1862, 61 Males and 60 Females; a Scutching-flax Mill was located here in 1873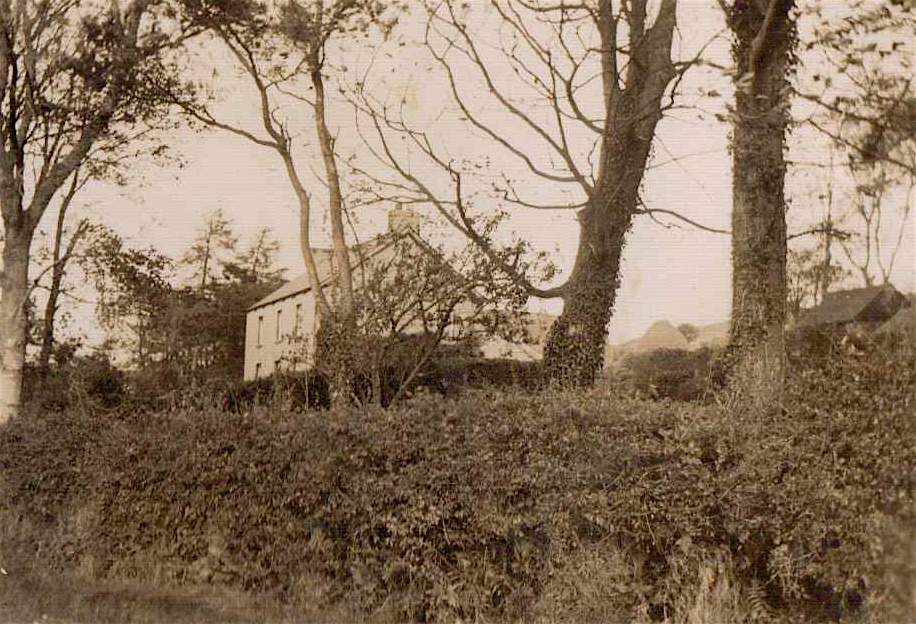 1740 Protestant Household Returns Primity
David MILLS
Widow MILLS
Jacob SPROUL
Samuel SPROUL
Index to the Griffiths Valuation Primity
David ADAMS
William ADAMS
James ANDERSON
Robert ARMSTRONG
John BOARDMAN
Thomas CALLION
Susan COLLINS
Samuel CUNNINGHAM
William DEVANY
Hugh DOGHERTY
James DUFFY
Eleanor FLANAGAN
William HOWARD
Allen LYNCH
Thomas M'CARN
Patrick M'CLOSKY
Thomas M'GLINCHEY
John M'INTYRE
Robert REA
David SPROULE
Martha SPROULE
Samuel SPROULE
John STEWART
Wesleyan Methodist Chapel & yard
22 Aug. 1850 married at 1st Glendermott Archibald SMYTH Clampernow farmer father James SMYTH farmer to Catherine ADAMS age 19 of Primity father David ADAMS farmer witnesses William HANNA, William ADAMS
3 Mar. 1868
Married Feb 25th at 2nd Donagheady Presbyterian church by the Rev. F. J. Porter, assisted by the Rev. John Gilmour, Mr. John M'CORKLE, Drumagore, to Sarah, daughter of Mr. David ADAMS, Primity, Londonderry.
12 May 1876 Derry Rural Petty sessions
Samuel CUNNINGHAM, Primity, charged Eliza ADAMS, in summonses, with having used abusive language to him and with having poisoned five ducks, his property. There was a cross-case, in which Eliza ADAMS charged Samuel CUNNINGHAMwith coming into her house with a loaded gun, threatening to shoot her hens, and then "make away with herself." The Bench, after hearing the evidence, dismissed all three cases.
Mr. BABINGTON appeared for CUNNINGHAM, and Mr. O'DOHERTY for Mrs. ADAMS.
18 Mar. 1878 – died
March 15th at his residence, Primity, David ADAMS, aged 74 years.
(Belfast Newsletter)
24 June 1878 Notice to Creditors and Claimants
In the Goods of David ADAMS late of Primity in Co. Londonderry, Farmer, Deceased. Notice is hereby given pursuant to the Statute and Vic . cap. 35. entitled "An Act to further Amend the Law of Property and relieve Trustees", that all persons claiming to be creditors, or otherwise to have any claims, or demands, against or affecting the Estate the said David ADAMS, desceased, who died 15 March 1878 at Primity, Co Londonderry, are hereby required to furnish particulars (in writing) of such claims or demands to the undersigned, solicitors for James SMYTH, in the Co. Londonderry. Farmer, one of the Executors named in the Will of the said David ADAMS and whom Probate thereof was permitted 30th day of April 1878
5 Dec. 1878 – died
December 3rd, at her residence, Primity, Sarah, the beloved wife of Mr. John M'CORKELL aged 35 years, much and deservedly regretted. Her remains will be removed for interment in Grange Burying-ground tomorrow (Friday) morning, ten o'clock. Friends will please accept this intimation.
26 Jan. 1883 Accidental Death at Primity, near New Buildings.
Mr. Thomas LINDSAY, coroner for the district, held an inquest in the townland of Primity, near New Buildings, on Wednesday, relative to the death of woman named Margaret ADAMS, said to be eighty years of age. The deceased had lived alone in a house on the roadside and supported herself by washing. On Monday evening two men, William KINCAID and Edward CLIFFORD were passing by the house and observing the clothes in the process of washing scattered about and the door of the house open, they entered to learn what the cause of the disorder might be. The house was dark and on lighting a match they found the woman lying on her bed, in an unconscious state. There was a little blood on her jaw or side of the face. They went the Waterside and apprised Dr. ELLIOT, dispensary medical officer of the district.
A man named James SMITH also went into the house about nine o'clock on Monday evening, and saw the deceased in the condition described. He came back several times and saw her attended to between that time and the hour she died, which was about ten o'clock on Tuesday night. Dr. ELLIOT stated that he saw deceased on Tuesday morning. She was then in an unconscious state, suffering from compression of the brain and fracture of the skull. There was a small wound above the right temple over the seat of the fracture. From the appearance he concluded that the injury had been caused by a fall on a sharp stone. He had had her under treatment shortly before for giddiness in the head. The jury found that the woman died from a fracture of the skull, caused by falling on a stone.
26 Jan. 1883
January 23rd at her residence, Primity, Margaret ADAMS.
31 Aug. 1877
August 28th at Primity, Catherine, the beloved wife Mr. David ADAMS. (note of transcriber- these are my ancestors and Catherine's maiden name was ROBINSON)
Rossnagalliagh Townland (Rossnagalla, Rossnagallagh) "point or wood of the nuns" – size 205a, 1r, 25p – Population in 1841, 130; in 1851 113; in 1862 38 Males and 55 females; in 1881, 89; in 1891, 87; in 1901, 57.
A Scutching-flax Mill was located here in 1873 and the topographical Dictionary of Ireland by Samuel Lewis in 1837 reports on Glendermott, that Ailid ODERMIT founded a nunnery at Rossnagalliagh in 879, of which some traces remain.
Index to the Griffiths Valuation Rossnagalliagh
Samuel ADAIR
Robert ALLEN
John BROWNE
Mary BROWNE
Patrick BROWNE
Elizabeth CAMPBELL
John CLEMENTS
John COYLE
James CRAWFORD
William CULLEN
James GLENN
Mary GOULDING
Robert HANNA
John MOODY
National School-house
Joseph ORR
Hamilton SMYTH
Samuel TORRY
Patrick WARD
Thomas WILSON
Andrew WOODS
25 Mar. 1845 the Honourable Irish Society – Expenses of schools
School-master Glendermott Church-yard – £5
Glendermott Old Church-yard school donation – £5
Prehen Schools – £10
Teacher Rossnagallagh School Margaret M'NAMEE – £1 5s.
31 Mar. 1858 the Honourable Irish Society Donations to schools
Date of Original Grant 1845 – teacher of Rossnagalliagh School – Margaret CURRY £10
Date of Original Grant 1854 – Rossnagalliagh Wesleyan Methodist School £10
Date of Original Grant 1857 – Rossnagalliagh newbuildings Sunday School £5
9 Aug. 1865 Tirkerran Farming Society awards
For the best crop of flax
1st Mr. Henry GILLESPIE, Longfield
2nd Mr. Henry THOMPSON Aughtaugh
3rd Mr. Wm. THOMPSON, Donnybrewer
4th Mr. James CRAWFORD, Rossnagallagh
8 May 1876 – died
May 6th at Rossnagallagh, John WARD
14 Jan. 1881 The Irish Society and Their Tenants
We have been with furnished with the subjoined particulars touching the relations of the Society with some of their tenants. For a body holding property in trust for the benefit their occupiers the Society appear to be managing their estates in a singularly high-handed and ungenerous manner. Their action, as detailed below, is hardly calculated to win for them, the estimation of the public, the character of liberal or considerate trustees, and it will scarcely be considered anything to excite surprise should their action as rent-raisers be brought before the House of Commons. The particulars alluded to, so far as we have learned them, are as follow, and refer entirely to the townland of Rossnagallagh, in possession of the Irish Society, and situated near New Buildings. Something over 60 years ago, the rents of the lands of Rossnagallagh were raised by the Society from 2s 6d. an acre to several times that rate. The tenants grumbled at the increase and their complaints reached the Society, who in turn made representations on the matter to the then agent, Mr. David BABINGTON, Grocers Hall and asked him why he imposed such high rents? Mr. BABINGTON held that the rents demanded were not too high, and consented to take a lease of the townland for 61 years at the new rental, which then amounted to £108. The Society agreed. One of Mr. BABINGTON'S first acts was to increase the rental to £150. He offered the tenants leases for 31 years and some lives. The offer was accepted. This was in 1817. Some years ago Mr. BABINGTON'S lease expired, and the Society took the townland into their own hands. Prior to this the leases of some of the tenants expired also, when their rents were raised, one man's from £44 to £64, another's from £25 to almost £33, another's from £21 to £28, and another's from £9 to £11. Further, these tenants were last year served with notice for an additional increase. The notice ran as follows;
The Hon. the Irish Society's Ofiice, Londonderry, November, 1880. Dear Sir
l beg to furnish you with a statement of the rent, due on the 29th September last. I propose attending at this office, on the 1st December next, from 10 a.m. to 5 p.m. and shall be much obliged if on one of the above days you let have the amount stated, either by a credit on one of the Derry banks, or by a cash payment at office. I remain, faithfully yours."
This notice, signed by the agent, Mr. A. C. C PLUNKET is for a year's rent, and was, it is stated, served upon one tenant, whose lease has not yet expired. The new increases are, mentioning the rents in the same order, as above- from £64 to £74; from £33 to almost to £38 17s 6d ; from £28 to over £34; and from £11 to £15 almost. In the first-mentioned case, Griffith's valuation is £50 10s, in the second £29, in the third £20 15s. in the fourth £8 15s. Moreover, the increases are, it is said, wholly because the tenants improvements, as they were not in any way assisted by the Society and have been hard-working, industrious farmers, who have spent large sums of money in building, draining, and otherwise improving their holdings. They have objected to pay the last increases. They have three times offered to pay their late rents, but these have been thrice refused. Prior to the latest refusal (on Monday last) they received a letter, of which, the following is a copy
The Hon. the Irish Society's Office, Londonderry 6th January, 1881. (Rent) Dear Sir
l regret to have to inform you that unless you make prompt payment of the rent due by you to the Society, I shall be compelled to bring your case before the Court, and obtain instructions as to the steps to be taken with regard to recovery of same. Yours truly, Arthur C. C. PLUNKET
"Mr.__ (left blank) Rossnagallagh."
This, as has been said, elicited on Monday another tender of their late rents by the tenants concerned, when their offer was again rejected. What the next step will be remains to be seen, but it is to be trusted, in face of the hardships from the recent unproductive harvests, in face of the great quantities of imported produce and the high price of labour, and in face of the reductions granted by so many landlords to their tenants, that the Irish Society will see fit to be satisfied with the former amounts from their Rossnagallagh occupiers.
2 Sept. 1884 – died
August 29th at his residence, Rossnagallagh, John BROWN, aged 55 years.
8 Feb. 1892 Stabbing Case at Newbuildings
On Friday James M'CLINTOCK and Robert OSBORNE were brought up in custody before Colonel KNOX D.L. and Major BRUCE J.P., at the Mayor's office and charged with seriously assaulting Wm. Alexander LYNCH of Magheramason, at Rossnagalliagh on the 27th January. Sergeant CASEY with Constable MILLS of the Waterside Police station, appeared to prosecute. Mr. P. MAXWELL appeared for the prisoner, Robert OSBORNE and Mr. F. H. MILLER for M'CLINTOCK.
The deposition of the injured man was read over by Mr. SCOTT, clerk of the Rural Petty sessions district. LYNCH was cross-examined by Mr. MAXWELL and denied that he was drunk on the occasion. He said it was very shortly after M'CLINTOCK attacked him that he met OSBORNE. It was probably not more than twenty yards from where he saw M'CLINTOCK first that he met OSBORNE. He was not off the public road all the time. On cross examination by Mr. MILLER, LYNCH said he left Derry that night about eight o'clock. There was a boy named Henry BARR with him. BARR accompanied him up the Prehen road, he could not say how far. He told the boy to go on in front. At that time witness was sitting on the ditch. He only sat about 3 minutes. He sat down to rest himself. He spoke to a man named William M'CLOSKEY at Newbuildings. That was about 9 o'clock. Of course he did not pay particular attention to the time, as he did not know that he would be in court. He was not in a public house with M'CLOSKEY and took no drink with him. OSBORNE'S house was only a short distance off the side of the public road. He met M'CLINTOCK before he got to OSBORNE'S house. Sergeant CASEY asked for a further remand to the Derry rural sessions on Wed. next. Mr. MAXWELL said he did not object to the remand, but asked that his client be liberated on bail. Mr. MILLER made a similar application on behalf of his client. Sergeant CASEY said he did not oppose to the application so far OSBORNE was concerned, but he did oppose bail being accepted for M'CLINTOCK, as the injured man had been stabbed in two places and it was hard to say what might be the result. Mr. MILLER and Mr. MAXWELL reminded the magistrates that the injured man was before them in the flesh giving evidence and while the stabbing might be a matter for increasing the punishment it had nothing to do with the acceptance of bail, as that would be done on the production of a doctor's certificate that the man's life was out of danger. The magistrates remanded the prisoners for trial at the rural sessions, but agreed to accept bail in both cases for each defendant in £20 and two sureties of £10 each.
14 Sept. 1905 Petty sessions
John M'CLOSKEY was charged with stabbing John James HANNA, a farmer, residing at Rossnagallagh.
District Inspector M'HUGH prosecuted, and Mr. P. MAXWELL defended.
John James HANNA, who stated that he was a farmer, residing at Rossnagallagh, said that on the evening of the 2nd he was in Mr. KERR'S public-house at Newbuildings. This was between nine and ten o'clock and he saw Edward DEVLIN, a brother-in-law of the defendant, there. DEVLIN began to argue with him and was put out of the house. Subsequently witness left the house and met M'CLOSKEY at the door. He struck him and they continued to fight to the street, when DEVLIN joined in. They were eventually separated and he went on towards home. He then met M'CLOSKEY, with some others. He asked him why he had struck him and caught him. M'CLOSKEY then struck him on the left side below the arm. He called out, "I'm stabbed". Later on he saw Dr. STEVENSON in Londonderry, who treated him and by his orders he was confined to bed to the 11th.
Robert George ABRAHAM, Dunhugh, gave evidence as to the row between HANNA, DEVLIN and M'CLOSKEY at the public-house. After they were separated HANNA went towards home. Shortly afterwards HANNA returned and said he was stabbed. He accompanied him to Londonderry, and informed the police. About the time HANNA returned, he heard M'CLOSKEY say he had a knife and he swore an oath that he would cut him to pieces when he came back.
David M'CARTER, Samuel M'KEEVER, and Peter M'GLINCHEY gave similar evidence.
Sergeant Luke FEENY deposed to HANNA having made a complaint to him on Saturday night of the stabbing and also having later on, arrested the accused. In his trousers pocket he found a penknife.
This was all the evidence produced by the crown and without evidence being called for the defence, the defendant was returned for trial to the quarter sessions, being admitted to bail, himself in £10 and two sureties of £5 each.
Resource- Rossnagalliagh: A Country School 1839-1977 by Ruth Olphert ISBN-10: 0957239807 ISBN-13: 978-0957239807
sources
Placenames Database of Ireland,
https://www.logainm.ie/en
The Parliamentary Gazetteer of Ireland: Adapted to the New Poor Law Vol. 3 1846
Accounts and Papers of the House of Commons, Vol. 79 and Accounts and Papers of the House of Commons, Vol. 55 found at Google Books https://books.google.ca/