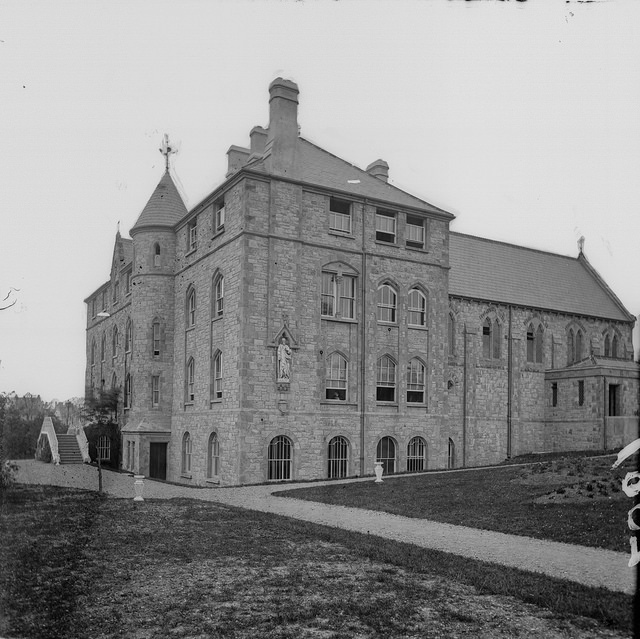 Mother Frances Mary Teresa BALL was called on to found a convent in the North of Ireland at Omagh in the County Tyrone. The undertaking was full of hazard, as the means of the Catholics in that part of Ireland were not quite commensurate to their zeal. However, the foundation was undertaken and although it had, at first, many difficulties to contend with, not the least of which was the very poor accommodation afforded by the house in which the work was begun, it ultimately triumphed over all obstacles and was crowned with a large amount of success.
The first Superior was Mother Felicitas MURRAY, a niece of the great Archbishop and Mary Teresa must have had a special delight in appointing her to so responsible a post. She had soon to build a new and beautiful convent, the erection of which greatly increased the number of pupils and secured the success of the mission. Mother Felicitas remained at Omagh till her death in 1876, having entered at Rathfarnham in 1848 and having been professed in 1851.
from 'The life of Mother Frances Mary Teresa Ball, foundress in Ireland of the Institute of the Blessed Virgin Mary 1881 by Henry James Coleridge
Transcribed by Teena from the Belfast Morning News, Derry Journal, and the Tyrone Constitution, unless otherwise noted.
13 Nov. 1858 Notice to Builders.
Tenders will be received to Wednesday 8th December, for the erection of a new convent at Omagh, according to the plans and specification, to be seen at the Loretto Convent there.
Note- The contractor was Mr. W. DOOLAN of Dublin.
28 Jan. 1859
The laying of the first stone for a new convent will take place on the 2nd of February in Omagh. High mass will commence at 12 o'clock. A select choir will perform some beautiful pieces from Hayden, Mozart and Zuingarelli. At 1:30 o'clock a sermon will be preached by one of the most deservedly popular preachers of our day. Rev. H. HARBISON of the redemptorists, after which the ceremony of laying the foundation stone for a convent, for the education of the rich and poor, will follow, the first of the kind that has been attempted in this diocese since the reformation. It is needless to comment on the immense advantages resulting from such an establishment to this and the surrounding Dioceses, where female education heretofore has been much neglected. It is incredible the amount of good already effected in this locality by those Sisters of the order "Our Lady of Loretto", who devote themselves solely to the training and educating of youth; it only requires to be present at one of their annual examinations to fully appreciate their exertions, for the last three years. The parents of these children confided to their care during that period can bear testimony to the claim this house should have on all classes of Catholics in the North; it is therefore hoped that those to whom this appeal is made will evince their zeal in this cause of education and religion by contributing, as far as their means will allow, to the erection of so useful an establishment. Those who do not find it convenient to attend, will be so good to forward their contributions (as even the least will be most gratefully received) by Right Rev. Dr. KELLY Moville; Mrs. MURRAY, Loretto Convent, Omagh; Rev. M. O'KANE P.P. Omagh; P. KELLY Esq. Omagh. (The Ulsterman)
4 Feb. 1859 New Convent Omagh
The foundation-stone of a new convent was laid on Wednesday last in the ground adjoining the Roman Catholic Chapel of this town and in the vicinity of the line of the Londonderry and Enniskillen railway.
9 Feb. 1859 Terms and Course of Education at This Convent
The course of education comprises orthography, arithmetic, writing, English grammar, geography, history, (sacred and profane.) biography, use of globes, botany, heraldry, philosophy, French and Italian music and singing, (harmonium, if necessary.) flower painting, pencil drawing, plain work, Berlin of every description, chenille and embroidery.
The above taught in the most superior manner to young ladies under 13 for £25 per annum; £1 10s. for washing; 10s. for stationery. Young ladies beyond that age, pension rises to £20. The extras are German language, crayon drawing, flower making, in wax and paper. Peculiar attention is paid to the formation of the mind and manners of the pupil. It is not only an object to impart accomplishment, but also to make them useful and amiable members of society. Conduct at table is particularly attended to, the pupils being at all times under the vigilant eye of at least one Nun. Religious instruction given every day. Dancing taught by a master, at a guinea per set of lessons. Vacation from the 1st Aug., until 8th September. Three months notice before the removal of a child. Pension paid 6 months in advance. Young ladies beyond 13, not learning music, £25 per annum, with the extras for washing and stationery. Should these terms meet approbation, a list of clothes will be sent. Considerable reduction made in favour of Sisters. Loretto Convent, Omagh, Feb. 7 1859.
9 Feb. 1859 Loretto Convent Omagh
(People who contributed towards the erection of a new Convent)
Right Rev. Dr. KELLY
Mrs. J. HARKIN, Omagh
Peter KEEGAN Esq., Belfast
Patrick KELLY Esq., Omagh
Rev. M. M'KENNA, Moville
John GLEN Esq., Coleraine
Mr. HARKIN, Coleraine
Rev. J. O'FLAHERTY, Donagheady
Mrs. HUGHES, Coalisland
Mr. DAVIDSON, Bellaghey
Rev. Dr. O'LOUGHLIN, Vicar-General
Rev. A. ROACHE P. P., Bray
Rev. P. BRADLEY, P. P., Carn
Rev. Peter CONWAYA P. P., Headford
Rev. Dean O'KANE, Maynooth
John MACROSSAN Esq.
Rev John O'DOHERTY P. P., Ballyscullion
Rev. Wm. O'DOHERTY C. C., Moville
John O'NEILL Esq., Derry
Rev. C. FLANAGAN P. P., Coleraine
Rev. E. O'DOHERTY, Magilligan
Rev. M. HUGHES C.C., Beragh
Rev. M. GRUGAN C.C., Tunan
Mr. Thomas QUIN, Omagh
Rev. Mr. HUGHES C.C., Dromore
Rev. W. Brown. Strabane
Rev. W. O'DOHERTY, Strabane
Rev. Mr. M KEAGUE
Rev. P. M'GEE
Rev. Mr. M'KENNA
Rev. D. M'GEE
Mr. Edward TOY, Londonderry
Mr. John KELLY Rathfragan
Mr. DOOLAN, Dublin
Mr. Wm. GALLAGHER, Omagh
Sergeant CAMPBELL, Omagh
Mr. T. SMITH, Omagh
Mr. J. M'DEVITT, Moville
Mr. Charles M'KINNEY, Moville
Mr. M'DONAGH, Moville
Mr. Felix CAVANAGH
Mr. John MEENAN, Omagh
Rev. Michael M'GLINCHEY P. P., Badoney
Mr. Michael M'GINN, Omagh
Rev. J. M'DONAGH C.C., Moville
Mrs. M'CONNELL, Moville
Miss MOLLOY, Ballymoney
Mrs. J. RILEY, Moville
Mr. J. M'KINNEY, Moville
Mrs. P. M'DONAGH, Moville
Mr. J. CANTY, Moville
Mrs. P. M'DEVITT, Moville
Mrs. P. HEGARTY, Moville
Rev. E. M'KENNA, Newtownlimavady
Rev. P. CAMPBELL, Banagher
Rev. Mr. MULLIN, Ballygawley
Mr. James DOHERTY, baker, Derry
Mr. R. M'MASTER
Mr. H. FISER, Newtownstewart
Miss FISHER
Mr. P. M'CAUGHY, Omagh
Rev. Peter BRADLEY C. C., Badoney
Rev. James CONWAY C. C., Cappagh
Rev. Daniel DOHERTY P. P., Cappagh
Rev. J. M'KENNA, Tirmoney
Rev. J. M'LAUGHLIN, Clonmany
Mr. James DOHERTY, Strand road, Londonderry
Rev. J. M'DEVITT P. P., Culdaff
per Rev. M. M'KENNA (subscriptions)
Mrs. MULHOLLAND, Derry
Mr. H. O'NEILL, Derry
Richard KEENAN Esq.
Rev. J. M'CULLOUGH, Castlederg
Rev. F. M'HUGH, Drumquin
Very Rev. Dr. DEVLIN, Newtownlimavady
Rev. P. HASSON P.P.
Rev. E. BOYLE P. P., Donaghmore
Rev. J. BOYLE C.C., Donaghmore
Rev. J. M'GRORTY C.C., Donaghmore
Rev. J. FERRAN P. P., Ballygawley
Rev. M. MURPHY P. P., Beragh
Rev. Peter GARDEN? P. P., Dromore
Rev. Patrick VINCENT, Tirmon
Rev. Anthony O'DOHERTY P. P., Newtownstewart
Rev. James M'LAUGHLIN C.C.. Newtownstewart
Mrs. BOYLE, Omagh
Mr. Michael M'MACKIN, Flntona
Rev. Mr. HUGHES C.C., Enniskillen
Mr. Peter DOYLE, Omagh
Mr. Patrick MURPHY, Omagh
Rev. Mr. M'ALEER
Mr. John HARBISON, Cookstown
Mr. James HARBISON, Cookstown
Mr. Michael HARBISON, Cookstown
Mr. John M'CHRISTAL, Omagh
Mr. Wm. M'LAUGHLIN, Londonderry
Mr. Hugh MULLAN, Tattysillagh
Mr. John CASEY, Londonderry
Mr. Wm. DOHERTY, Parks
Mr. LYNCH
Mr. Patrick DONNELLY,Omagh
Master John HARKIN, Omagh
Mr. John BOYLE, Omagh
Mr. Thomas HARKIN, Omagh
Mrs. MAGUIRE, Omagh
Dr. TREANOR, Omagh
Mrs. CONWAY, Omagh
Miss DEVLIN, Cookstown
Mr. John CUNNINGHAM, Omagh
Miss DOOLAN, Dublin
Mr. M'ALEER Omagh
Mr. CAMPBELL, Ballygawley
Mrs. MORAN, Omagh
15 Jan. 1862
From a correspondent
On the occasion of the Christmas holidays and to usher in the new year, there was a grand dramatic performance of the pupils of the schools of the Omagh Convent on Tuesday, 7th instant, in the presence of a large number of the clergy and other visitors, the patrons and friends of the institution.
Among those present;
Mr O'KANE the respected parish priest of Omagh
Rev. B M'NAMEE C. C. do
Rev. Dr BROWNE P. P, Strabane
Rev. Dr Magee C. C., Derry
Rev. Mr STEPHENS, St Johnston, Derry
Rev. J. M'GROATY C. C., Killygordon
Rev. Daniel O'DOHERTY, Cappagh
Rev. Mr O'FLAHERTY P.P., Ardstraw
Rev. James M'DONNELL P. P., Fintona
Rev. Mr LENNON C.C., Rasharkin
Rev. Patrick Magee C. C., Strabane
Mr M'GEOGHAN C. C., Donemana
Rev. Charles M'CAWLEY C. C.
Rev. Joseph O'DOHERTY, C. C., Cappagh
Mr Joseph MULHOLLAND and the Misses CASEY, Derry
Miss DOHERTY, Derry
Mrs STACK, Omagh
Dr. FLEMING
Dr HAMILTON
Miss ELLINGTON
Mr and the Misses HARKIN, Omagh
Dr DIAMOND and Miss DIAMOND, Rasharkin
Mr John DONNELLY, Omagh
Captain MANBY, County inspector, Omagh
Mrs Dr O'FLAHERTY and Miss SMITH, Strabane
Mrs HUGHES, Rathmines, Dublin &c.
The principal salon of the convent was thrown into a temporary theatre for the occasion and beautifully decorated with festoons of evergreens, &c. The performances commenced at half-past twelve o'clock, with the fine historic tragedy, 'The death of Sir Thomas More', from Schiller, translated by one the ladies of the convent. The principal characters were those of King Henry VIII., the beautiful Anna Boleyn, Cromwell, Sir Thomas More, officers of the guard, &c., which were admirably sustained by the following young ladies;
Miss JOHNSTON, County Wicklow
Miss CLINES, Dundalk
Miss DIAMOND, Rashharkin
Miss MOORE, County Derry
Miss O'FLAHERTY, Strabane
Miss SPENCE, Dungiven
The young performers were dressed 'en grand costume', which produced a very pleasing and artistic effect; their elocution was faultless. The interview between Sir Thomas More and his children, on the eve of his execution, was one of the finest and most pathetic pieces of acting I ever witnessed. Immediately after the performance of this tragedy, there followed a very amusing farce, consisting of a 'conversazione', or select literary party given by Mr. SWABBE. As this young gentleman was not quite 'au fait' at the getting of it up, he had recourse to the kind assistance of his friend Mrs. M'SWIGG, who did the honours with great dignity. Tom MOORE, the poet, was the lion of the party. Ginger acted as one of the pages in attendance and did his part admirably. The comic drollery of this piece, the variety of the incidents, together with the talented manner in which the different roles were supported, supplied a rich fund of amusement to the visitor. Between the parts, some fine songs were sung, with the accompaniment of the harp and pianoforte and at the finale the National Anthem, with the full strength of the school. The Rev. Mother had a very fine lunch prepared for the visitors, Every one appeared much gratified with the attention of the gifted Superioress. They expressed themselves very much pleased with the splendid convent and with the success of the performances they had the pleasure of witnessing. 'Tis gratifying to know that Omagh Convent school is at present in a very flourishing condition and stands deservedly high in the public estimation. (The Evening Freeman)
14 Sept. 1864 Religious Profession at the Loretto Convent, Omagh
The Ulster Observer says that on the 8th inst., there was a solemn profession in the Loretto Convent Omagh. The young lady who renounced the world and gave herself up to the services of religion was Miss Susan DOHERTY, daughter of Mr. William DOHERTY, Diamond, Londonderry. She enters religion under the name of Sister Evangelista.
1 May 1872 Death
April 25th at Loretto Convent, Omagh, Annie Teresa, in religion, Sister Mary Joseph Gontaga, fourth daughter of the late James LAWLER Esq. of Portarlington. (Ulster Examiner)
6 Jun. 1873 Married
June 4, at the Loretto Convent, Omagh by the Rev. M'Namee, assisted by Rev. J. Keenan C.C. and Rev. J. Campbell C.C. Daniel O'Connell BOYLE Esq., M.D., of Omagh to Ellen Frances HARKIN, third surviving daughter of the late John HARKIN Esq., Omagh
10 Sept. 1873
Yesterday, Miss Helene KEEGAN, daughter of Peter KEEGAN Esq., J.P., Belfast, was solemnly professed as a nun in the Loretto Convent, Omagh. (Ulster Examiner)
10 Oct. 1874 Death
Many will receive with a heartfelt sorrow the sad tidings of the death on the 8th October, of one of the sisters in the Loretto Convent, Omagh, Matilda (in religion, Sister Mary Joseph Stanislaus), daughter of the late Mr. Charles M'GLADE of Belfast.
At an early rage, on the demise of both her parents, she was consigned to the charge of the Loretto Nuns. Her amiable disposition while a child so endeared her to those ladies, and rendered her so loved by her young companions, that she seemed as if destined to form a lasting ornament to those sacred walls. Calmly her happy years flew on, loving and beloved by all. Her education completed, she manifested an inclination for the cloister, but her pious directors not wishing to take advantage of her avowel and wishing to test if her vocation came from a higher will than her own partiality for the home and guides of her childhood, she was constrained to remain. According to the rules and the desire of her relatives, she went forth into the world. But scenes of gaiety and all that worldlings hold dear had no effect upon her, for this destined bride of the lamb valued not rank and wealth, but declared the holy order of Loretto her only and everlasting choice. Yielding at length to her earnest entreaties, her friends allowed her to return to the home she had selected. Finding herself within its shades, she determined to remain forever beneath its rest.
As a novice and a professed nun she displayed those high virtues which shed lustre around, and was in truth the admiration of all and the model and guide of many.
As an exemplary nun, a gentle mistress and unrivalled teacher of youth, her memory will long be held dear by all who have felt her sweet influence and many prayers will ascend to heaven, that she may reap the rich reward of her pious and useful labours and her long and patient sufferings. R.I.P
(Ulster Examiner)
4 Feb. 1875 Death
January 29th at Loretto Convent, Omagh, Ellen, daughter of James HENRY Esq., Draperstown, aged eight years. (Northern Whig)
12 Aug. 1876 Death
August 6, at the Loretto Convent, Omagh, of which she was the foundress, Rev. Mother Felicitos MURRAY, eldest daughter of the late Thomas MURRAY Esq, Sheep walk, County Wicklow and niece of the late Most Rev. Dr. MURRAY Archbishop of Dublin. May she rest in peace. (Dublin Weekly Nation)
23 Jan. 1878 Death at the Loretto Convent, Omagh
l regret to announce the death of Mother Mary Magdalen de Pargrgi DONNELLY, at the Loretto Convent, Omagh. The sad event occurred on the 18th inst. Deceased was a native of Omagh, sister of Mr. John DONNELLY and took a leading part in getting the convent established in Omagh, where she laboured with great assiduity and zeal in the care and education of youth for the last twenty-three years. Monday there was numerous attendance of the clergy of the neighbourhood at high mass and obsequies in the Convent chapel. The immediate relatives of deceased were present. The remains were then removed to the vault within the convent ground.
14 Jun. 1880
The nuns of Loretto Convent, Omagh, beg to return their most sincere thanks to their numerous friends, who have generously aided them in the completion of their convent. Considering they had, but recently contributed so much to their bazaar, they could not have expected so many liberal donations at the dedication of their beautiful chapel, on Sunday 6th Jane. The nuns cannot be unmindful of their departed friend, the late Peter KEEGAN Esq., J.P., Hampton Villa, Belfast, to whom they are indebted for their new Chapel, having given the munificent sum of £1,100 for its erection. The only regret was that God did not spare him to be present at the glorious ceremony. Their grateful thanks are respectfully tendered to his Lordship, Most Rev. Dr. KELLY for his great kindness on the occasion; also, to Very Rev. H. HARBISON, C.S.S.R., superior of the Redemptorists in Dundalk, who contributed so much to the success of the collection by his eloquent sermon.
19 Oct. 1881 Intermediate Examinations girls of Loretto Convent Omagh only. (Northern Whig)
Girls pass list
junior grade;
Susan Elizabeth MULLIN
Rosanna MAGUIRE
Margaret I. MURPHY
Catherine M. DONAGHEY
Margaret M'ALEER
Sarah Jane O'NEILL
Mary A. DONAGHY
Bridget DEVLIN
Anne J. M'PHILOMEY
junior grade over age;
Jane O'NEILL
Eliza Jane JENNETT