12 Jan, 1870 Notice to Builders
Proposals are invited, up till the 8th March next, for the Erection of the Fivemiletown New Catholic Church. The Designs are by the eminent Architect, Mr. COCKERELL of London. A copy of the Specification will sent free by Post to any Applicant and all Plans, &c., produced for inspection in Fivemiletown, at the Residence of one the Secretaries to the Committee of Management, John F. MAGUIRE. January 1870.
St Mary Immaculate Church, Fivemiletown, County Tyrone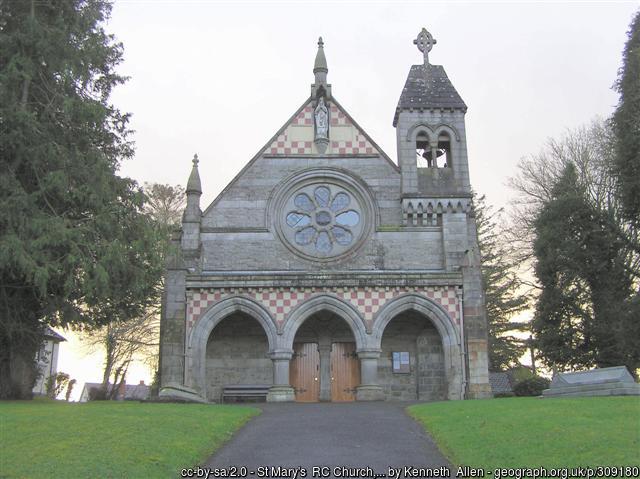 Built in 1870 and restored 1910-1911
17 October 1870
On the Occasion of the "Laying of the Foundation Stone" of this Church on the 25th ult. by the Most Rev. Dr. DONNELLY, Lord Bishop of Clogher, the collection amounted to over £310. The names of the contributors who paid 5s. and upwards on this occasion and also the subscribers who formerly paid 10s. and upwards on Collecting Cards and whose names were not yet acknowledged, are here appended in separate lines.
The Committee, on the part of the Congregation, hereby tender their sincere thanks to each contributor, but to 2 or 3 in particular, they wish to record their undying gratitude. First, to the Most Rev. Dr. DONNELLY, the Bishop of the Diocese, who, actuated by such kind paternal feelings for his suffering and isolated flock here, not only aids with his generous subscription with his valuable influence, and most of all, with his blessings and his prayers, but he has supplied to this locality a Church wherein to worship the God of all Gifts, the want of which house had been felt for centuries.
Second to him is that generous and noble-spirited young landlord, Hugh De Fellinburgh MONTGOMERY Esq., who not only bestowed, free for ever, this lovely site, but personally selected it.
The other is that gifted and learned orator and divine the Rev Father SMYTH of the Dominican House in Dublin, whose touching and eloquent appeal (in part) already appeared in the Morning News of the 26th ult. To the gentlemen who assisted in aiding the Rev. Chairman and Committee at taking the Collection especial thanks are due.
The following are the Subscriptions &c.
The Most Rev. Dr. DONNELLY Lord Bishop Clogher
H. De Fellinburgh MONTGOMERY Esq. the landlord of the EstateVery Rev. Dr. M'MEEL V.G., Enniskillen
Very Rev. Dean M'MAHON V.G. Carrickmacross
Rev. P. MEIGEN Adm. Clogher
Rev. P. CLIFFORD P.P. Rockcorry
Rev. F. CASSIDY P.P. Dromore
Rev. F. B. M'ELROY
Rev. J. M'ARDLE C.C. Enniskillen
Rev. M. KIERAN P.P. Brookboro
Rev. H. WARD P.P. Newtownbutler
Rev. J. CASSIDY P.P. Fintona
Rev. F. SMOLLEN P.P. Clones
Rev. M. KEIRNEY P.P.. Ballybay
James DONNELLY Esq. Tempo
John F. MAGUIRE Esq. Fivemiletown
Mrs. J. F. MAGUIRE Fivemiletown
H. M'CAFFREY Esq. Jun. Fivemiletown
Mrs. H. M'CAFFREY Fivemiletown
Edward NAWN Esq. Fivemiletown
John COLGAN Esq. Fivemiletown
P. MARTIN Esq. Fivemiletown
J. FURNAN P.P. Ballygawley
Rev. P. M'KENNA P.P. Derrygonnelly
Rev. James M'DONALD P.P.
Rev. F. SHIELS P.P. Donagh
Rev. P. M'MAHON P.P. Trillick
Rev. J. M'QUEAD P.P. Whitehill
Rev. Terence M'MAHON P.P. Garrison
Rev. J. HOEY, T.P. Magheracloon
Rev. M. O'REILLY P.P. Black Bog
Rev. P. DONEGAN P.P. Tempo
R. ARMSRONG Esq. Enniskillen
Henry SMITH Esq. Clogher
Patk. DONNELLY Esq. Omagh
A. CASSIDY Esq. Enniskillen
John L KELLY Dublin
C. MAGUIRE Esq., Cavans
Hugh CAFFERY Esq. Sen. Fivemiletown
Rev. L J. O'NEILL Monaghan
T. M'NALLY Esq., Ballyconnell
Mrs. T. M'NALLY Ballyconnell
R. KANE Esq. Ballyconnell
Mrs. MURPHY Ballyconnell
Capt. KEAN Dublin
J. BAKER Esq. Cooltrain
John BOGUE Esq. Clones
J. SOMMERVILLE Esq. Omagh
Mr. B. DONNELLY Mullaghfad
Mr. MAGUIRE Clogher
Mr. J. FEE Latty Kieran
Mr. Edward M'ELROY Fivemiletown
Mr. H. HAGEN Eskera
Mr. Edward MAGUIRE Fivemiletown
Mr. J. KANE Derentony
Mr. T. M'ALEER Clogher
Mr. Hugh SWEENEY Crieve
Mr. James HUGHES Cleffney
Mr. P. HUGHES Clogher
Mr. M. COLGAN Fivemiletown
Mr. Jas. M'ELROY Crock MacManus
J. CASSIDY C.C.. Trillick
H. MOORE Esq. builder, Enniskillen
Mr. John TEIRNY Crane
L CAROLAN Esq. Dublin
Mr. J. M'PHELEMY Fivemiletown
Rev. F. ROGERS C.C. Clogher
Rev. D. O'CONNOR C.C. Clogher
Rev. J. GILLOOLEY C.C.. Co. Cavan
Rev. F. M'ARDLE C.C. Lisnaskea
Rev. P. HUGHES C.C. Brookboro
Rev. M. MELLY C.C. Annaghmullan West
Rev. P. LAUGHRIN C.C. Clones
Messrs. R. D. READ Belfast
Wm. MEIGAN Esq. Fintona
Joseph MEIGAN Esq. Monaghan
John WRAY Esq. Enniskillen
Arthur MAGUIRE Tattnalee
Mrs. BAXTER Brookboro
Rev. J. M'GINESS C.C. Truagh
Rev. P. M'KENNA C.C Monaghan
Rev. J. KELLY C.C. Garrison
Rev. Jas. M'KENNA Pettigo
Rev. T. GOODWIN C.C. Tempo
Rev. E. M'QUEAD C.C. B. Bog
Rev. R. OWNS C.C. Donagh
Rev. E. M'SHERRY Brooklyn, America
Rev. F. M'KENNA Enniskillen
Rev. W. M'QUEAD White Hill
Jas. MEIGAN Esq. Mount Stuart
Joseph SMITH Esq. Omagh
P. CASSIDY Esq. Conge
Miss M'CUE Irvinestown
Mr. Michael MAHER, Fivemiletown
Mr. John DONNELLY Corbo
Mr. Jas. M'CAFFREY Lisnaskea
Mr. Chas. HOLLAND Blacklands
Mr. Miles HART Fivemiletown
Mr. A. M'CLUSKEY Rahorn
Mr. E, MONAGHAN Enniskillen
Mr. J. MURPHY Ballyvadden
Mr. J. M'KENNA Emmyvale
Mr. John BOGUE Grogy,
Mr. P. RAFFERTY Monaghan
Mr. WEBB Armagh
Mr. F. SMYTH Omagh
Mr. L. M'LUNNY Omagh
Mr. B. BOGUE Crieve Mills
Mr. Edward NAWN Corcrevy
Mr. Thos. KEENAN Fivemiletown
Mr. Henry BUSBY do
Mr. Thomas BUSBY do.
Mr. Patrick M'ELROY do
Mr. James DOGHERTY do
Mr. Thomas KEENAN Clogher
Mr. John LOGUE N.F. Fintona
Mr. John O'BEIRNE N.F. Fivemiletown
Mr. P. DOGHERTY Fivemiletown
Mr. Patrick O'KANE Fintona
Mr. Wm. CAMPBELL
Mr. MULLIGAN Mullinavale
Mr. M. M'ALOON
Mr D. CAMPBELL Clogher
Mr. J. CAMPBELL Mullaghmore
Mr. E, CASSIDY Glenngesh
Mr. P. LYNCH Tempo
Mr. Wm. KELLY Ballyvadden
Mr. Jas. CALLAGHAN Aghavery
Mr. Terence GRAY Crane
Mr. Felix DOGHERTY Escara
Mr. O. M'CAUGHEY
Mr. Jas. M'CLUSKEY Rahorn
Mr. John M'CONNELL Sess,
Mr. Thos. NAWN Corcrievy
Mr. Francis OWENS Rahorn
Mr. B. KELLY Fivemiletown
Mr. Owen CONNOLLY Fintona
Miss O'CONNOR Clogher
Miss A BAXTER Fivemiletown
Mr. John WOODS Aughnacloy
Mr. John KELLY Augher
Mr. A. HART Fivemiletown
Mr. John KELLY Clogher
Mr. James OWENS Cole
Mr. TIERNY Cavana Kirk
Mr. OWENS Fivemiletown
Mr. H. M'CAUGHEY Widun Hill
Mr. P. OWENS Fivemiletown
Mr. S. DONNELLY Escara
Mr. B. CARNEY
Mr. W. MEEGAN Corcreevy
Mr. Andrew MAGUIRE
Mr. Frank SMITH foreman stonecutter
Mr. Wm. BOYLE Ballygawley
Mr. T. MOAN
Master Wm. BAKER Lismalore
Mr. Samuel MILLIGAN
Mr. Patrick M'CUSKER Escara
Mr. James SUNAN Middletown
Mr. James M'KENNA Arrigle
Mr. LAW Ivy Hill
Mr. Michael BRANNON Tempo
The Very Rev. Dean SLANE Dungannon
The Rev. Father HUGHES Dungannon
Mr. BOYLE Fivemiletown
Mr. E CLANCEY do
Mr. P. M'KEON do
Mr. M'GANNON Lisnaskea
Messrs. W. HAMILTON Derry
Messrs. DUNVILLE & Co. Belfast
Mr. W. SCOTT Omagh
Mr. Samuel GILLILAND Derry
Messrs. D. BROWNE & Son, Donaghmore
Mr. P. MORRIS Dungannon
Messrs. BROWNE, CORBETT & Co., Belfast
Mr. Charles BROWNE Tierear
Mr. M. MAGLONE Middletown
Mr. James KELLY Cavan
Messrs. MAGILL & SMYTH Belfast
Mr. Joseph GARLAND do.
Mr. James MOORE Armagh
Mr. H. M. RAW Maguiresbridge
Mr. M. FERRY Maguiresbridge
Mr. O'HARE Dublin
Mr. W. J. SMYTH Rock Villa, Derry
Mr. Luke CONNOLLY Scotstown
Mr. S. HANLON Warrenspoint
Mrs. BREEN Boston
Mr. James KEENAN Lonsdale
Mr. P. CARBERRY Armagh
Messrs. H. J. NEILL Belfast
Mr. James HUGHES Monaghan
R. MOORHEAD Belfast
S & T ROULSTONE Omagh
TAYLOR & MOORE Coleraine
Mr. C. CAMPBELL Providence America
A. M'GUINNESS Esq. Derry
Alex. STEEN Esq. Clogher
Master H. G. LYNCH Clogher
P. FITZPATRICK Ballygawley
Mailing address of Church of St. Mary Immaculate
Ballagh Road, Fivemiletown, County Tyrone UK BT75 0QP
National Library of Ireland (NLI) Catholic Parish Registers https://registers.nli.ie/parishes/0286
Articles transcribed by Teena from the Belfast Morning News