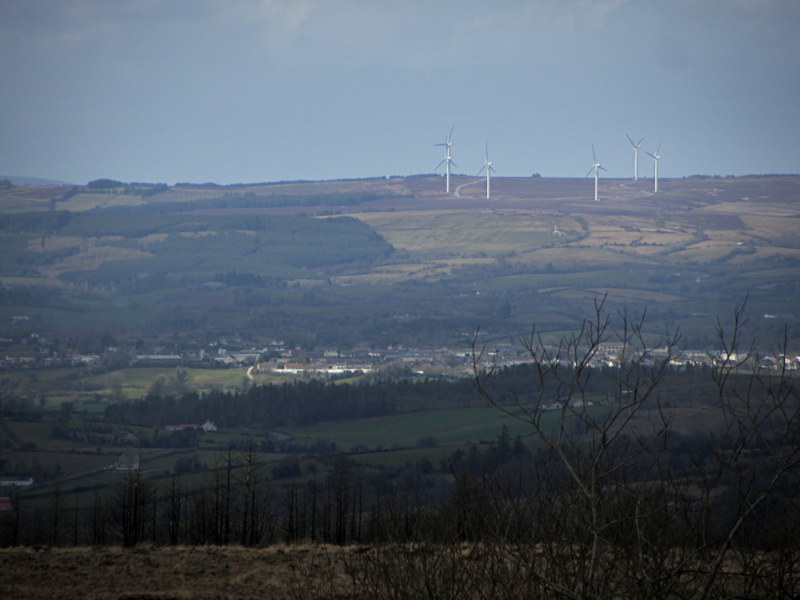 Contents of Page
Description of Fivemiletown
News
Methodist Church Ministers & photo
Fivemiletown Industries
Fivemiletown New Catholic Church
St. John's Church Of Ireland Parish Fivemiletown
Cavanaleck Presbyterian Church
Fivemiletown Men in the War
Description Five-Mile-Town or Blessingbourn;
a post-town in the parish, union and barony of Clogher and province of Ulster, 6 miles (W. by S.) of Clogher and 79¾ (N.W.) from Dublin, on the road from Lisnaskea to Clogher and on the confines of the county of Fermanagh; containing 693 inhabitants. This place has been sometimes called Mount-Stewart, from the name of its founder, Sir William STEWART, to whom James 1st granted 2000 acres of land termed Ballynacoole and who, prior to 1619, built the castle of Aghentine and commenced the village, which was to be occupied by British tenants. He afterwards obtained a charter for markets and fairs; the latter are now held on the third Monday in every month. The town consists of one principal and two smaller streets and comprises about 140 houses, several of which are modern and well built. The post-office is in connexion with Brookborough; a constabulary police force is stationed here and petty-sessions are held on alternate Thursdays. A neat chapel of ease, with a spire, was built in 1750, at the expense of Mr. ARMOR.
A public school is supported by Colonel MONTGOMERY, who built the school-house and there are two other public schools. The ruins of Aghentine Castle, in the neighbourhood, are boldly situated on elevated ground; it was destroyed by Sir Phelim O'NIAL, in 1641. (Samuel Lewis' Topographical Dictionary of Ireland 1849)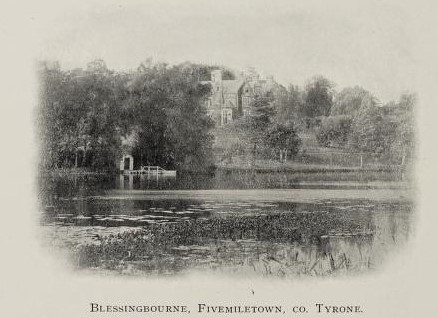 The Blessingbourne Estate https://www.blessingbourne.com/
The following news articles are transcribed by Teena from the Freeman's Journal, Saunders Newsletter, Belfast Morning News & Newsletter, Enniskillen Chronicle and Erne Packet, the Londonderry Sentinel & the Newry Telegraph. (unless otherwise noted)
News
9 Feb. 1774 – Married
A few days ago, William BIRNEY Esq. to Miss Catharine BOYD both Fivemiletown, Co. Tyrone
12 Feb. 1824 – died
On the night of Friday last, a family named JACKSON, consisting of four persons, in the mountain near Fivemiletown, were crushed to death by the falling in of their house,
19 Mar. 1825 – Married
On the 7th instant, by the Rev. John Holmes, Mr. Samuel PHILLIPS of Five-mile-town, Surgeon, R. N. to Miss Fanny LYON, (or LYNN) of Springville, County Tyrone
31 Mar. 1825 – Tyrone Assizes
The King, at the prosecution of John M'BRIEN and others against Hugh JOHNSTON. This was a Crown prosecution tried before Mr. Justice Vandeleur. The prisoner was indicted for the murder Patrick KEENAN at Fintona on the 26th November 1824.
Evidence on part of the prosecution –
John M'BRIEN examined – Where you live – In the townland of Kilnahussbag, in this county. – Do you recollect having been in the town of Fintona on market day on the 26th November last – I do and recollect my leaving the town in the evening of that day. At what time – I cannot say exactly, it was day light. – Did any person accompany you – Yes. Joseph MILLS, Pat HAMILTON, Anne M'CRERY, John CARLETON and several others – l overtook Patrick KEENAN, the deceased and his sister, on the way home, the road was crowded. – What road you mean? – The road leading to my own place, between Augher and Fintona, it was also on the road leading to Patrick KEENAN'S house. – How far did you and your company travel in company with Patrick KEENAN on that road? – About a mile and half. – Do you know where the cross roads are situated? – l do, the one road leads to the town of Augher, the other to Five-mile-town. – Do you recollect any thing happening when you were going towards the cross roads? – Yes I saw a large party of men armed with all kinds of arms, guns, swords, and pistols, and other kinds of arms. I saw arms in the hands of the persons on the road before me and arms in the hands of those that passed me. – What number of persons did those parties consist of? – From their bulk there seemed 100 and upwards, a part of them were on the road before me and a part of them passed by. – After they had passed did they continue to travel onwards? – When they arrived at the cross roads, a great many of them turned up the road leading to Fivemiletown. At that time we were about five perches behind them; such of them as did not turn up on the Five-mile-town road stood in a row, with their faces turned towards the road.- Can you inform me what number remained in this situation? – There might have been 6 or 7 or upwards. – Were those persons armed? – Yes, some them with small arms and some of them with guns and bayonets and small swords. – At this particular time, did any thing happen to yourself? – On coming up, they were then walking in pairs by twos, the 6 or 7 men that were ranged on the side of the road took a sharp remark of his party. – Did any thing follow? – When MILLS and I came forward, they also took a sharp view of us and Hugh JOHNSTON turned round to the persons beside him and said, 'this is he', with that he ran forward and struck me with a staff on the arm – Did you know him before that time? – l did. Would you know him now? – I would. (Witness turned round and identified the prisoner.) – What happened after you were struck? – I leaped round on the road before MILLS and said, Mr. MILLS what is this?" and I laid hold of Mr. MILLS ; Mr. MILLS then said to Hugh JOHNSTON, you are wrong, then JOHNSTON asked him, what was my name;" MILLS replied, no matter what his name is, you are doing wrong." – Did any others of your party come up? – I saw the deceased, Patrick KEENAN, pass by, when I had hold MILLS .

Why did you lay hold of MILLS ? – I laid hold of him for protection. – What happened next? – Hugh then looked back over at KEENAN as he passed on the road and said "damn my soul if I am wrong now," and ran at KEENAN and struck him with a staff. – Do you know where the blow was given? – Either on the side of the head or on the shoulder. – Did any thing further happen? – Yes; 3 others of the same party ran forward and assisted JOHNSTON in striking the deceased, KEENAN. – Did you observe with what weapon? – With staffs, some of them had other weapons; one of them had a bayonet. – Was any use made of the bayonet? – One of them, on his running forward, seemed to stab at KEENAN; he ran forward in this manner (witness described the manner to the Court and the Jury) and KEENAN, the deceased, instantly fell; at that time he was making off. – Did you see any thing further happen? – When I saw KEENAN fall, I ran away – How soon after did you see him? – He was dead when I saw him next, he had received a stab in his side.

Questions by the Court;
Was any assault given to the prisoner or the persons in company with him before you were struck? – There was not a blow given at either side. – Had you seen JOHNSTON that day in the market? – I did. I had no quarrel with him, nor with any of his party. – Was it then sufficiently light to distinguish objects? – It was. I had known JOHNSTON for 2 years before. – Was it so light that you could know persons at a distance? – I could know them at the distance they were from me. – Have you any doubt now? – Not the least doubt, nor had I any doubt at the time. – Was he one of the persons who passed you on the road? – He was. – Was there any assault, or did any bad language pass between the parties ? Not within my view or hearing. Pray is MILLS at these Assizes? – I hear not; he was not at his own place on Saturday morning.

Cross-examined – This happened on the market day of Fintona? – Yes. – There might have been a number of persons from Five-mile-town at the market? – There were many from that neighbourhood. – Don't you believe that several of those persons were waylaid? – I don't believe they were.

Mr. Justice Vandeleur – Mr. HAIRE, I don't think the belief or hearsay of this witness to a matter of fact is of any value.

By the Court – Don't you believe that the party that passed you by the road, went with the intention of protecting the party which were said to have been beaten? – I have no doubt but that might be their intention.

Mr. HAIRE – It was then late in the evening- about what hour? I think about five o'clock in the evening it was not just dark. – Were you ever charged with any offence? – Yes, I was charged with manslaughter and tried and convicted and sentenced to 12 months imprisonment; the prisoner, JOHNSTON was a friend of TRIMBLE'S, for which murder I was tried; I never assisted any party to take JOHNSTON, nor have I any ill will whatever to him. – Were you examined at the inquest on the deceased? – I was. – Did you mention the persons concerned? – no name was then asked of me.

By the Court – Were you not sworn to tell all the truth? – My Lord, I was only sworn to tell how the deceased came to his death; I then knew the name of the person that had the bayonet, but did not mention it.
Elizabeth KEENAN examined – The deceased, Patrick KEENAN was my brother. l returned from the market of Fintona on the 26th November last in company with him. there was no quarreling in the market on that day. nothing in particular happened on that day till we came to the cross-roads. there was a multitude of men collected on the bridge. l saw nothing happen till 7 of the party separated and went to the upper side the road; on our passing, the prisoner joined to a man of the name of John M'BRIEN and struck him. M'BRIEN cried out for relief to Joseph MILLS, who said to the other party, "they were wrong;" the prisoner at the bar ran after Patrick KEENAN, her brother and "rammed" himself if he was wrong now, my brother was killed; the prisoner was the first man that struck him. l knew the prisoner for 2 years before. this happened about 5 o'clock in the evening. it was then light enough to know a man at a distance off. another man struck my brother, he went away with the rest of his party.

Cross-examined – Did you know the prisoner's name? – I did not know his Christian name, but know himself. I did not tell his name at the inquest. the inquest was held the first time where the corpse was, but they went on the third day after to Fintona. l was examined there again. l then said I would know the man if I would see him.
The witnesses Edward M'WILLIAMS and Anne M'CRERY were then examined and corroborated all the material facts stated by former witnesses. At the inquest they did not identify the persons of the party concerned, but said they would know them when they saw them again. The case closed on the part of the Crown.
For the defence
The Rev. Mr. SAMPSON examined. – l have known the prisoner, Hugh JOHNSTON for 16 years he is one my hearers. On the evening of the 26 November last, I was in the market. about the hour of sunset I heard there was a party of men on the highway leading to Fivemiletown and that they were beating the Protestants. In consequence of which report, I perceived great confusion in the town and great numbers of the Protestant party, consisting of the neighbours and a great number of my own hearers, going out of town on the road towards Fivemiletown they went in different parties. I joined them and on leaving the town's end, I saw several parties proceeding, both behind and before me, the prisoner accompanied, l knew him well we went together. From the time I left Fintona to near the mountain, the prisoner, Hugh JOHNSTON, was along with me. l suppose the distance from Fintona to the place where we stopped on the mountain, is between 3 or 4 miles. We went up the mountain about 2 miles from the place where BATES lived.

By the Court – From the time you left Fintona till you returned, was the prisoner in company with you? The prisoner was with me on my return to Fintona. – Did you hear, on your returning home, of the death of KEENAN? – I did not hear it until I came within a few perches of the place where KEENAN was supposed to be killed. I think there were from 50 to 100 persons that returned back to Fintona. – Did the prisoner strike any one while in your company? – I did not see a man struck from the time I left home till I returned. The prisoner did not strike any one, he could not have struck any one without my knowledge. I met some persons returning, one man, of the name of Alexander JOHNSTON, the prisoner and several others were of our party; he was not out of my sight till we came within a few perches of the mountain. l suppose there were from about 100 to 150 men in different small parties, forming one general party. I did not hear of KEENAN'S death till we came within a few perches of the place where he was killed. I do not know how long it was before the deed was perpetrated that heard of it. I never made any inquiry about it. I never inquired whom was killed. I never inquired of what religion he was. never asked the question whom was killed, or who did it, or who did not. I think it was about an hour or an hour and a half from the time we returned back to it again. – Have you any, the least doubt that the homicide was committed by some person of that party that left Fintona? – I cannot tell. – I asked you had you any doubt? – Some of the Fivemiletown men went back into Fintona. I mean some of those that were severely beaten. – Then, Sir. I am to understand you, that you cannot take upon you to say, whether this homicide was committed by the armed party that left Fintona, where no riot or quarrel had taken place, or by those that had returned to Fintona from Fivemiletown? – By virtue of my oath I cannot tell. – If it were done by persons from Fivemiletown, is it not probable that you would have heard it? – I might have heard it.- Perhaps KEENAN was killed before you left Fintona? – The homicide might have happened before I left Fintona. – Was it then sufficiently light to enable you to discover an acquaintance? – When I left Fintona the candles were then lit in several houses in the town, it was then between sunset and dusk.
___? ECCLES Esq. examined – Witness gave the prisoner an excellent character. Case closed both sides.
James ROBINSON examined – Witness said, I was a Juror on the inquest on the body of Patrick KEENAN. Neither the first witness, M'BRIEN nor Elizabeth KEENAN nor any other witnesses examined at the inquest had mentioned the prisoner's name as one of the party concerned. I know Elizabeth KEENAN one of the witnesses. I took down accurately her evidence, given at the inquest. The 2 Magistrates presiding requested the witness to take notes of the evidence and, after the examination of each witness, read their evidence, and Elizabeth KEENAN said, what I read to her was true.
Cross-examined – Mr. Patrick BRADY was the Foreman of that Jury. He is a very respectable and intelligent man, Mr. BRADY took notes of the depositions on the inquest as well as witness. Witness compared his notes with those taken Mr. BRADY and there was some difference in them.
__? EDWARDS Esq. was called. Mr. KERNAN said Captain EDWARDS was one the magistrates that presided at the inquest and that the object of producing him was to shew he had ordered the several witnesses examined here this day, when examined on the inquest, not to mention the names of any of the persons concerned in committing the homicide, lest the ends of justice might be defeated by giving to those persons notice, and thereby an opportunity to fly from the country. The Judge did not consider his evidence to those facts admissible. The Judge delivered a most excellent charge to the Jury, after which they retired and found the prisoner – Not Guilty
1 Jul. 1826
A stack of oats and another of straw, the property of Edward WOOD, residing near Fivemiletown, in the county of Tyrone, was maliciously burned on Monday night week.
14 Jun. 1827 Child Murder
On Friday last 2 women, Elizabeth ARMSTRONG and Jane CUMBERLAND were committed to the gaol of this town from beside Clabby, under the warrant of Mr. TROTTER coroner, for the murder of a female infant. It appeared at the inquest that the child had been found buried, with its thigh broken and the marks of strangulation on its neck; that there was reason to believe the prisoner, Elizabeth ARMSTRONG, had been delivered of child about 8 days previously and could not satisfactorily account for what she had done with it. The jury found that the child came to its death by being strangled and that Elizabeth ARMSTRONG was accessory thereto and they were of opinion from circumstances, and her evasive evidence, that Jane CUMBERLAND was also an accessory. Dr. BREADEN of Fivemiletown, attended professionally and concurred the opinion that Jane ARMSTRONG <sic> had been recently delivered of child.
14 Aug. 1828 Bankrupts – Insolvent debtors
NELSON James Fivemiletown – Grocer, Baker & c. (Perry's Bankrupt Gazette)
23 Aug. 1828
At a solemn examination of students held the 25th July. John Wilson ELLIOTT of Fivemiletown, was admitted a member the Royal College of Surgeons.
18 Dec. 1828 Outrage and Reward
We, the undersigned Inhabitants of Fivemiletown and its vicinity, holding in abhorrence the late most inhuman and brutal attack and robbery of Nicholas OWENS, a most inoffensive dealing man, near Fivemiletown, on Saturday evening the 22nd ultimo, do promise to pay the sums annexed to our respective names to any person who will, within 6 calendar months from this date, prosecute to conviction the perpetrators of said outrage. And we also engage to give liberal reward for such private information as may lead to the discovery of the offenders in this case and the strictest secrecy (if necessary) shall be observed towards the persons giving such private information. Dated 1st December 1828
Col. MONTGOMERY J.P. – 10£
M. J. BURNSIDE J.P. – 5£
John ARMSTRONG J.P – 2£
James TAYLOR J.P. – 1£ 10s
John E. TAYLOR – 1£
Oliver BOURKE J.P. – 2£
J. B. POWELL – 1£
John HALL – 1£
Thomas BREADON – 10s.
Francis WOOD – 10s.
James PHILLIPS – 10s.
William HUNTER – 10s.
James LENDRUM – 10s. 6d
Joseph LENDRUM – 10s. 6d
Michael JOHNSTON – 10s.
Joseph ALEXANDER – 10s. 6d
George ALEXANDER – 10s. 6d
Robert BOGUE – 10s.
James SCOTT – 10s. 6d
Francis LITTLE – 10s. 6d
Robert HALL – 10s.
M. B. BURNEY – 10s. 6d
James HYDE – 10s. 6d
James COULTER – 10s. 6d
John KELSO – 10s. 6d
John COULTER – 10s.
Joseph BREADON – 10s.
Richard BEATTY – 10s.
William ARMSTRONG – 5s.
John GARTLAND – 5s.
James HUNTER – 2s. 6d
William MOFFATT – 2s. 6d
Martin BEATTY – 5s.
William WILSON -5s.
Andrew CROZIER – 2s. 6d
Henry WOODS – 5s.
Samuel MILLS – 5s.
Francis M'ELROY – 5s.
John IRVINE – 5s.
Thomas M'DONALD – 5s.
James BAXTER – 5s.
Thomas MURPHY – 2s. 6d.
7 Mar. 1831 Married – in Cooltrain Church, on the 21st ult. Mr. John HERBERT of Tatereagh, to Mary Anne, daughter of Mr Martin PERRY, of Belfast, and niece of Mr. James SCOTT of Fivemiletown.
1 Apr. 1831 at Tyrone assizes
William SLOANE, for stealing linen yarn, at Fivemiletown. Guilty – to be transported for 7 years
6 May 1831 died
In Belfast on the 12th ult., on his way to America, Mr. Robert ARMSTRONG, of Ballivadea, near Fivemiletown.
17 Jul. 1831 married
On Tuesday se'nnight at Fivemiletown, Mr. James ALEXANDER Arday, to Miss COOKE of Ballyhueel. (or Ballybueel) The united ages of the happy pair are 150 years. the bridegroom being 70, and he bride 80.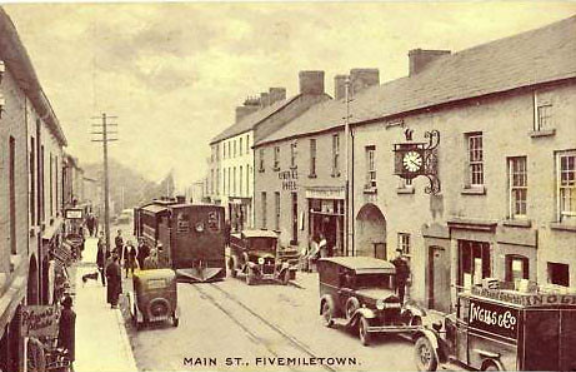 28 Dec. 1831 died
On the 18th inst. after a short illness, at the house of his father, in Fivemiletown, Mr. Robert HYDE, in the 30th year of his age.
9 Feb. 1832 married
In Tempo Church, on Thursday last, Mr. Robert HALL merchant of Fivemiletown, to Jane daughter of Wm. ARMSTRONG of Cooleran.
13 Apr. 1833 married
On the 1st instant, at Killileagh, Matthew BOYD Esq. of Lurgan, to Anne youngest daughter of the late W. BIRNEY of Fivemiletown.
30 Nov. 1833 married
On Wednesday last, Surgeon Moore M'WILLIAMS of Fivemiletown, to Sarah, youngest daughter of the Rev. Wm. JOHNSTON, late Rector of Innismagrath, County Leitrim
6 Dec. 1833 killed
Mr. George ALEXANDER of Fivemiletown, was killed by a fall from his horse; he fell on Sunday and died on the following day.
31 Jan. 1834 killed
A poor man who left this town (Ballyshannon Co. Donegal) on Monday last, with a cart of timber, was killed on the road near Church-hill, by one of the logs crushing him against a wall. His remains were conveyed home in the cart to his unhappy family. The unfortunate man was named Wm. RUTHFORD, from the neighbourhood of Fivemiletown, and he has left a wife and four children to lament his untimely decease. The Coroner's inquest returned a verdict of accidental death.
15 Mar. 1834 – Tyrone Assizes Administering Unlawful Medicine
James ALLEN, surgeon, of Fivemiletown, was indicted for administering unlawful medicine to Mary MAGUIRE, for the purpose of procuring abortion. The details of the trial are unfit for publication. The prisoner was acquitted.
21 Jul. 1834 – died
Suddenly, at Bundoran, Tuesday, after bathing, Miss GRAHEM of Fivemiletown.
22 July 1834 – Melancholy Accident
On Monday evening last, as Mr James COULTER of Fivemiletown was returning from the fair of Trillick, his horse stumbled and fell on the road near the residence of Mr. MOFFATT of Clabby, precipitating the rider violently on his head and causing a concussion of the brain. He was immediately carried in a state of insensibility to Mr. MOFFATT'S house, where every assistance which medical and other aid could afford, was promptly provided for him, notwithstanding which he expired on Tuesday evening. He has left a young wife and 4 small children to deplore his untimely fate. He was in the 35th year of his age and very generally beloved by his friends and neighbours.
1 Mar. 1836 – died
At Fivemiletown, on the 13th ult. at an advanced age, Mrs BOURKE, wife of Captain BOURKE, of that town.
16 May 1836 – Bankrupts
Insolvent debtor John MORRIS, late of Fivemiletown, County Tyrone, road contractor (Perry's Bankrupt Gazette)
2 Mar. 1837 – died
On the 17th ult., at Fivemiletown, Oliver BOURKE Esq., an upright and intelligent Magistrate of the County Tyrone.
11 Mar. 1837 The Rev. Mr. NOLAN at Fivemiletown
One of the most interesting scenes that has been witnessed within our memory occurred in this neighborhood Sunday last. It being announced a few days before that the Rev. Mr. NOLAN was to preach in Fivemiletown on Sunday evening, the Church became crowded to such excess, that the Rev. Mr. STORY, one the Clergymen intending to officiate, was obliged to gain admission through a window. As several females feinted from the pressure, and as one-fourth of the anxious multitude could not obtain admission, the Rev. Mr. STORY announced an adjournment to the Market-place. But from this also, for want sufficient room, a second adjournment took place to the beautiful lawn of the Rev. Mr. BURNSIDE. A temporary shed was here erected over the head of the Reverend Preacher. The multitude, which this time amounted to about five thousand persons, congregated on the declivity of a hill, where the Rev. Mr. NOLAN continued to address them for two hours and a half. About the middle of the sermon a heavy shower descended. The Rev. Mr. NOLAN then expressed a wish to dismiss the multitude, lest they should catch cold; but they requested of him to persevere, as they said they would wait to hear him until morning. It must be consolatory to the friends of true religion to learn that a vast concourse of Roman Catholics attended on the occasion, and listened with the greatest attention. It was nine o'clock at night when the congregation separated in the most orderly manner.
7 Sept. 1837 died
At Fivemiletown, on the 3rd instant, of fever, Rebecca, wife of Mr. John KELSO of that town, merchant, in the 38th year of her age, deeply and deservedly lamented by a respectable circle of relatives and acquaintances, to whom her remembrance will long be dear. Her afflicted husband and only daughter will experience a loss which they alone can estimate, and next to them a numerous class of the indigent and the helpless, whose sufferings have been so often alleviated by her unceasing charity and benevolence. The principal inhabitants of the town manifested their respect for her remains by suspending all business until after the funeral.
30 Sept. 1837 Bankrupts
WILSON William, of Fivemiletown, grocer. (Perry's Bankrupt Gazette)
1 May 1838 married
On the 18th ult. Mr. John KELSO of Fivemiletown, merchant, to Mary Anne, eldest daughter of Edward COOKE Esq. of Coney Warrell, Co. Fermanagh.
27 Oct. 1838 Bankrupts
M'DONALD Thomas, of Fivemiletown, yeoman (Perry's Bankrupt Gazette)
16 Feb. 1839 died
At Fivemiletown, Mr. Francis HALL
22 Feb. 1839 died
On the 7th inst. at Fivemiletown county Fermanagh of rapid consumption, aged (35? or 38th?) year of his age Mr. Francis HALL universally and deservedly lamented by a numerous circle of friends and relations.
23 Mar. 1839 Bankrupts
WHITE James, of Fivemiletown, labourer (Perry's Bankrupt Gazette)
30 May 1840 died
May 22nd aged 12 years, Jane only daughter of Dr. LENDRUM of Fivemiletown, county of Tyrone.
19 Jun. 1840
On Saturday last, in the fair of Clogher, Capt. HATTON, the active police officer of that town, had two men conveyed to the police barrack for quarrelling in the street. In the barrack the officer was induced to search one of them, from the display he was making of a large quantity of silver, when to his surprise he found on his person several ribbon documents. On searching his lodgings in Clogher, several other documents of an important character were found. Captain HATTON, on finding this fellow's name to be Thomas MORROW and that he belonged to Fivemiletown, repaired thither without delay, and in his house in Fivemiletown he found several books, containing rules regulations, pass words, &c. A more important capture has not been made in Ireland thanks to the praiseworthy exertions of Captain HATTON, who safely lodged the prisoner in Omagh gaol on Monday last. ls there any longer a doubt on the mind of Lord Ebrington of the (?) and extent of the ribbon conspiracy. (Ballyshannon Herald)
29 Jul. 1840 Tyrone Assizes Trial for Ribbonism

At the sitting of the court this morning, (24th) Thomas MORROW, a decent looking countryman, was indicted for being a member of the Ribbon society. The prisoner pleaded not guilty. He had no counsel or attorney engaged for him, but conducted his own defence, which was more abuse and accusation against others than an exoneration of himself from guilt.
John HALTON <sic> examined – l am a sub-inspector of police; I was stationed at Clogher on the 12th June last; on that day I saw the prisoner in a quarrel in the street, and had him arrested; upon being brought to the station house he was searched and the documents (now produced) were found with him; I afterwards searched the house where he lodged and found those other documents, which are printed regulations; with regard to the written document found on his person, he said that he knew nothing of it, that he found it in the fair green of Fivemiletown. It was here put in, and was as follows;
What do you think of the Queen's marriage?
It is disagreeable to the Tories.
We don't care for that.
I hope it will do good to the people.
I beg you will be quiet.
I never was quarrelsome.
The nights are getting short,
So is the life of man.

(The printed paper was also read and contained a copy of the rules and regulations of the sons of St. Patrick, or sons of the Shamrock, (which we have published before.)
William SMALL examined – l saw the prisoner write; the passwords now handed to me are, I believe, in his handwriting.
Prisoner – "Oh, SMALL don't perjure yourself. No man ever saw me write, because I am an illiterate man Where did you see me write?"
Witness – "l saw you at night school."
Prisoner – "You might have seen me there, and I cannot write. You might as well say that every man you saw in church was a parish minister.
Mr. JOHNSON (to witness) – Do you believe that document to be in the prisoner's handwriting?
Witness – l believe it is like it.
Mr. JOHNSON – Leave out the word like, and tell me do you believe it to be his writing?
Witness – l do.
Prisoner – Your lordship, these people are swearing right and left against me. As the story about the two old printed papers found at my father's house, they were given to me many years ago by a man who was going to America, and were lying there ever since in an old open chest.

Mr. Justice TORRENS – When the proper time comes for stating your own case, I will apprise you; but the public time cannot be taken by listening to your rambling statements and abuse of witnesses, who have come here to swear conscientiously.

Edward FLOOD, a constable from the County Cavan, deposed that he arrested ribbonmen there, who had in their possession, passwords, the same as those found with the prisoner.
Other witnesses gave similar testimony.
Court (to the prisoner) – You may now make whatever statement you please in your defence.
Prisoner – l was a party-man long ago, but l am not so now. I gave it up three years ago. I was so when the Orangemen were very bad, and this I can state to your lordship, that there is many an orangeman has housefuls of papers, and there is no search made for them, (and then casting a look towards one of the side bars where a well-dressed countryman was sitting) "Come, now, Mr. George BERNIE, of Fivemiletown, on your oath, are there not plenty of papers in your house connected with party business?
Respondent "Yes, there are papers there, but they belong to another system. I have them, and don't deny it.
Prisoner – Aye, a b _y deal worse system than ours. (laughter)
His lordship summed up the evidence and the jury, without any hesitation, brought in a verdict of guilty. (Vindicator)
17 Dec. 1840 – married
On the 8th instant, at Fivemiletown Church, James GRAHAM Esq. of Aughnacloy, to Mary, only daughter of Robert LEY Esq. of Grange, near Clogher
21 Aug. 1841 New Church
On Thursday the new Church of Mallaghfad, near Fivemiletown, was consecrated by the Lord Bishop of Clogher.
13 Sept. 1841 married
At Colebrook Church on the 2nd Sept. inst. by the Rev. G. Sydney Smith D.D., Acheson BLACK of Cloughcur Co. Fermanagh, Esq. to Jane, only daughter J. KELSO Esq. of Fivemiletown in the county of Tyrone,
25 Dec. 1841 Auction
And also the houses and tenements in Fivemiletown aforesaid, wherein Joseph KELSO and William KELSO formerly lived, with one acre and 27 perches of their tenement, park, and garden and 7 acres and 24 perches of Land, known by the name of Annagh, making the whole, 8a 1r. 11p., demised by Lease, dated 5 February 1808, held for the lives of the said John KELSO, James COULTER and Robert HYDE, at the yearly rent 22£ 15s, Irish currency.
And also that parcel of land near Fivemiletown aforesaid, formerly in the actual possession of William KELSO containing 18a. 3a. 22p., part of the lands of Ballyvadden, in the Manor of Blessingburn and County of Tyrone, demised by lease, dated 17th July 1793, for the lives of George MAINS, Colonel William VERNER and James BURNSIDE, at the yearly rent of £23 13s. Irish currency.
And also that farm in Ballyvadden, formerly in the possession of said William KELSO containing about 16a. 1r. 23p., plantation measure, with turf in the Coalhole Bog, in the Parish of Clogher, Barony of Clogher and County of Tyrone, as demised by lease, dated 17th July 1800, for the lives of John Benjamin STOREY, John KELSO and Francis BROOK, or the survivor of them, subject to the yearly rent of 25£ 2s 4d Irish currency.
For particulars, as to Title &c., apply to Messrs. Robert HALIDAY & Co., Belfast, who will receive proposals from persons desirous to purchase or to John BATES, Solicitor, Belfast.
9 Jul. 1842 Bankrupts
Court-house Omagh 8th June
BOGUE James, of Fivemiletown, pensioner
BOGUE John, of Fivemiletown, grocer
M'KENNA Peter Fivemiletown publican
(Perry's Bankrupt Gazette)
4 Oct. 1842 – Important to Debtors.
We believe it is not generally known that, however safe a debtor may be from arrest in his own house, which may not be broken into, the house of another person cannot afford the same sanctuary. A case came before Mr. PATTERSON and Mr. TAYLOR at Fivemiletown Petty Sessions, on the 1st inst., in which a number of persons were charged with breaking into the house of a man of the name of HACKET, for the purpose of arresting, on a civil bill decree, a man named NEELINS. It appeared that NEELINS, when he saw the bailiffs coming, suspected their errand and instead of taking refuge in his own house, fled to HACKET'S; the bailiffs followed, demanding admittance and on refusal, broke open the door and arrested. NEELINS. The magistrates refused taking informations for the forcible entry and on reference being made to the Law Adviser at the Castle, it appears they were justified in doing so; the answer being that it was not a case for magisterial interference – that the parties executing the decree were warranted in the proceedings they took, but, if not, they were only answerable in a civil action.
17 Dec. 1842 – killed
On the night of Friday, the 9th instant as Mr. Robert LENDRUM, of Cullynane, near Fivemiletown (a respectable farmer on the Blessingburne estate) was returning home from Omagh, by the old leading road of Fintona, his horse stumbled and threw him on his head and he was killed in a moment. His body was found next morning. He was perfectly sober. An inquest was held on the body and a verdict returned of "accidental death."
15 Mar. 1843 shipping intelligence
A passenger taken in at St Andrew's, Mathew BURNSIDE of Five-Mile-Town, County Tyrone, died board the Comet, on the 16th February.
4 Apr. 1844 died
Lately, at Mullasilligia near Fivemiletown, at the very advanced age of 115 years, Mary M'CUTCHEON widow. She retained the use of her faculties till within the last few months, and was able to walk several miles in a day. She has left very numerous offspring, among the rest great-great-grandchildren.
13 Dec. 1844 married
On Tuesday the 10th by the Rev. Charles King Irwin, Alexander BREDON Esq., M.D., Portadown to Kate, second daughter of Joseph BREADON Esq., M.D. and surgeon. Royal Navy. Stansted Plain, Canada, and formerly of Fivemiletown, Co. Tyrone.
28 Apr. 1845 died
On Tuesday morning, the 22nd inst. at the residence of her nephew, Mr. Robert DOHERTY, Pottinger's-entry, Miss Lucinda BROWN formerly of Fivemiletown, in the county Tyrone.
12 Aug. 1845 – resigned
The Rev. J. B. STORY has recently been obliged to resign the curacy of Fivemiletown, in the division of the parish of Clogher, in consequence of ill health, after remaining curate of it for the space of 30 years. An address, accompanied by a piece of plate, has been presented to Mr. STORY by the parishioners.
10 Oct. 1845 – married
On the 1st instant, in Carntall Meeting house, by the Rev. James Phillips. Mr. George SPENCE of Fivemiletown merchant, to Eliza youngest daughter of the late William GLENN Esq., of said town
23 May 1846 married
On the 19th instant at St, Mark's Church Armagh by the Rev Mr. Haigh, Mr. William GLENN of Fivemiletown, merchant, to Ann daughter of the late Oliver VANCE Esq. Dungannon.
16 Oct. 1846 – Fivemiletown National (Male) School
Public Examinations of this School were held on the 30th Sept. 1846 and comprising Reading, Spelling, English Grammar, (with parsing,) Writing, Arithmetic, (including Mental Calculations) Geography, History, (Sacred and Profane.) Book-keeping and the Scriptures. Premiums and Certificates were adjudged to the under-named Boys. The Premiums were the gift of the late excellent and much lamented Mrs. Hugh MONTGOMERY who was a most liberal patroness of education. (many forenames were left blank)
2nd Class – BLAIR _? 1; BOGUE Charles 3; BOGUE Hugh 3; CROZIER Robert 1; HORIS ? 3; HUNTER James 5; M'CALLEN 2; M'DONALD 1; MURPHY 9;
3rd class – BOLLARD Francis 4; CASH James 3; CURRAN 2; FLEMING 1; GARLAND James 2; HART 3; SHEIL 1; SMALL 2;
4th Class – BALLICK 2; CRAWFORD 2; CROZIER William 2; DUNLAP 2; GARLAND Thomas 6; HUNTER Henry 2; KELLY 2; LITTLE Thomas 2; LITTLE John 1; M'GUIRE 2; NELSON 4; STUART Joseph 2; STUART Charles 4; THOMPSON 6;
5th Class – ARMSTRONG 2; BALLARD Edward 6; ELLIOTT 4; KEENAN 2; LENDRUM 3; M'CAFFREY 4;
We feel it is due to Mr. Hugh LYNCH who is Master of this School and to the National Board of Education whose officer he is, thus, publicly to testify that he is a most efficient, painstaking and successful Teacher and a very well conducted and respectable young man. The answering of the Boys, in every branch, was prompt and satisfactory, evidencing to us that they well understood their business and rendering it extremely difficult, if not impossible, in many instances, to decide upon the comparative merits of the Competitors. On the whole, the examination was very creditable indeed to the Teacher and to all the Boys above-named.
2 Feb. 1847 died
At Fivemiletown on the 20th ult., Sarah, relict of the late Mr. James ALEXANDER of that town aged 92 years.
29 Jul. 1847 – Tyrone assizes
pick – pocket
Ann FOSTER for having on the 16th July, at Clogher stolen £5 bank notes the property of John GOURLEY. John GOURLEY deposed that the prisoner had taken the notes out of his pocket in Fivemiletown market. It appeared from the testimony of the policeman who arrested her, that on the day after the robbery the prisoner had given a pound note in payment for some clothes she had purchased, which GOURLEY identified as one of the notes that had been taken from him – Guilty – to be transported for 7 years.
2 Feb. 1848 Melancholy Suicide
On Friday evening last, an inquest was held in Enniskillen gaol, on the body of the Rev. James MOORE, episcopalian clergyman of Mullaghfad church, near Fivemiletown. Mr. MOORE had been imprisoned on the 6th ult , for liability of £600, which he had contracted to serve a friend, who betrayed his confidence and it is generally supposed that the Rev. gentleman's difficulties arising from this source, operated on a peculiarly sensitive mind, so to produce insanity. On Thursday last, a meeting of his creditors was held, when he offered to resign all his property and live upon his humble curacy, all that he stipulated for being freedom. No decision was to come on that day and on Friday he was discovered in his prison-room quite dead, and literally covered with blood from the carotid artery. A verdict was returned in accordance with the evidence, of which the above is the substance.
20 Nov. 1848
In Tempo Presbyterian Church, on 10th inst., by the Rev. A. T. Holmes, Mr. Hugh LYNCH of Fivemiletown, to Elisa, third daughter of the late Mr. Henry WOOD of the same place.
21 May 1849 An Orange Funeral
On Thurs. last, the brethren and friends met for the purpose of conveying to their last resting place, Fivemiletown graveyard, the remains of Mr. John GOURLEY, who died on the 16th inst. Deceased was 72 years of age, and one of the oldest members of Claby lodge 387. There were three lodges and a large and respectable concourse of friends, with music and banners. (Armagh Guardian)
16 Jan. 1856 married
Jan. 11th at St. Peter's Roman Catholic Chapel, by the Rev. Mr. O'Sullivan, Mr. Owen BURNS master stevedore, to Miss Jane CAVANAGH of Five-mile-town, Tyrone.
1 Oct. 1857 married
September 28th, at Fivemiletown in the County Tyrone, Hugh Montgomery ARCHDALL late Captain in the 52nd light infantry, to Elizabeth, daughter of the late Sir Hugh STEWART Bart.
30 Nov. 1857 married
Nov. 25th in Fivemiletown Presbyterian Church, by the Rev. William Graham, Scottstown, assisted by the Rev. G. H. Johnston, Hillsborough, brother of the bridegroom, John, son of Mr. James JOHNSTON, Corrylongford Mills, Co. Fermanagh, to Anne, youngest daughter of the late James SANDELS Esq., Kilmore, Maguiresbridge.
15 Aug.1859 edition
married
1859 August 8th in the Roman Catholic Church, Bundoran by the Rev. Mr. Keeleghan P.P., Mr. Hugh M'CAFFREY merchant, to Catherine Jane, daughter of John GARLAND Esq., both of Fivemiletown. (Belfast Morning News)

Died
1859 August 10th at Sandymount, Miss Ellen GLENN of Fivemiletown, County Tyrone.
9 Oct. 1860 died
September 20th, suddenly, Edward F. MENAUL (or MENNAL?) Esq., of Fivemiletown, aged 63 years.

7 Aug. 1862 died
July 29th at Tattyreagh, near Fivemiletown, Mr William HERBERT Methodist Preacher, aged 92 years. The deceased commenced the duties of an itinerant preacher in the 45th year of his age, and bore an unblemished character until the end of his earthly career.

3 Nov. 1862 died
October 18th at The Raw, the residence of his father, Mr. James M'MAHON of Fivemiletown, aged 22 years.

30 May 1866 died
May 21st at Ballyvadden Cottage, near Fivemiletown, Mary CLARK aged (81 or 84?) years and for 66 years the exemplary wife of Patrick CLARK Esq., late supervisor of Excise.

12 Apr. 1867 died
April 6th at Fivemiletown, John Moore Neligan, son of the Rev. John MacLAURIN, aged 4 months.
14 Jun. 1867 died
June 10th at the residence of her son-in-law. Mr. William GLENN, of Fivemiletown, Jane, relict of the late Oliver VANCE Esq. Dungannon, aged 93 years.

6 Mar. 1868 died
February 24th suddenly, at Garlan, near Fivemiletown, Jane Warnook Wilson, wife of Mr. Mungo SLOAN aged 52 years, a native of Ayrshire, Scotland

16 Nov. 1868 married
November 10th, in Fivemiletown Church by the Rev. Mr. M'Laurence, Mr. Elijah JACKSON, Denylee, Vernersbridge, to Mrs. MILLIGAN, Cess, Fivemiletown.
26 Sept. 1870 Laying the Foundation Stone of Fivemiletown Roman Catholic Church
The religious services in connexion with the laying of the foundation-stone of the new Catholic church for Fivemiletown took place today in the presence the Most Rev. Dr. DONNELLY, Bishop of the diocese of Clogher, a considerable number of the clergy and a very large congregation. The Catholics of Flvemiletown mustered in strong force for the occasion, and their numbers were considerably augmented by the attendance of a number from a distance, who were also interested in the undertaking and anxious to aid it. The erection of the edifice, which is now being rapidly proceeded with, will supply a want long felt in this district. Hitherto the Catholic population, in order to attend mass, have had to travel several miles in all seasons of the year, and it is surprising, considering the real necessity that existed for it, that a church was not built in the town long since. It has now been vigorously commenced, however, and there is little doubt that it will be steadily prosecuted till its completion.The Bishop of the diocese has given it his sanction and support; the Catholics the town and neighbourhood have subscribed liberally towards it, and, with the assistance of their friends, will likely be able in a short time to obtain all the necessary funds.
The lord of the soil, H. F. MONTGOMERY Esq., has met them in a very generous spirit – having granted an excellent site for the church building a short way from the town, besides subscribing to the building fund. Already the walls are erected a few feet, and the services today were held inside them, a large marquee being placed as a temporary roof overhead. Notwithstanding that, the weather in the morning was rather unfavourable, the attendance far exceeded the accommodation provided. The space inside was crowded to inconvenience; the top of the walls was also fully occupied, and many were obliged to remain the marquee altogether.
10 Aug. 1875 died
August 2nd at Five-Mile-Town, County Tyrone, Ireland, Louisa, wife of the Rev. D. C. ABBOTT; also on the 28th July, Charles Napier, infant son of the above. (Western Times)
22 Jul 1876 died
July 20th of decline, after a long illness, borne with fortitude and Christian resignation, at his aunt's residence, Fivemiletown, County Tyrone, John S. HENRY, eldest son of Mr. J. W. HENRY, Donegall Street, Belfast, aged 18 years. His remains will be removed for interment in Clogher burying ground on Monday morning, the 24th inst., at ten o'clock. Friends will please attend.

15 Dec. 1876 died
Dec. 12th at Fivemiletown, Sarah, the beloved wife of William NIXON, aged 37 years, deeply regretted.

12 Jul. 1877 married
July 10th at the Wesleyan Methodist Church, Fivemiletown, by the Rev. James Oliver, John WRIGHT Belfast, eldest son of Mr. James WRIGHT, Tallyrimond, Caledon, to Alice, third daughter of Mr. Robert NIXON Grannon, Trillick
5 Jan 1880 married
December 31st in the Parish Church, Finlagan, by the Rev. George Smith Rector, the Rev. D. Charles ABBOTT, Rector Of Fivemiletown, County Tyrone, to Charlotte Elizabeth, eldest daughter of James CHURCH Esq. Barrister-at-Law of Oatlands Co. Londonderry
21 Aug 1880 died at Rahorn Cottage, Fivemiletown, George Arthur BIRNEY, aged 68 deeply regretted by a large circle of friends
26 May 1882 – died
May 22nd at Fivemiletown, Eliza, the beloved wife of Charles STUART merchant. Funeral to-morrow ( Saturday) morning, at ten o'clock.

11 Nov. 1882 – died
November 9th at Fivemiletown, Maggie, youngest surviving daughter of the late William ALEXANDER. Her remains will be removed for interment in the family burying ground Clogher on Monday Morning the 15th Inst. at 11:o'clock
22 Jan. 1884 The Late Rev. Dr. BURNSIDE
The remains of the Rev. Wm. Smyth BURNSIDE D.D., Chancellor of the Diocese of Clogher, were interred in Fivemiletown churchyard on Friday last, with marked demonstrations of affectionate respect on the part of the community at large. The body, which was enclosed in a massive oak coffin, richly mounted and covered from head to foot with wreaths of exquisite flowers, lay in the hall of the old family mansion during the morning. At 11 o'clock the equipages of the gentry for many miles around began to arrive at Corcreevy and immediately after the members of the loyal Orange lodges of the district, to the number of several hundreds, and arrayed in the brilliant regalia of their fraternity, were seen streaming along the beautiful grounds to pay the last sad honours to their departed brother. All classes were largely represented on the mournful occasion; the aristocracy, the clergy, the tradespeople and the agricultural population-rich and poor vieing with one another in evincing their regard for the memory of one who has left a blank in the Church and in society which will not easily be filled up. The funeral procession was, perhaps, the largest ever witnessed in the locality. The coffin was borne on the shoulders of the Orangemen, the rest of the brotherhood following with a solemn pace four abreast. The chief mourners were Mr. James BURNSIDE and Mr. Wm. T. BURNSIDE F.T.C.D.sons of the deceased and the Rev. Edmund M. WEIR Rector of Tydavnet, son-in- law. When the front of the procession had reached the church some of the long line of Carriages had not yet left Corcreevy House. Although it was the market day at Fivemiletown, all the shops and places of business were kept closed till the afternoon, the death of Dr. BURNSIDE being, regarded as a universal calamity. The burial service was most impressively read within the church and at the grave by the Rev. D. C. ABBOTT and Canon VERCHOYLE, the latter also delivering a touching address, in which he portrayed the character of his deceased friend, whom he had known since they wore both students of the University of Dublin, preparing for the office of the ministry, 55 years ago. During that lengthened period he had maintained an intimate acquaintance with him and he could truly testify that he fulfilled all the relations of life, public and private, in an exemplary manner. In his preaching his constant aim was to exalt his Saviour, whom he found precious to his own soul both in life and death. Canon VERACHOYLE urged his hearers to follow the steps of him who had been just taken from them, as he followed Christ and so they should share with him for ever the inheritance of the saints in light. A deep impression seemed to be produced on the vast assemblage by the words of the venerable speaker. Dr. BURNSIDE was, indeed, pre-eminently deserving of the honour paid to his memory. He was an accomplished scholar, a man of fine intellect, enlarged by extensive reading and observation, of sound judgment and ever ready to assist his juniors in the ministry, or any others who sought his counsel. In polities he was a staunch Conservative. He was a loyal citizen and warmly attached to the Orange Institution. Of him it might be truly said that he was " given to hospitality" as well as 'apt to teach." To the poor he was kind and charitable. Above all, he was a sincere and humble Christian, practicing himself the virtues he inculcated on others.
26 May 1884 – died
May 22nd at Cran Brooke, Fivemiletown, Cecil Hall, infant son of David GRAHAM aged 5 months
29 Nov. 1884 died
November 23rd 1884 at his residence Riverview, Fivemiletown, Price MOORE aged 70 years
23 Feb. 1885 married
Feb. 19th at the Methodist Church, South Great George's street, Dublin, by the Rev. Wm. Maguire, James, eldest son of John KENNEDY Longfield, Fivemiletown, county Tyrone, to Abbrillia Minerva, youngest daughter of Henry BRIEN, Drumslow, Ballinamallow, Co. Fermanagh. (Derry Journal)
18 Dec. 1885 married
December 16th May street, Church, Belfast by the Rev. John MaoDermott, M.A., William JAMISON, Belfast, to Maggie YOUNG Fivemiletown. (Derry Journal)

14 Jan. 1886 married
At empo Presbyterian Church on the 30th ult. by the Rev. D. Clements, John HUTTON, formerly of Ballycastle, County Antrim, to Jane, only surviving daughter of George M'ALPINE Esq. Losset, Fivemiletown, Co. Tyrone. (Ballymoney Free Press)

13 Dec. 1886 died
December 12th at 14 Belgravia Avenue, Belfast, Samuel ELLIOTT youngest son the late George ELLIOTT of Fivemiletown, aged fifteen years. Funeral leaves at nine clock to-morrow (Tuesday) morning, the 14th instant, for Randalstown.

14 Jun. 1887 died
June 12th at 14 Belgravia Avenue, Cassie, daughter of the late George ELLIOTT of Fivemiletown, aged twenty-four years. Funeral will leave for Randalstown this day (Tuesday), nine o'clock a.m.
30 Jun. 1887 died
June 27th at his residence, Fivemiletown, Charles STUART.

8 Sept. 1887 died
September 4th at his residence, Fivemiletown, Patrick YOUNG, aged 78 years

28 Nov. 1887 married
November 22nd at Fivemiletown by the Rev. E. F. Naylor, incumbent, Jacob TAVENOR, merchant, Fivemiletown. to Annie Louise WOODS, of Rose Cottage, Fivemiletown
23 Feb. 1889 died
February 2nd at Corcreivy, Fivemiletown, Co, Tyrone, William DOHERTY, aged 92 years.
16 Aug. 1889 died
August 9th at her residence Artlea, Fivemiletown, Co.Tyrone, Anne, last surviving daughter of the late Mr. James BURNSIDE, aged 76. (Tyrone Constitution)
14 Sept. 1889 A weeks doings in the Coercion Courts – The Crown Backs Out.
At Fivemiletown petty sessions, on Monday, a tenant on the Armstrong estate, named SWEENEY, was charged with resisting eviction, by taking possession of a barn on the occasion, but the crown failed to go on with the prosecution. Mr. SMITH, solicitor, Clogher, who represented SWEENEY applied for a discharge, which was accordingly granted.
8 Nov. 1889 Dublin Bankruptcy Court
Robert HAZLETT and Duncan FERGUSON, both of Fivemiletown in the County of Tyrone, grocers, trading as under the firm of Hazlett & Ferguson, were on the 30th day of October 1889, adjudged bankrupt.
21 Mar. 1890 Breach of Promise
Mary Anne GOOD, Murley, Fivemiletown, Co. Tyrone, plaintiff.
Peter R. WILLIAMS of Fintona Co. Tyrone, defendant.
This was an action brought by the plaintiff for damages for breach of promise of marriage. The trial was fixed for hearing at the last assizes held in Omagh, but the case was settled; the defendant paying to the plaintiff £30 damages, with a letter of apology withdrawing all charges made by him against her. (Tyrone Constitution)
5 Aug. 1890 died
August 3rd  at his residence, 61 Heytesbury street, Dublin, John Stewart WILSON aged 75, youngest son of the late Rev. J. WILSON M A, Clarke's Bridge, Co. Armagh and nephew of the late Rev. Charles STEWART D.D. and M.D. Ahantane, Fivemiletown, Co. Tyrone.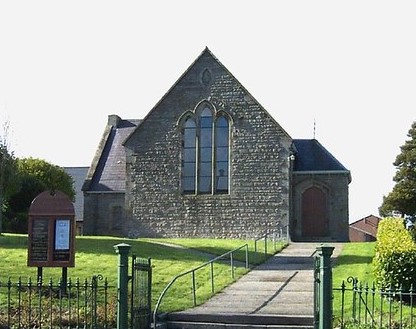 Wesleyan Ministers and Preacher's on trial in Ireland
(some of those who preached in Fivemiletown);
1878 William CHRISTIE
1879 Gabriel COULTER
1880 John TODD
1881 John J. HUTCHINSON
1881 William MAGUIRE
1882 Alexander ABRAHAM
1884 James NIXON
Book – Fivemiletown Methodist Church jubilee 1897-1947: A short account of the Fivemiletown circuit (John Keys)
Fivemiletown Methodist Church Roll of Honour https://bit.ly/3c3dtjP
The Fivemiletown Industries;
Classes are held under the personal superintendence and instruction of Mrs MONTGOMERY, in Fivemiletown on Saturday mornings from 11 – 1:00 o'clock for needlework; and on Monday evenings from 6 -b8 o'clock for metal work. On other days the members of the classes work at home. The value of the materials and bare expenses of the class, including remuneration for occasional professional instruction, are paid out of the price of the articles sold, the balance going to the workers. (Handmade Embroidery, Plain Work, Mountmellick Embroidery, Metal Repousse Work. Founded: Needlework 1876. Metal Repousse Work 1892.)
1907 publication – Exhibits of Arts and Craft of Mrs. MONTGOMERY'S school
for the Execution of items;
Henry BUSBY (a tray of copper, copper mug)
Samuel CARRUTH (candlestick of copper)
Thomas CURRAN,
Mathew REID (pair of brass door-plates),
P. ROACHE, (brass fender)
for the Design of items;
J. KENDAL
Capt. H. MONTGOMERY
J. WILLIAMS
Miss Mary WILLIAMS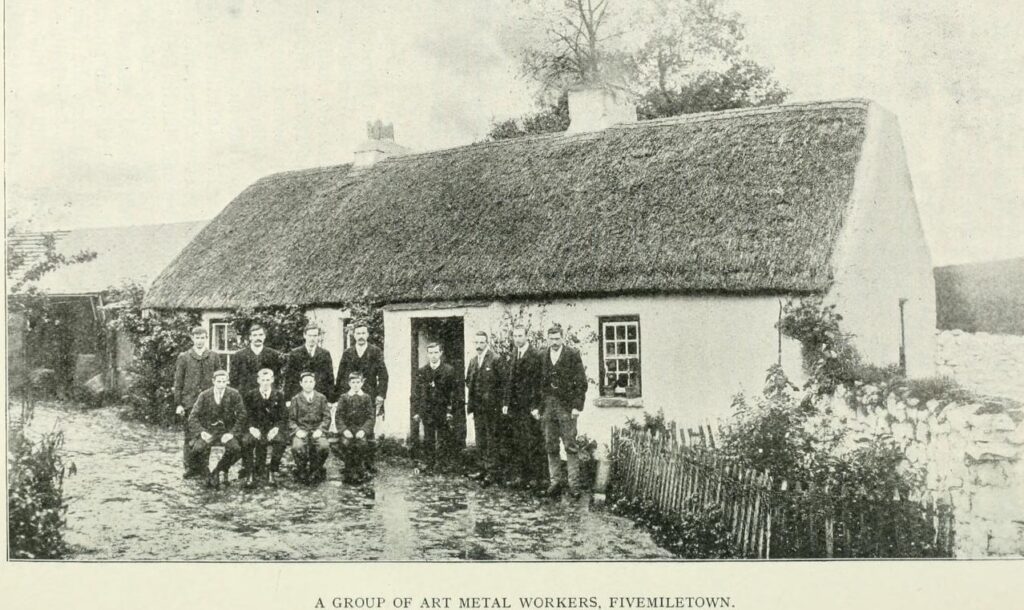 The Morning Post of November 26th 1896 devotes a long article to these industries, from which we make the following extracts;
Cottage industries have flourished in Fivemiletown for several years under the direction of Mrs MONTGOMERY of Blessingbourne, who has organised embroidery and sewing classes for girls. Mrs MONTGOMERY determined to extend the scope of her work and to find occupation to which the young men, as well as the young women of Fivemiletown, could devote their spare hours. She went to London in 1891 and placed herself under the tuition of a lady teacher in repousse metal work, who had been recommended to her by the Home Arts and Industries Association, and by the Spring of 1892, she was able to start an art metal work class at Fivemiletown itself. She was, at first, the only teacher, but was soon most ably seconded by Mr WILSON, the manager of the Fivemiletown branch of the Northern Bank, whose children also showed an extraordinary aptitude for the work.
The Home Arts and Industries Association supplied some of the designs, others were furnished by Mr H. de F MONTGOMERY himself, others again were worked up by Mr John WILLIAMS, their main characteristics being flowery forms of a bold conventional treatment which were mainly derived from Persian and Gothic sources. Some again were adapted from old 15th century patterns, others were original. The result was that the Fivemiletown Class made a very creditable show at the Home Arts and Industries Exhibition at the Albert Hall in June 1893, and succeeded in winning a gold star for designs by Mr MONTGOMERY, and another for workmanship earned by Mr Patrick ROCHE. This was, however, but a beginning, and the reputation thus earned by the Fivemiletown Class stirred up strangers to take an interest in its further development. Mr John WILLIAMS, then Art Teacher to the Surrey County Council, now head of the Art Department at the Northampton Institute in Finsbury, spent part of his autumn holidays that year at Fivemiletown, where he was able to enjoy the beauties of the Clogher Valley in the morning, and to devote his evenings to developing the artistic faculties of the workers. His visits, repeated in 1894 and 1896, have done much to raise the standard of the work to a high pitch of artistic excellence.
The Fivemiletown repousse earned the most favourable notice and the warmest praise at many exhibitions in 1895 and 1896, more especially, at the Home Art and Industries Exhibition at the Albert Hall, and the Exhibition of Arts and Industries, held by the Royal Dublin Society, at the same time as the Dublin Horse Show at Ballsbridge. In fact, one of the judges this year at the latter exhibition gave expression to the opinion that he had seldom seen modern work approach so high a standard of excellence.
Fivemiletown New Catholic Church
12 Jan, 1870 Notice to Builders
Proposals are invited, up till the 8th March next, for the Erection of the Fivemiletown New Catholic Church. The Designs are by the eminent Architect, Mr. COCKERELL of London. A copy of the Specification will sent free by Post to any Applicant and all Plans, &c., produced for inspection in Fivemiletown, at the Residence of one the Secretaries to the Committee of Management, John F. MAGUIRE. January 1870.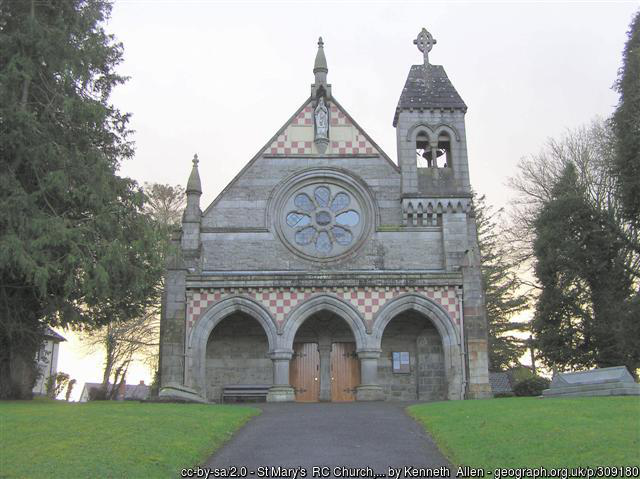 17 October 1870
On the Occasion of the "Laying of the Foundation Stone" of this Church on the 25th ult. by the Most Rev. Dr. DONNELLY, Lord Bishop of Clogher, the collection amounted to over £310. The names of the contributors who paid 5s. and upwards on this occasion and also the subscribers who formerly paid 10s. and upwards on Collecting Cards and whose names were not yet acknowledged, are here appended in separate lines.

The Committee, on the part of the Congregation, hereby tender their sincere thanks to each contributor, but to 2 or 3 in particular, they wish to record their undying gratitude. First, to the Most Rev. Dr. DONNELLY, the Bishop of the Diocese, who, actuated by such kind paternal feelings for his suffering and isolated flock here, not only aids with his generous subscription with his valuable influence, and most of all, with his blessings and his prayers, but he has supplied to this locality a Church wherein to worship the God of all Gifts, the want of which house had been felt for centuries.
Second to him is that generous and noble-spirited young landlord, Hugh De Fellinburgh MONTGOMERY Esq., who not only bestowed, free for ever, this lovely site, but personally selected it. The other is that gifted and learned orator and divine the Rev Father SMYTH of the Dominican House in Dublin, whose touching and eloquent appeal (in part) already appeared in the Morning News of the 26th ult. To the gentlemen who assisted in aiding the Rev. Chairman and Committee at taking the Collection especial thanks are due. The following are the Subscribers;
The Most Rev. Dr. DONNELLY Lord Bishop Clogher
H. De Fellinburgh MONTGOMERY Esq. the landlord of the Estate
Very Rev. Dr. M'MEEL V.G., Enniskillen
Very Rev. Dean M'MAHON V.G. Carrickmacross
Rev. P. MEIGEN Adm. Clogher
Rev. P. CLIFFORD P.P. Rockcorry
Rev. F. CASSIDY P.P. Dromore
Rev. F. B. M'ELROY
Rev. J. M'ARDLE C.C. Enniskillen
Rev. M. KIERAN P.P. Brookboro
Rev. H. WARD P.P. Newtownbutler
Rev. J. CASSIDY P.P. Fintona
Rev. F. SMOLLEN P.P. Clones
Rev. M. KEIRNEY P.P.. Ballybay
James DONNELLY Esq. Tempo
John F. MAGUIRE Esq. Fivemiletown
Mrs. J. F. MAGUIRE Fivemiletown
H. M'CAFFREY Esq. Jun. Fivemiletown
Mrs. H. M'CAFFREY Fivemiletown
Edward NAWN Esq. Fivemiletown
John COLGAN Esq. Fivemiletown
P. MARTIN Esq. Fivemiletown
J. FURNAN P.P. Ballygawley
Rev. P. M'KENNA P.P. Derrygonnelly
Rev. James M'DONALD P.P.
Rev. F. SHIELS P.P. Donagh
Rev. P. M'MAHON P.P. Trillick
Rev. J. M'QUEAD P.P. Whitehill
Rev. Terence M'MAHON P.P. Garrison
Rev. J. HOEY, T.P. Magheracloon
Rev. M. O'REILLY P.P. Black Bog
Rev. P. DONEGAN P.P. Tempo
R. ARMSRONG Esq. Enniskillen
Henry SMITH Esq. Clogher
Patk. DONNELLY Esq. Omagh
A. CASSIDY Esq. Enniskillen
John L KELLY Dublin
C. MAGUIRE Esq., Cavans
Hugh CAFFERY Esq. Sen. Fivemiletown
Rev. L. J. O'NEILL Monaghan
T. M'NALLY Esq., Ballyconnell
Mrs. T. M'NALLY Ballyconnell
R. KANE Esq. Ballyconnell
Mrs. MURPHY Ballyconnell
Capt. KEAN Dublin
J. BAKER Esq. Cooltrain
John BOGUE Esq. Clones
J. SOMMERVILLE Esq. Omagh
Mr. B. DONNELLY Mullaghfad
Mr. MAGUIRE Clogher
Mr. J. FEE Latty Kieran
Mr. Edward M'ELROY Fivemiletown
Mr. H. HAGEN Eskera
Mr. Edward MAGUIRE Fivemiletown
Mr. J. KANE Derentony
Mr. T. M'ALEER Clogher
Mr. Hugh SWEENEY Crieve
Mr. James HUGHES Cleffney
Mr. P. HUGHES Clogher
Mr. M. COLGAN Fivemiletown
Mr. Jas. M'ELROY Crock MacManus
J. Cassidy C.C.. Trillick
H. MOORE Esq. builder, Enniskillen
Mr. John TEIRNY Crane
L CAROLAN Esq. Dublin
Mr. J. M'PHELEMY Fivemiletown
Rev. F. ROGERS C.C. Clogher
Rev. D. O'CONNOR C.C. Clogher
Rev. J. Gillooley C.C.. Co. Cavan
Rev. F. M'Ardle C.C. Lisnaskea
Rev. P. Hughes, C.C. Brookboro
Rev. M. MELLY C.C. Annaghmullan West
Rev. P. Laughrin C.C. Clones
Messrs. R. D. Read, Belfast
Wm. MEIGAN Esq. Fintona
Joseph MEIGAN Esq. Monaghan
John WRAY Esq. Enniskillen
Arthur MAGUIRE Tattnalee
Mrs. BAXTER Brookboro
Rev. J. M'GINESS C.C. Truagh
Rev. P. M'KENNA C.C Monaghan
Rev. J. KELLY C.C. Garrison
Rev. Jas. M'KENNA Pettigo
Rev. T. GOODWIN C.C. Tempo
Rev. E. M'QUEAD C.C. B. Bog
Rev. R. Owns, C.C. Donagh
Rev. E. M'SHERRY Brooklyn, America
Rev. F. M'KENNA Enniskillen
Rev. W. M'QUEAD White Hill
Jas. MEIGAN Esq. Mount Stuart
Joseph SMITH Esq. Omagh
P. CASSIDY Esq. Conge
Miss M'CUE Irvinestown
Mr. Michael MAHER Fivemiletown
Mr. John DONNELLY Corbo
Mr. Jas. M'CAFFREY Lisnaskea
Mr. Chas. HOLLAND Blacklands
Mr. Miles HART Fivemiletown
Mr. A. M'CLUSKEY Rahorn
Mr. E, MONAGHAN Enniskillen
Mr. J. MURPHY Ballyvadden
Mr. J. M'KENNA Emmyvale
Mr. John BOGUE Grogy
Mr. P. RAFFERTY Monaghan
Mr. WEBB Armagh
Mr. F. SMYTH Omagh
Mr. L. M'LUNNY Omagh
Mr. B. BOGUE Crieve Mills
Mr. Edward NAWN Corcrevy
Mr. Thos. KEENAN Fivemiletown
Mr. Henry BUSBY do
Mr. Thomas BUSBY do.
Mr. Patrick M'ELROY do
Mr. James DOGHERTY do
Mr. Thomas KEENAN Clogher
Mr. John LOGUE N.F. Fintona
Mr. John O'BEIRNE N.F. Fivemiletown
Mr. P. DOGHERTY Fivemiletown
Mr. Patrick O'KANE Fintona
Mr. Wm. CAMPBELL
Mr. MULLIGAN Mullinavale
Mr. M. M'ALOON
Mr D. CAMPBELL Clogher
Mr. J. CAMPBELL Mullaghmore
Mr. E, CASSIDY Glenngesh
Mr. P. LYNCH Tempo
Mr. Wm. KELLY Ballyvadden
Mr. Jas. CALLAGHAN Aghavery
Mr. Terence GRAY Crane
Mr. Felix DOGHERTY Escara
Mr. O. M'CAUGHEY
Mr. Jas. M'CLUSKEY Rahorn
Mr. John M'CONNELL Sess
Mr. Thos. NAWN Corcrievy
Mr. Francis OWENS Rahorn
Mr. B. KELLY Fivemiletown
Mr. Owen CONNOLLY Fintona
Miss O'CONNOR Clogher
Miss A BAXTER Fivemiletown
Mr. John WOODS Aughnacloy
Mr. John KELLY Augher
Mr. A. HART Fivemiletown
Mr. John KELLY Clogher
Mr. James OWENS Cole
Mr. TIERNY Cavana Kirk
Mr. OWENS Fivemiletown
Mr. H. M'CAUGHEY Widun Hill
Mr. P. OWENS Fivemiletown
Mr. S. DONNELLY Escara
Mr. B. CARNEY
Mr. W. MEEGAN Corcreevy
Mr. Andrew MAGUIRE
Mr. Frank SMITH foreman stonecutter
Mr. Wm. BOYLE Ballygawley
Mr. T. MOAN
Master Wm. BAKER Lismalore
Mr. Samuel MILLIGAN
Mr. Patrick M'CUSKER Escara
Mr. James SUNAN Middletown
Mr. James M'KENNA Arrigle
Mr. LAW Ivy Hill
Mr. Michael BRANNON Tempo
The Very Rev. Dean SLANE Dungannon
The Rev. Father HUGHES Dungannon
Mr. BOYLE Fivemiletown
Mr. E CLANCEY do
Mr. P. M'KEON do
Mr. M'GANNON Lisnaskea
Messrs. W. HAMILTON Derry
Messrs. DUNVILLE & Co. Belfast
Mr. W. SCOTT Omagh
Mr. Samuel GILLILAND Derry
Messrs. D. BROWNE & Son, Donaghmore
Mr. P. MORRIS Dungannon
Messrs. BROWNE, CORBETT & Co., Belfast
Mr. Charles BROWNE Tierear
Mr. M. MAGLONE Middletown
Mr. James KELLY Cavan
Messrs. MAGILL & SMYTH Belfast
Mr. Joseph GARLAND do.
Mr. James MOORE Armagh
Mr. H. M. RAW Maguiresbridge
Mr. M. FERRY Maguiresbridge
Mr. O'HARE Dublin
Mr. W. J. SMYTH Rock Villa, Derry
Mr. Luke CONNOLLY Scotstown
Mr. S. HANLON Warrenspoint
Mrs. BREEN Boston
Mr. James KEENAN Lonsdale
Mr. P. CARBERRY Armagh
Messrs. H. J. NEILL Belfast
Mr. James HUGHES Monaghan
R. MOORHEAD Belfast
S. & T. ROULSTONE Omagh
TAYLOR & MOORE Coleraine
Mr. C. CAMPBELL Providence America
A. M'GUINNESS Esq. Derry
Alex. STEEN Esq. Clogher
Master H. G. LYNCH Clogher
P. FITZPATRICK Ballygawley
St. Johns Church of Ireland Fivemiletown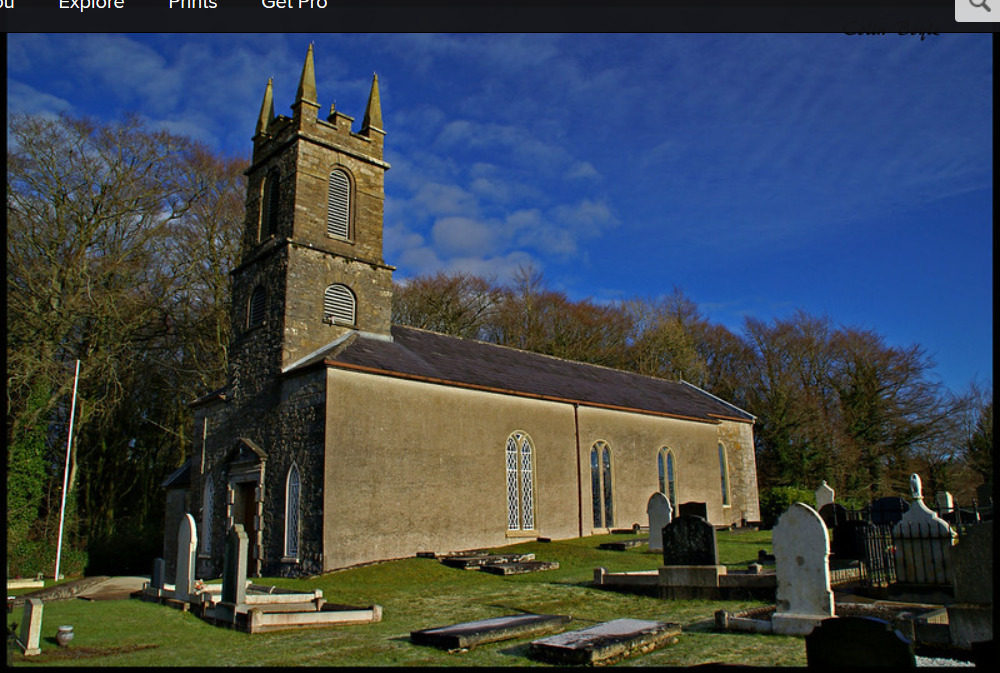 Address – 160 Ballagh Road Fivemiletown Co Tyrone BT75 0QP UK
St. John's Parish Church Graveyard https://bit.ly/2WTVtnq
Fivemiletown was formed as a P.C. out of Aghalurcher and Clogher parishes. Lord Belmore, in his Two Ulster Manors, App. p. 357, gave an account of what he believed to be the building of the Church here in 1736 by Margetson ARMAR , at a cost of £392 11s. 8d.
A faculty for alterations in the church was granted 27 Feb.1862 (D.R.). Act of Consecration of Alterations in Church is dated 1890. A new Burial Ground was cons. 10 Aug.,1895 (D.R.) A Memorial Window here to members of the BURNSIDE family who have been generous benefactors to the parish was dedicated in 1910.
Of the Communion Plate in use, an old Electro Plate Flagon is inscribed "Fivemiletown Church 1839." A Plated Paten "Kiltermon Church 1840. "A Silver Paten, presented with a Silver-Flagon, inscribed "To the Glory of God, Presented to Fivemiletown Church by Hugh and Mary MONTGOMERY, Mary MONTGOMERY and Diana MONTGOMERY in humble thankfulness to Almighty God for the gracious protection of Hugh and Archibald MONTGOMERY during the South African War, 1899-1902." "Brass Alms Dishes"
perpetual Curates and Incumbents
1791 Blayney IRWIN
1786 John Benjamin STORY
1815 John Benjamin STORY Jr.
1845 William Smyth BURNSIDE
1853-6 John Walton MURRAY
1857 Aicken IRVINE
1865 John MacLAURIN
1871 Robert Archer Butler fFENNEL
1875 David Charles ABBOTT
(Clogher Parishes and clergy)
IGP St. John's Cemetery, Headstone Photographs https://bit.ly/3bX05O7
Book "St. John's Church of Ireland Churchyard, Fivemiletown, Clogher Parish, County Tyrone" (author) David Raymond Elliott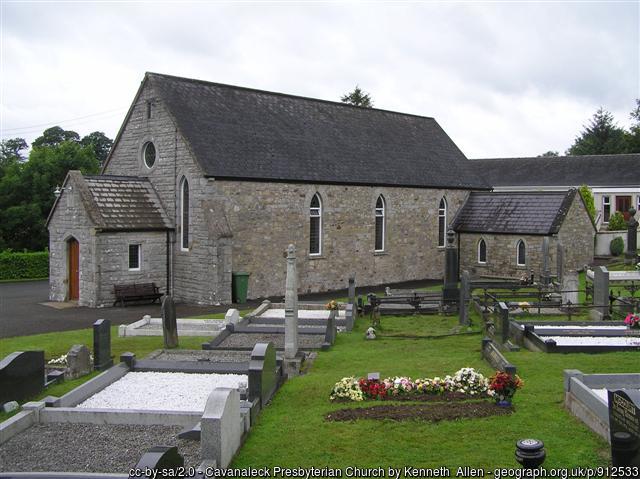 The Presbyterian Church of Cavanaleck (1876), although in the county of Fermanagh, is the main road from Fivemiletown to Enniskillen. It serves the people of Fivemiletown, and is now united, with Aughentaine.
The address is 501 Belfast Road Fivemiletown, Co. Tyrone, UK BT75 0SE
The Presbyterian Historical Society http://www.presbyterianhistoryireland.com/
Fivemiletown Men in the War

21 May 1915 Ulster Canadians
Private James Hogarth JOHNSTON, Canadian Scottish 16th Battalion, killed, was the only surviving son of Mr. Patrick JOHNSTON, Broom hill, Fivemiletown.
29 Sept. 1915
Mrs. Catherine HARKINS, Cess, Fivemiletown, has been notified that her husband. Lance-Corporal Frank HARKINS (13921), 6th Battalion Royal Inniskilling Fusiliers, has been killed in action at the Dardanelles.
15 Oct. 1915
Private Hugh CAULFIELD, Fivemiletown, has also returned after being wounded and Private William M'GLOUGHLIN, of the Greys, another Fivemiletown man, has been for the third time in hospital suffering from wounds received in action.
20 Nov. 1915 Prisoner of war
Mrs. BODDY, Cavanaleck, Fivemiletown, has heard from her brother, Richard JOHNSTON, of the Grenadier Guards, intimating that he is a prisoner of war in Germany. He was employed in a Liverpool business concern, at the outbreak of war.
27 Jan. 1916 rank and file losses
Intimation has been received by Mrs. CAULFIELD, of Cranbrook, Fivemiletown, that her son, Private Hugh CAULFIELD, of the 6th Dublin Fusiliers has died of wounds received in action 22nd December last. Deceased volunteered about 18 months ago, and has two brothers, privates John and James in the Royal Field Artillery.
3 Mar. 1916 Ulster Division Casualties
Trooper Thomas CAMPBELL, North Irish Horse, reported wounded in France, is son of Mr. James CAMPBELL, Cran, Fivemiletown
24 May 1916 Fivemiletown Men Killed and wounded
Corporal Thomas IRVINE son of Mr. T. J. IRVINE, Kiltermon, Fivemiletown, has been killed in action. He belonged to the Inniskilling Fusiliers.
Private Joseph DENNIS, Fivemiletown, Inniskilling Fusiliers, has been killed in action.
Private Thomas M'GLOUGHLIN, of the Inniskillings, is in hospital suffering from gas poisoning. His relatives live at Fivemiletown.
Privates Ernest CLINGING, John HACKETT, and Herbert IRVINE (Five mile town) have been wounded, while Sergeant Hugh HETHERINGTON (Fivemiletown), Inniskilling Fusiliers, is in hospital suffering from shock as a result of being three hours buried, following a shell explosion.
27 May 1916 Inniskilling Fusiliers
17858 J. HACKETT wounded
27 May 1916
Corpl. D, IRVINE, son of J.D. IRVINE, Ranenly, Fivemiletown, died of wounds
20688, Lance -Corporal J. M'LOUGHLIN (Fivemiletown), wounded
29 Jun 1916 Royal Inniskilling Fusiliers Casualty list
J. RAFFERTY Fivemiletown, wounded
14 Jul. 1916 The following casualties are reported from the Tyrone Battalion; Private R. COULTER, wounded, Tullykenney, Fivemiletown.
20 Jul. 1916
Lance-Corporal Percy SIMPSON, R. lnnis. Fus., Fivemiletown, wounded.
22 Jul. 1916
Machine Gun Corps – 18599, A. BROWN (Fivemiletown). Irish Guards (Larne Times)
24 Jul. 1916 Further list N.C.O's and Men
Royal Inniskilling Fusiliers
17237, C. ANDERSON, shell-shock
29 Jul. 1916
195, T. CAMPBELL, Fivemiletown, wounded Inniskilling Dragoons (Larne Times)
12 Aug. 1916
9284 J. M'KENNA, Fivemiletown, wounded
15 Aug. 1916 Royal Inniskilling Fusiliers
14135 R. WILLIAMSON, Sergeant, Fivemiletown, wounded, shell-shock
16 Aug. 1916 Rank and File
1909 S. MORRISON, Fivemiletown wounded
7 Sept. 1916 Rank and File Casualties
Pte. Ernest CLINNING, Royal Inniskilling Fusiliers, Fivemiletown, died of wounds.
23 Sept. 1916 Rank and File
Private Wm. CONNOR, Royal Inniskilling Fusiliers, died on the 8th ult. gas of poisoning. He was the son of Mrs. CONNOR, Curraghfad Fivemiletown.
7 Oct. 1916
Private H. ERVINE, R. I. F., (Fivemiletown), wounded (Ballymena Weekly Telegraph)
14 Oct. 1916 Officer Casualties
Captain William STEWART, Royal Irish Fusiliers, wounded while serving in the Balkans on 29th September, is a son of the late Mr. William STEWART, Lislare, Fivemiletown, county Tyrone. His wife resides at Daisy Hill, Clogher.

12 Oct. 1916 Royal Inniskilling Fusiliers
27368 G. RAFFERTY Fivemiletown died of wounds

14 Oct. 1916 Royal Irish Fusiliers
43096 R. HERON, Fivemiletown, wounded

27 Oct. 1916 more War Honours
Private George WEST formerly of Blessingbourne, Fivemiletown, has been awarded the Military Medal, and promoted to the rank of Sergeant for bravery at the front. He is serving with a Bantam Battalion.
7 Nov. 1916 Rank and File
Mrs. COULTER of Tullykeneye, Fivemiletown, has received information that her son Robert, has been wounded for the second time inside of four months. He belongs to the Royal Inniskilling Fusiliers. (Northern Whig)
27 Nov. 1916 Rank and File
Previously reported Wounded, now reported Wounded and Missing.
27368 G. RAFFERTY, R. Innis. Fusil. (Fivemiletown) (Dublin Daily Express)
20 Jan. 1917 R. Innis. Fusiliers
Previously reported wounded, now reported wounded and missing.
17237, C. ANDERSON (Fivemiletown)
23 Jun. 1917
29813, Private Matthew HETHERINGTON, Inniskilling Fusiliers, Murley, Fivemiletown, has been wounded
20783, Sergeant John IRVINE, Inniskilling Fusiliers, Kiltermon, Fivemiletown, has been wounded.
Private George MONTGOMERY, Inniskilling Fusiliers, Kiltermon, Fivemiletown, has been wounded .
Private W. TREACY Inniskilling Fusiliers, wounded, is the son of Mr. James TREACY, Derrygonnelly.
Private Robert WILTSHIRE, Inniskilling Fusiliers, Kell, Fivemiletown, has been wounded.
14 Jul. 1917 Previously reported wounded and missing, now reported killed.
27368, J. RAFFERTY Royal Inniskilling Fusiliers
29 Aug. 1917 Rank and file
Pte. John BARRETT (Inniskillings), killed, was the  son of. Mr. John BARRETT, Aughentaine, Fivemiletown.
Private Willie JORDAN killed. His sister, Miss JORDAN lives in Fivemiletown.
Private Willie WALKER (Canadians), killed, was formerly employed at Fivemiletown Railway Station. His mother resides in Fivemiletown.
Lance-Corpl. Thos. M'CLINTOCK, wounded, a brother of Mrs. FOSTER, Aughingowley, Fivemiletown
(Northern Whig)
20 Sept. 1917 Rank and File
Royal Inniskilling Fusiliers
killed – 27374, W. JORDON, Fivemiletown
died of wounds – 14589, W. BARRETT, Fivemiletown
9 Oct. 1917 Royal Irish Fusiliers
22770, R. HALL, wounded

11 Oct. 1917 Lieutenant H. J. LITTLE
Second-Lieutenant H. J. LITTLE, killed in action (20 or 29th?) September, was the only son of Mr. John W. and Mrs. LITTLE, of 1 Bethaven Terrace, Stonelaw road, Burnside and formerly of Paisley. A banker by profession, Lieutenant LITTLE was trained in the Glasgow (Jamaica Street) Branch of the Royal Bank, and afterwards joined the service of the National Bank of India, at the head office in London. He enlisted in the East Kent Regiment after the outbreak of war and saw considerable service in France as a ranker?. He received his commission this year and had only been a month at the front when he was killed. He was 25 years of age and was educated at the Whitehall Higher Grade School, Glasgow. The late Lieutenant LITTLE was brother of Mrs. RUSK of Cavanaleck, Fivemiletown and was closely related to the late Mr. Jeremiah JORDAN M.P. (Northern Whig)
6 Nov. 1917 Royal Inniskilling Fusiliers
27170, J. E. MARTIN, wounded, Fivemiletown
24 Nov. 1917 Casualties
Irish Guards
killed – 9528, H. BOLAND Fivemiletown
24 Dec. 1917 Royal Inniskilling Fusiliers
22438, J. KERNAGHAN, (Fivemiletown) wounded
18 Jan. 1918
Sergeant Hugh HETHERINGTON has been awarded the Military Medal. He is a Fivemiletown man.
7 May 1918 Royal Garrison Artillery
90851 Gnr. J. OWEN, wounded
War Office Weekly Casualty List
28 May 1918 Missing in Action
17241, Cpl. S. MENAUL (Fivemiletown) R. Innis. Fus.
War Office Weekly Casualty List
18 Jun. 1918 Royal Irish Fus.
41541 J. SOMERVILLE (Fivemiletown), wounded
War Office Weekly Casualty List
2 Jul. 1918 Labour Corps
364505 W. SHIELDS (Fivemiletown), wounded
War Office Weekly Casualty List
24 Aug. 1918 Royal Irish Fusiliers
41509, A. FOSTER, wounded
22 Oct. 1918
Royal Dublin Fusiliers Missing – 22070, C. McCAGHERY, (Fivemiletown)
Royal Innis. Fus. Wounded – 17858, J. HACKETT (Fivemiletown)
War Office Weekly Casualty List

23 Nov. 1918
Lance-Corporal Joseph COULTER M.M., son of Mr. and Mrs. Thomas COULTER, Mullaghfad, Fivemiletown, has been killed in action

10 Dec. 1918 Released prisoners of war from Germany arrived in England
Machine Gun Corp. 18599, A. BROWNE
War Office Weekly Casualty List
30 Jan. 1919 Bravery in the Field
The undermentioned has been awarded the Military Medal for bravery in the field – Royal Irigh Fusiliers
41530 Private J. COULTER, 9th Battalion (Fivemiletown).