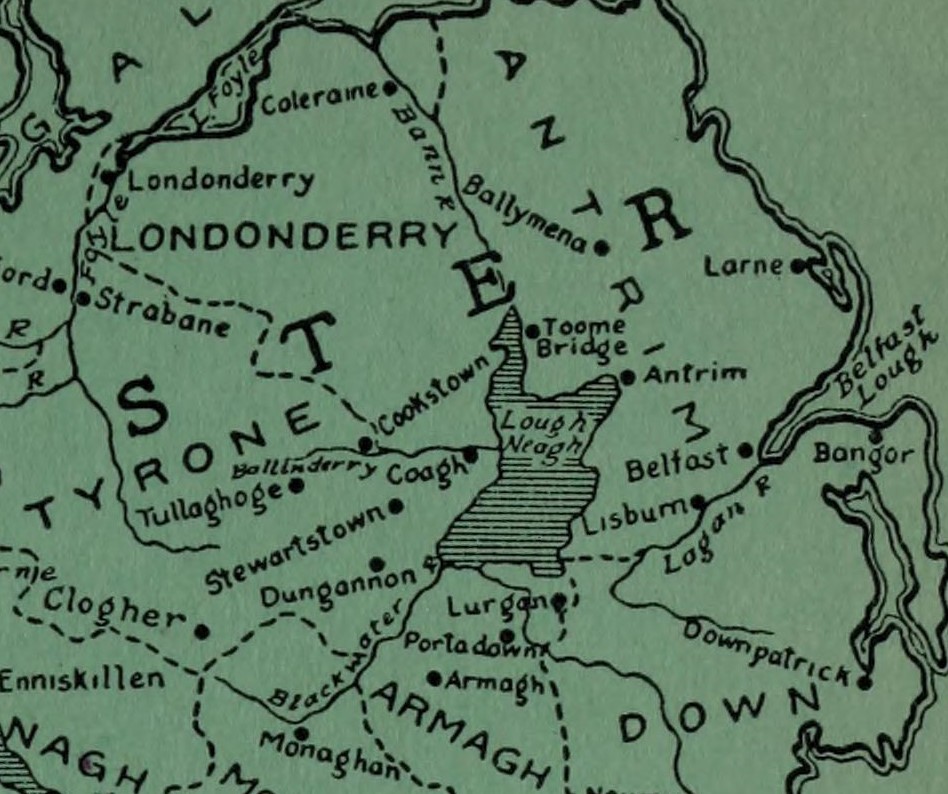 Transcribed and compiled by Teena from the Mid-Ulster Mail
Cookstown Derryloran Parish, County Tyrone – History Before the Siege of Derry; 1622 & 1666 Hearth Money Rolls; 1786-88 partial Rent Rolls.
Cookstown History – Before the Siege of Derry
A study of the lists of householders in each townland, in 1663 to 1669, as given in the Hearth Money Rolls (which was a census of every householder who had a fireplace or stove, the tax being 2s. a year) shows that the great immigration from Scotland, which made this very largely Presbyterian district, had not yet taken place. Of course the original settlers in what was the barony of Mountjoy, principal of whom was Lord Castlestewart, were all Scotch and they brought over Scotch retainers, but these formed a very small part of the population. The conditions on the Orritor Estate were peculiar and have been already dealt with; the Hearth Money Rolls prove that then the Protestant population on that estate had not arrived. But it will be seen that, judging by the names, the residents on the Drapers Estate, at all events in the Cookstown end, were mostly native Irish; the Presbyterian element, which now predominates, had not arrived. The conclusion is that at a subsequent period there was a large emmigration of Presbyterians chiefly from Scotland.
That this is probable is evident from Scottish history of the period. The union with England was dissolved in 1660 and the Drunken Parliament in Edinburgh started by repealing all the legislation of the preceding 28 years, including the Presbyterian establishment. The Scottish bishops were restored, while Presbyterian synods were abolished by law. The Marquis of Argyle, for trying to save his co-religionists, was executed; for a Presbyterian minister to conduct a service in the hills was an offence punishable by death. In the 'History of Ayrshire' we read that many fled from the country, including Lord Cassilis and Ulster provided a comparatively safe sanctuary for the refugees. It is as certain as it can be in the absence of positive proof that to the intolerance of the Royal party in Scotland, at the Restoration, this district chiefly owes its Presbyterian element.
The stormy period of the civil war had been followed by the strong hand of the Puritans of the Commonwealth and Ulster enjoyed relative calm, which seems to have been turned to good account. In the recently published prospectus of the Ulster Dairy school it is stated, on the authority of Mr. Shan F. BULLOCK, head of Free State Publicity department, that the mansion house of Loughrey was rebuilt in 1671. From the fact that Robert LINDSAY paid tax for two hearths in Loughrey in 1666, we placed the date of the house earlier, but no doubt Mr. BULLOCK has authority for this statement. At exactly the same time William STEWART, son of James STEWART, of Ballymenagh, moved to Killymoon, where he was not living when the hearth money tax was levied and the old castle dates from that time. William STEWART married Margaret SHAW, of Ballygawley (Castle, on the coast between Larne and Glenarm), which had been an outpost for protestants during the civil war. Her father was one of the leading Presbyterians and when CROMWELL, in his anger at their refusal to cooperate with him, owing to the execution of Charles I., ordered a large transplantation of Presbyterians to Tipperary, SHAW was one of the two men appointed to go and prepare for their removal. The scheme fell to the ground by CROMWELL'S death.
Were Loughrey and Killymoon the only large residences built in that time of political calm? We think mot; the universal tendency in all ranks of society is towards emulation and hence we find periods of expansion and periods of stagnation; periods of improvement of all sorts and periods when everything is at a stand still if not going back. The period following the Commonwealth was, in Ulster, one of construction and the advent of immigrants from Scotland provided the human material which made improvements in a large scale possible and helped to absorb the addition to the population before they settled on the land.
​The ​Hearth Money (Rolls) or Hearth Tax
The Hearth Tax was based on ​Legislation of 1622 to raise money for the government; 2 shillings was levied on each hearth​,​ or fireplace.
For so far, almost the only persons whom we have been discussing have been the landowners. This was inevitable because the records remaining dealt only with the ownership of land, or in the case of church lands, with the lessees, who generally became the owner in fee, in the 19th century. It's only when there were law-suits such as those mentioned in the last too ​ ​installments that we know anything of even those who got fee farm grants, other than from the Crown direct.
We would have liked to know, for instance, the names of the freeholders and of the leaseholders and of the cottager who are mentioned in Pynnar's Survey of 1619 as on the different estate, but not even those who got for example, 180 acres on the Castlestewart estate, are known, though their successors as owners of three townlands, were counted no inconsiderable persons, as small landlords.
With the Restoration, however, there was a certain broadening of taxation which is historically valuable. It affected the better class of house only, for at that time a chimney was regarded, if not a luxury at all events, certainly not a necessity.
The housing conditions at and before the Plantation, as we have seen, were very primitive and we may take it that those who still lived in the old frame houses were exempt and as we shall see, very few of even the best houses had more than one hearth. The tax was small, however, and could hardly be described as a hindrance to improvement on houses by any who wished to provide hearths.
This, however, is not a dissertation on either housing, or principles of taxation, but simply a local history and the importance of the Hearth Money is that the lists are still extant. We gave lists of the Muster Rolls, of the 3rd decade of the 17th century, but these were by estates: the value of the Hearth Money lists is that they are by townlands, so that we are able to give some of the names of residents, though as we have explained, not of the whole population in, or about, the years 1663 to 1669.
The first of these Hearth Money Rolls we shall give, is for that part of Derryloran parish which is in Dungannon Barony, that is, in County Tyrone.
It is dated 1666 and in the whole parish, there were only 4 houses with 2 hearths; two of the houses were the residences of James STEWART of Ballymenagh and of Robert LINDSAY of Loughrey; while the other two belonged to a couple of residents in Cookstown; Edward BEATTY and Matthew GREENHILLS.
From this we learn that the LINDSAY family (to give the old spelling) had not rebuilt the timber house at Tullyhog, which Sir Nicholas PYNNAR found in 1619, but had built a new house at Loughrey; a stone house with 2 hearths. In the same way we learn that Ballymenagh was then the only residence of the STEWART'S, the old castle in Killymoon not being yet built.
Further, we learn that following the Civil war, in which Cookstown was burned, a new village was springing up and that as regards hearths (but probably in no other respect), two of the houses were equal to the Manor House at Loughrey, or the Castle of Ballymenagh.
Appended is the list of the townland names, being as in the original. Local readers will have no difficulty in identifying nearly all of the townlands and the old spelling is not without its own interest.
It will be seen that Davagh and Broughderg, now in Lissan parish, are given as in Derryloran.
Derryloran
Loghry
Robert LINDSAY 2 hearths
Bellimenagh
James STEWART Esq., 2 hearths
Bellinafiskey
James SUMERELL
John M'MINNE
Tilrigall
Hugh LINE
James KENEDY
Culcrumagh
Donachy M'COLGAN
Bellereagh
George COOPER
Thomas COOPER
Bellisuddan
Henry ROBERTSON
Alexander RODGER
Cross
Walter LITTLE
William BOYD
Ardoomer
John REA
Drumond
Thomas M'MURLAND
John M'TEER
Durluss
Robert ALITE
Killimune
Robert ENGLISH
Robert HEALL
Clare
Gilbert LISLE
Clare
Robert MURRA
John SIMINTON
Carick
John BEATTY
Thomas STEVENSON
Malloune
William DICKE
Killemame
Rowland FOSTER
Christopher BETTY
Robert TURNER
Culreagh
James BIRSBANE
James STEWART
David MOORE
Claggan
James LEGGE
Mulrush
Christopher CHAMBERS
Cranfield
Adam BROWNE
John LOGGAN
Drumca
William Rea
John M'CULLOGH
Drumgerell
Alexander WATT
Cookstoune
John JOHNSTON 1
Robert EDMINSTOUNE 1
Edward BETTY 2
Matthew GREENSHILLIS 2
William BETTY 1
Wm. JONSTONNE 1
John IRVINE 1
Will. BURNETT 1
Cullichan
John FERGUSONE
Crew
Edmond O'MELLON
Art O'HAGAN
Bellinagilly
James Toal O'MELLON
Dunmore
Hugh oge O'MELLON
Patk. O'CASHEDY
Davagh
Phelomy O'DONALLY
Bough Derge
Nell O'DEVINE
Tirlough M'GILNERNOW
Henry O'CARR
Cluntiduan
Neill M'GLONE
Patrick Grom M'GEROCH
Cluntigeney
Donnell M'CULLEN
Shan O'DONELLY
Fraggaran
Owen O'CAWILL
Creage
Edmund Sallagh M'RORY
James BREADLY
Patrick Carragh O'MELLAN
Drumearne
Tool M'VEA
Tullicoll
Paul MARTIN
William MARRE
Toberlan
Rory M'GOWAN
Tatmagiltagh
John BURNETT
John PETTERSON
Unagh
Patrick O'CONRIE
Gortreagh
Phelemy oge O'QUINE
Patrick M'GLONE
Neochles
Teeg O'HAGAN
Torlough O'HAGAN
Drumard
Donell M'PHELLON
Ferderagh M'VEA
Laughlan M'KENAN
Belligrugan
Patrick M'ILLMARTIN
Donachy M'RORY
Laughlain O'HAIL
Moyvea
Shan O'HAGGAN
Patrick M'ILLMARTIN
Rory M'GACHRAN
Advernise
William JOHNSTONE
James MEALLEN
Partial Rent Rolls for 1786-88
Cookstown
Robert ROGERS £10 17s. 4d.
James ALLEN £513s.
James VANDELL £22 1s.
Michael CLARKE £17 8s. 4d
Thomas M'CLELLAND £1
William M'CLELLAND £1 15s. 8d
James OLIVER (blank)
William FAULKNER £3 18s. 7d.
William HENRY £2 13s. 9d.
David RICHARDSON Esq. £9 2s. (0 or 6 d. ?)
James M'CORMICK £10 14s. 10d.
Mrs KENADY £7 5s. 7d.
Mr William CLUFF £7 5s. 9d.
Mr William MAGILL £7 5s. 7d.
Mr William CLUFF £7 19s. 4d.
Mr Alex ROGERS £7 19s. 4d.
Edward PATTERSON £6 10s. 5d.
William ALLEN £3 5s. 7d.
Robert ALLEN £3 5s. 7d.
Mr William CLUFF £1 2s. 9d.
Francis TEWGUARD £12 15s.
Robert HUTCHESON £6 19s. 8d.
James ASTON £16 5s.
James MARSHALL £3 8s. 10d.
William DEVLIN £5 8s. 4d.
Robert HUTCHESON £1 1s. 3d.
William LUND £4 12s. 11d.
James HANNA now John YOUNG £6 6s 3d
Mr William MAGILL £12 7s. 6d.
Wat TAYLOR £6 11s. 3.
James STERETT £9 7s. 2d.
Francis HENRY £3 7s. 3d.
Daniel YOUNG £3 7s. 3d.
Dr. FLEMING £3 19s. 11d.
John M'GAUGHEY £4 9s. 4d.
Robert GALWAY £3 10s. 10d.
Mr William CLUFF £3 0s. 5d.
Dr. FLEMING £4 3s.
Dr. FLEMING £3 3s.
John MOORE for the Customs £27 6s.
Loy
Dr. COLLINS £6 9s. 9d.
Widow LESSLY £2 6s. 9d.
Richard BLARE £2 7s.
William KELLY £2 4s. 8d.
David M'KINLEY £9 16s. 11d.
Daniel M'CLANE £15 5s.
Dr COLLINS £4 12s. 5d.
Adam BEATTY £2 7s. 2d.
Charles M'CLEAN now James COLLINS £4 a5s. 7d.
Samuel BRYSON £3 6s. 2d.
Ned PATTESON £2 10s.
Widow BURNETT £3 3s.
John CHARLES £2 16s
William BURNS £2 7s.
John COLLENS £2 4s. 11d.
Robert M'CLELLAND now William M'CLELLAND £4 10s
Robert HENERY 13s. 2d.
William M'CLELLAND £4 10s.
James M'CLELLAND 13s. 2d.
Jas. COLLENS now John COLLENS £3 5s. 8d.
George ROBINSON £3 19s. 9d.
John MAGUIGAN £3 7s. 3d.
John COLLINS £4 8s. 6d.
Robert GALWAY £2 5s. 11d.
John COLLINS £4 0s. 7d.
John M'GAUGHEY £6 15s. 9d.
Mary BLAIR £2 2s. 6d.
Jas. ROGERS and Widow DUN £2 4s. 8d.
Robert GLASGOW £ 4 10s.
Mrs CUNNINGHAM £5 10s. 8d.
John COOKE £ 33 0s. 7d.
Richard HALL £1 11s. 6d.
John KENADY 14s. 5d.
William KENADY 13s. 2d.
John HATCHELL now John YOUNG 13s. 2d.
John MONCRIEFF £1 6s.
Fergs ATCHESON £5 13s. 5d.
John YOUNG £2 16s. 10d.
James DORAS £2 4s. 5d.
Wm. M'CREA now John COLLINS £2 3s. 7d.
Alex JOHNSTON £2 9s. 1d.
John COLLINS £2 1s. 10d.
Richard CARR £6 15s. 8d.
George ROLLINS 11s. 3d.
RobertM'KEE 13s. 2d.
John COLLINS £4 10s. 6d.
Gortalowry
Owen MOONEY £4 18s. 1d.
Wm. PARK £1 10s. 7d.
Andrew PARK 8s. 10d.
Wm. CLARKE £6 6s. 7d.
Hugh FAULKNER for Blair's Ter. £1 6s. 3d.
Matthew NEWBANKS 13s. 2d.
James SANDS 14s. 5d.
John M'COARD £2 2s.
Ben M'CORD 13s. 2d.
Edward PATTERSON and Edward LACKEY £11 4s. 9d.
James MELLON £3 11s. 7d.
John CAMPBELL £3 13s. 4d.
John TAMANY £4 16s. 6d.
Henry M'COART £3 19s. 3d.
John CAMARON, Ned PATTERSON £1 14s. 7d.
James SANDERSON £2 7s. 6d.
Ben THOMPSON £2 4s. 7d.
Wm. DAVISON £3 16s. 11d.
John ANDERSON £2 5s. 11d.
Henry ANDERSON £2 14s. 4d.
Charles ANDERSON £5 7s. 10d.
Arthur M'COART now Wm. M'CASKEY 13s. 2d.
John PURVIS 13s. 2d.
Widow BURNSIDE 13s. 2d.
William NICHSON 15s. 6d.
William BELL £1 4s. 5d.
Alex JOHNSTON £1 15s. 7d.
William CLARK £4 8s. 2d.
George GIBB £ 1 7s. 3d.
Roger M'LOUGHLIN £1 17s.
Daniel M'LOUGHLIN 13s. 2d.
William ANDERSON 13s. 2d.
Daniel BRADY now Robert M'LOUGHLIN 16s.
Robert M'CLELLAND now Thomas HUTCHISON 16s 6d.
Andrew MOORE now Ben THOMPSON £3 1s. 6d.
Michael DOORUS £2 4s. 8d.
John MULHENNON £2 5s. 3d.
John MOORE £2 8s. 7d.
Widow GOURLEY 14s. 5.
Henry NICHSON £2 4s. 11d.
Andrew SANDERSON £3 14s. 6d.
John MOORE £3 1s. 4d.
Widow Thomas NICHSON 13s. 11d.
John MOORE £1 8s. 10.
David FERGUSON 14s. 5.
Hugh M'CORMICK 17s. 10d. and £2 4s. 8d.
James DOORUS 17s.
Mr. James COOKE £13 17s. 9d.
Mr. PATTERSON £6 2s. 10d.
Mr. James COOKE £13 17s. 9d.
Widow BURNSIDE, Henry M'COARD £5 16s. 5d.
Daniel FERGUSON £3 15s. 8d.
David BELL £6 3s. 11d.
Samuel FAULKNER Esq. £3 12s. 10d.
William GLASSY (worth £4 yearly)