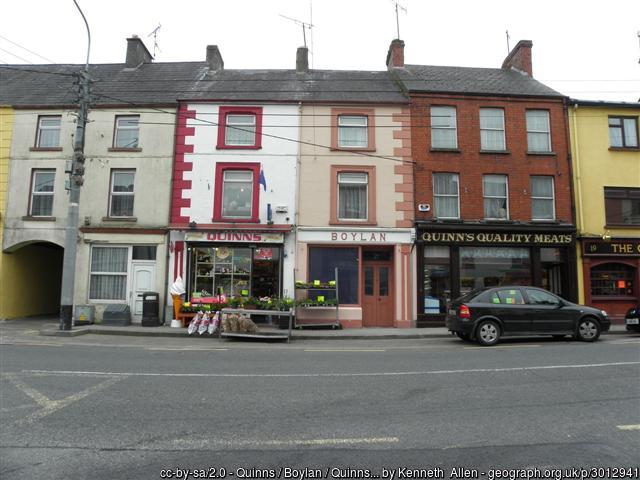 A Market town and parish, partly in the barony of Monaghan, but chiefly in that of Cremorne, County of Monaghan, is 64 miles N. W. from Dublin; 15 E. From Clones; 12½ N. from Carrickmacross; 8 S. from Monaghan; the like distance N. E. from Cootehill; and about 6 W. from Castleblayney; situated at the intersection of the roads from the last named town to Cootehill and Clones, and from Carrickmacross to Monaghan. It's site is somewhat singular, being that of an irregular hill, nearly insulated (bay like) by two lakes and the same number of rivers, and from this circumstance of situation, it is said to derive its name.
Not long since the town was noted for being a seat of the linen manufacture, which here has sustained a serious declension. The flax market, however, is still justly celebrated both for the quantity and quality of the article and is not excelled, perhaps, by any other mart in the Kingdom.
About four miles from the town is the mountain of Bunnanimma, at the base of which are bleach greens and mills. Extensive tracts of bog supply the various works throughout the neighbourhood and the inhabitants of the town with abundance of fuel. In the centre of the town, which is of respectable appearance, stands the market and court house, wherein petty sessions are held by the local magistracy, at irregular periods and town meetings conducted and other public business transacted.
The church is a neat structure, erected in a commanding situation and presents a conspicuous object on approaching the town. There is a place of worship for Presbyterians and a public school for children of both sexes and any creed. About half a mile from the town is Ballybay House, a handsome and spacious mansion, beautifully situated on the border of a clear lake, backed by extensive and ornamental plantations. The scenery around the town and the approach to it is extremely beautiful and picturesque, studded with lakes and boldly diversified with hills and dales. From one point are seen, to the east, at the distance of twenty miles, the deep blue and lofty mountains of Slieve-Guilion; and from the same spot, the village may be perceived beneath reposing amidst hills on the margin of a pellucid lake.
The market, which is a considerable one for flax and butter, besides the usual provisions, is held on Saturday and there is an extensive fair for horses and cattle on the third Saturday in every month.
The parish contained in 1841, 6,468 inhabitants; and the town 1,768 of that number.
Post-Office – Henry NISBIT, Post Master. Letters from all parts arrive every morning at half past seven and are despatched every evening at six.
Gentry and Clergy
BELL, Rev. Daniel, Ballybay
BRENNAN, Rev. Philip, Annamullen
CRAWFORD, Rev. Joseph, Ballybay
CUNNINGHAM, Samuel, Esq. Crieve
GOODWIN, Rev. John, Ballybay
JACKSON, Mr. John, Cremorne
LANGRISHE, Rev. Hercules, Ballybay
LESLIE, Mrs. E. E., Leslie House
LUCAS Thomas, Esq., Agherlane
M'CULLAGH, James, Esq., Curfad
M'GUIRE, Mr. Owen A., Annamullen
M'MAHON, Mr. Rd. (attorney), Ballybay
MORELL, Rev. John H. Ballybay
TIERNEY, Rev. Francis, Annamullen
Bakers;
COOGAN Patrick
DUFFY James
M'ADAM, Terence
M'Cabe James
M'CARTHY, Geo.
MARRON, James
Blacksmiths;
JOHNSON, William
M'DONALD, Michael
O'HARA, Terence
Boot and shoemakers;
GILLESPIE, Daniel
LESLIE, James
M'MAHON, Bernd.
M'NATHAN, James
Grocers;
BREAKY,John
DRURY, James
DUFFY, James
GAULT, Hugh
GERNON, James
M'CABE, James
MARRON, James
MOORE, Robert
MOORHEAD, Elizabeth
M'CARTHY, George
QUIN, Hugh
RODDLE William
RUDDELL, William
Hotels (See also Spirit Dealers);
Leslie Arms Hotel, William GRAY
York Hotel, Samuel GRAY
Ironmongers;
BREAKEY, John
M'CABE, James
Leather Sellers;
DILLON, James (and tanner)
M'GUINNESS, John
M'MAHON, Bernard
Linen and Woollen Drapers;
BARTLEY, James
DIXON, Eliza
HUGHES, John Jas.
JOHNSON Mary
M'CULLAGH Jas.
M'KETTRICK, Hy. J.
M'MURRAY, Thomas and James
Milliners and Dress-Makers;
BOYD, Margaret
BREAKEY, Susan
CAUSEGROVE, Letitia
RILEY, Mary
ROSS, Sophia
RUTLEDGE, Elizabeth
SCOTT, Matilda
Spirit Dealers;
ANDERSON, James
BOYLE, Bernard
CHARLES, Joseph
DONALDSON, George
DONOHOE, Edward
FOSTER, Samuel
HANNA, William
M'CAFFREY, Michael
M'CREARY, Robt.
M'CULLOUGH, Ellen
M'MAHON, Francis
M'MANUS, Patk.
MURPHY, Michael
MURRAY, Edward
RUTHERFORD, John
Surgeons and Apothecaries;
BARRON, Thomas
CATHCART, James
M'LEAN, William, M.D.
Tailors;
BARNES, Charles
M'GUIRK, James
M'IVER, John
RUTLEDGE, James
Watch and Clock-Makers;
M'CORMICK, Andrew
ROSS, Richard
Miscellaneous;
CUNNINHAM, John, miller & corn dealer, Crieve
GILBERT, Henry, schoolmaster
GREER, Thomas, saddler and harness maker
HOY, Joseph, reed maker
LACKEY, Samuel, umbrella maker
M'ADAM, Bernard, painter and glazier
QUIN, Hugh, reed maker
TRIMBLE, Andrew, superintendent of Constabulary
Places of Worship and their Ministers;
Established church – Rev. Hercules LANGRISHE, incumbent.
Roman Catholic Chapel – Rev. John GOODWIN, parish priest.
Presbyterian Chapel – Rev. John H. MORELL, minister.
Presbyterian Chapel Derry Valley – Rev. Joseph CRAWFORD and Rev. Daniel BELL, pastors.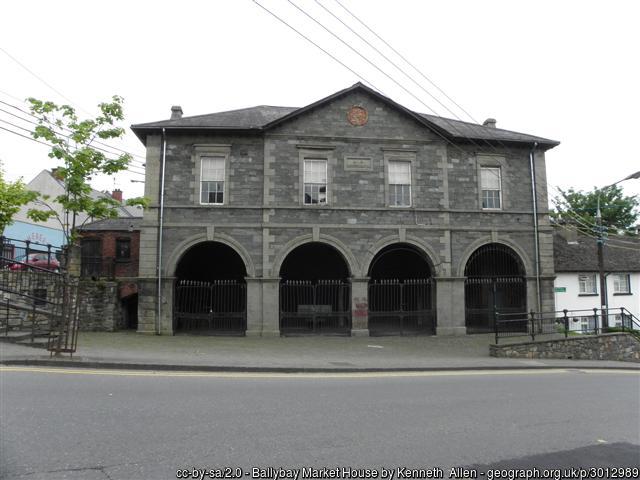 Transcribed by Teena from the Slater's Directory of Ireland 1846