It is with our sincere thanks to Jane, who transcribed the following information from Pues Occurence Tuesday 27 June 1757. A * (star) is
placed where the letter is unknown.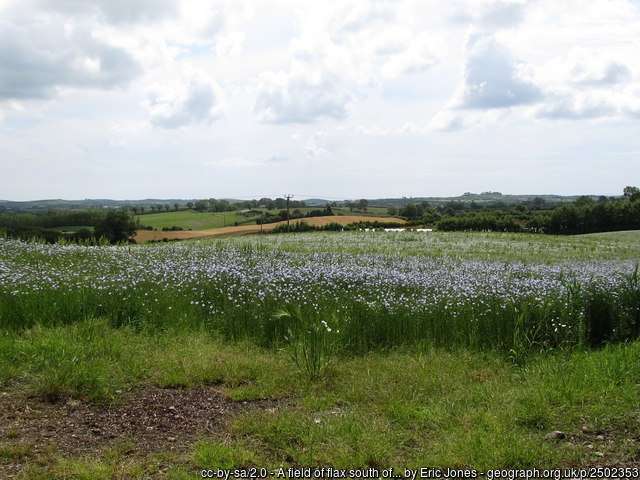 The occupation of a linen lapper is defined by "Mills of Ireland" as; one of the last stages of linen manufacturing. Lappers measure and press the linen ready for market.
I would add to the definition 'folding', in the process of lapping. From the book 'Flax and it's Products in Ireland' 1862, lapping is described;
"When linen goods are received by the merchants from the bleach-works in the finished state, they are placed in cool store-rooms and are kept there until required, in the uniform and simple fold that the last process gives them; they are afterwards refolded, or technically speaking, "lapped" in special lengths and styles, to suit the various markets of the world. Goods for the home trade are generally folded in thick pieces, containing 25 – 30 yards each and are neatly, but plainly ornamented with fancy ribbons and papers; the linen for export is generally more highly ornamented and great expense is thus sometimes incurred, which of course, enhances the price demanded for the article." (above information added by Teena)
Pues Occurence Tuesday 27 June 1757
Linen Board

In Pursuance of an Advertisement of the 28th of April last, requiring​ ​all Lappers of Linen Cloth to return to Arthur NEWBURGH, Esq; an​ ​Impression of their Seals, with their Securities, in three ​weeks from​ ​the ​date thereof (expressly setting forth) that those who neglected or​ ​refused complying therewith should be discharged; agreeable to the​ ​said Advertisement, the following herein named Lappers have returned​ ​their Securities; and all Merchants, Exporters and others, Dealers in​ ​Linen, are hereby desired to be cautious in buying Linens from Lappers​ ​whose Names are not contained in the here inserted List of Lappers.
CO. ANTRIM
William ASKEY
John ALLEN
James ASKEY
James ALLEN
James ADAIR
John ALLEN
Wm. ARMSTRONG
Rob. ALEXANDER
Henry BELL
Francis BURDON
William BRISON
James BOYDE
James BOYES
Samuel BIRNIE
Rich. BARNESLY
John BLAIR
George BARCLAY
Daniel BLOW
Henry BETTY
John BRADSHAW
Wm. BELL
Thomas BARKLIE
Geo. BRADSHAW
Jam. CROMMELIN
Dan. CROMMELIN
Abr. CROMMELIN
John CALWELL
Sam. CARMICHAEL
Rob. CRAWFORD
John COOK
William CAIRNS
Hugh CAMPBELL
Rob. CLEMENTS
Rob. CAMPBELL
M*rm. DEMPSTER
John DORMON
Thomas DICKEY
Andrew DOWELL
John DICKEY
Sam. DELACHERLOS
James DICKEY
Jam. DONALDSON
Abr. ELLIOTT
Edward GAYER
James GRIER
John G*RMON
John GILLILAN
James GILLILAN
John GILMORE
Richard GREER
Thomas GREGG
John GORDON
John H*LL
John HANCOCK
Jacob HANCOCK
James HUNTER
William HOGG
John HAMILL
James HOGG
Thomas HIGGINS
William HUNTER
Samuel HYDE
James JACKSON
Jane JACKSON
Tho. JOHNSTON
Adam JOHNSTON
Joseph KELSO
David LOW
Joseph MACKLIN
John McCUNCE
James McEVELL
Robert Mc'KEDY
Gilb. McI*VEON
Den. McALLISTER
William MILLAR
D. McCORMUCK
James MURDOCK
J. McALEXANDER
William McCALL
Wm. OKERNAN
John PEERS
Joseph PATTEN
Mat. ROSABATHAM
Lewis RE*ORD
John RADCLIFF
George ROBERTS
Thomas STEWART
Tho. SINCLAIRE
John SCOTT
Wm. SITLINGTON
Henry SCOTT
William SWAN
John SITLINGTON
William TATE
John THOMPSON
Tho. THOMPSON
John THOMPSON
David WILSON
Jerem. WRIGHT
John WILLIAMSON
Samuel WAUGH
Thomas YOUNG
Thomas SHAW
Wm. HENDERSON
John USHER
Samuel WATT
James CRAIGGE
David LYON
Robert MURRAY
William NEVILL
David WIER
William STEWART
John STEWART
John HENRY
Tho. THOMPSON
Tho. Benj. ADAIR
John CRAMSIE
CO. ​ARMAGH
Anth. ATKINSON
James BRADSHAW
David BLEAKLEY
Geo. BROWNLEE
John BRADSHAW
Richard BARRETT
Robert BURRELL
John BLACK
William BELL
Sam BLEAKLEY
James CULLEN
R. CUNNINGHAM
John CARRICK
Joseph CAMPTON
John CAMACK
Anth. CROTHERS
Samuel COLLUM
Adam CUPPAGE
Henry DUMAS
John ELLIOTT
Henry GREER
Tho. GARDINER
Alex. GRAY
Paul HENNON
John HALL
John HEATHER
Wm. HERFORD
Benj. HONE
Thomas HAYES
Sam. HENDERSON
Thomas HARDEN
John HALL
James JOYCE
William INGRAM
Seth KELLY
Thomas KELLS
John LAWSON
Wm. LEADLEY
William LEE
William LEFLER
John LUDLOW
John LAWSON
Wm. McGOUGH
James MAGLADE
John MULHOLLEN
Sim. McCLINCHIE
W. McTAMENY
James MENAGH
David MAZ*ERE
An. McCOLLOM
Thomas McKEE
John McCULLAGH
*a. MONTGOMERY
W. McTAMENY
Mo. McCLELLAND
Dan. McCANN
John MARTIN
Tho. MURCHY
Hans McMURDIE
Samuel MAY
Wm. MATHERS
Robert MITCHEL
Henry PRESTON
Robert PRENTICE
Hans PEEBLES
James RICE
Robert RUSSELL
Samuel RUDDELL
Geo. ROBINSON
William ROBB
Patt. RICE
Tho. RODGERS
John STEPHENSON
Samuel SIMPSON
William SHAW
Wm. STURGEON
Andrew SIMPSON
Alex. SHAW
Peter SMITH
Archibald SHAW
Robert SLOAN
John TUFT
Samuel TURNER
Daniel TOOLE
John TAYLOR
Wm. TWIBBLE
Thomas TRENOR
Thomas USHER
James WHITELY
Robert WILSON
Dar. WENTWORTH
John WHITELY
George WRIGHT
Wm. WORKMAN
John WHITE
John YEATES
William YOUNG
John LIGGAT
Rob. ATKINSON
James DILLON
Andrew DIXON
Tho. NEWILLE
David SHIELDS
David TOMB
I. YOUNGHUSBAND
Geo. McATTEE
John HUMPHRIES
James MAGLADE
John DUNWOODY
Fr. HENDERSON
William CARSON
Philip CASSILY
John MARTIN
George WILSON
John MOORE
James WILSON
George RUDDELL
David RUDDELL
Thomas DOBBIN
John MURPHY
Hugh O'NEILE
Henry HARDEN
John SIMPSON
CO. CAVAN
James BROWN
John BOYLE
Robert BEVAN
Patt BOYDE
Edw. BENNETT
Thomas BEVAN
Francis BEATY
Patt. COONEY
John DROPE
John GILLAIPY
Patt. HARTIN
James KERR
Edward LEE
James MOORE
Rob. McFARLAND
Luke McDOWELL
Robert OLIVER
Tho. PATTERSON
James PATTISON
Matt REED
Tho. REILLY
Michael ROE
James REILLY
Farrell REILLY
John SMITH
John SLOAN
Benjamin COCKE
John BRADY
Gul. GALBRAITH
Francis WELDON
James TRENOR
CO. DONEGAL
Th. ATKINSON
George BATES
Samuel HARPER
Robert LEEPER
James McGHEE
John MARTIN
CO. DOWN
John ANDREW
Andrew BOYDE
Robert BRADSHAW
Wm. BETTY
Joseph BLACK
James BLACK
John BLACK
Thomas CHRISSY
James CHRISSY
Sa. CATHERWOOD
West. CROSS
James CREIGHTON
Geo. CRAWFORD
James CAROTHERS
John CORBITT
James DUNLOP
Charles DUNN
David DEMPSTER
David FIVEY
William FIVEY
Patt. FEGAN
Samuel GORDON
Samuel GLASS
John GORDON
Arthur HAMILL
Samuel HANNAH
Jonath. HUNTER
Andrew HARE
Arch. HAWTHORN
Henry HUNTER
Jim HENDERSON
James HENRY
John JORDAN
James JOHNSTON
W. KIRKPATRICK
John KERRY
Henry KEOWEN
John LAW
George LOGAN
James LOWREY
J. Martin LANG
Alex. LOWREY
Samuel LOWREY
Ja. McCLELLAND
John McBRIDE
Abr. McCLELLAND
And. MARSHALL
Tho. MARSHALL
Hugh MASSETT
J. McCORMICK
Jam. McCUBRAY
William MASSITT
John McMEAN
Rob. McCUBREY
John McALLISTER
Jim. McALLISTER
Sam. McMAHON
William MEEK
John McCLELLAND
Wm. MULLIGAN
Th. McCLELLAND
John McCLURE
Charles ORR
William OGLE
John O'NEILE
James OGLE
John POLLOCK
James PARK
John WRAY
Brent SPENCER
James SIMMS
Daniel STEWART
Hugh SEED
Joseph SCOTT
Hugh STEPHEN
Geo. STEPHENSON
David SCOTT
William SAWEY
James TURNBULL
Andrew TODD
Thomas TAYLOR
Wm. THOMPSON
James TODD
James WIELY
John WOODS
Samuel WATSON
John WHITE
John WATDON
John YOUNG
John DICKSON
William GLENNY
James MORETON
John NEILLE
Anthony GURNELL
James RIDDLE
And. McCREIGHT
Richard DAVEY
John WIELY
Robert WIGHAM
James McILROY
John ROWNEY
John TOMELLY
Jos. PARKINSON
Wm. THOMPSON
James McCOMB
John COCHRAN
CO. LONDONDERRY
John ALLEN
Benj. BROWN
Abr. BROWN
William BARNET
Arthur BENLON
Arch. CHALMERS
Paul CLARKE
And. FERGUSON
Robert GIVEN
William GIVEN
William GREGG
Rich. HEYLAND
Hugh LYLE
Jos. LEDLIE
Sam. McFEE
Ja. McCREIGHT
Robert MAGILL
John ORR
George ROBB
J. STEPHENSON
John SLOAN
Adam TEDDLE
Kennedy HENDERSON
Geo. RAMSAY
Alex. CLARKE
James FOSYTHE
Jam. EDINSTON
J. McELWAINE
CO. MONAGHAN
Alex. ARMSTRONG
James CRAIGE
John CHERRY
Isaiah BREAKEY
James EAKINS
Wm. DONALDSON
And. DUDGEON
Tho. GRAHAM
Henry HARGRAVE
Thomas HALL
George LOWRY
Fran. McKENNA
Alex. McDONALD
Andrew MARTON
Wm. McKINLEY
John McMATH
Thomas ROE
Wm. SHEGOGG
James O'MALLON
Benj. RAMIDGE
William SMITH
Samuel VANCE
James BEATY
Al. MONTGOMERY
James OLIVER
Robert OLIVER
Tho. HARRISON
James BREAKEY
CO. TYRONE
Wm. BLACKLEY
Jo. CAMPBELL
Wm. DAWSON
Wm. EDIE
Hphr. GIBSON
James GRIER
Thomas GRIER
Rob. HARKNESS
Dane HARRIS
Th. HITCHMAN
David HOHNS
Tho. HOLLAND
John HARPER
John KENNY
Robert LONG
James NEVINS
Edw. PATTISON
John REIDE
Ben. ROBINSON
Robert SMILEY
William SOLEYS
Ar. WHITESIDES
Ja. ALEXANDER
James BROWN
Ji. ROBINSON
Laur. HOBLON
Robert LITTLE
Tho. WENSLEY
Jo. ANDERDON
And Whereas it hath hitherto been found difficult to punish Lappers and their Securities, where Frauds have been committed and that such Frauds have increased of late years to the Discredit and great Prejudice of the Linen Manufacture in this Kingdom and there being an Act of Parliament passed last Session, entitled an Act to prevent Frauds in Lappers and others, and to prevent Abuses in manufacturing of Kelp, and to prevent unlawful Combinations in Weavers and others, it is Enacted:

That if any Merchant or Dealer in Linens shall sustain any Loss or Damage by means of any Fraud in the Lapping of Linen and by Damages concealed in the Lapping hereof, or by short Measure concealed in Length or Breadth, such Merchant or Dealer may sue either the Lapper of such Linen, or the Security, or Securities, which such Lapper gave on taking out his Seals, or either of them, and may recover from such Lapper, or his Securities, double the Loss or Damage which he shall so sustain; the same to be recovered, if under Twenty Pounds, by Civil Bill at the Assizes in the County where such Lapper, or his Security resides, and if the Sum exceeds Twenty Pounds, the same shall be recovered in any of his Majesty's Courts of Record in Dublin.
Provided, that if the Trustees of the Linen Manufacture shall have fined such Lappers for offending; and recovered the Fine or Penalty imposed by Virtue of the Law now in being for that purpose before such suit commenced; that in such case such Lapper, or his Security, shall not be sued for such Damage as aforesaid. And that the Certificate of the Clerk of the Trustees, under his hand and seal, (which certificate the said Clerk shall be obliged to give to any such Merchant or Dealer), shall be evidence against the Security of Securities of any Lapper or Lappers.

N.B. this Act takes Place from October 11th, 1757, being the first Day of this last Session of Parliament.

The said Trustees think it proper to publish so much of the said Act in order to facilitate the Execution thereof by persons aggrieved by fraudulent Lappers, of which all Dealers are cautioned and required to take Notice.

Signed by Order,
Arthur NEWBURGH
​​​Mills of Northern Ireland –
http://www.millsofnorthernireland.com/phrases.html
Flax and its products in Ireland by William Charley, 1862
https://bit.ly/2YgSplP