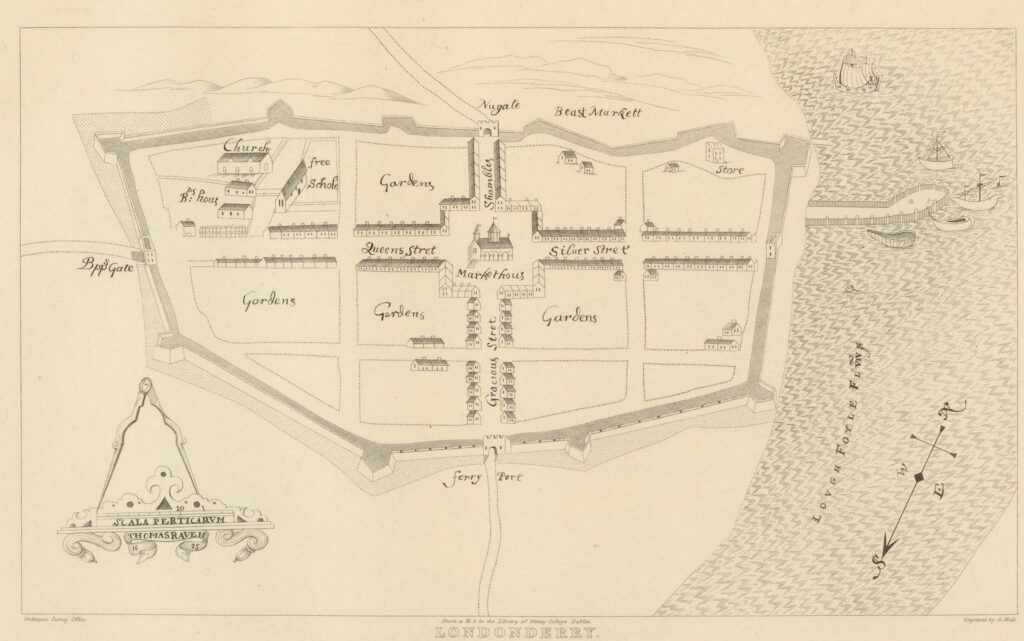 A Muster taken by Sr. Thomas PHILLIPS & Richard HADSOR, Esqrs. his Majies. Commissioners, of all ye Inhabitants with theire Servants residing in ye County [rectius City] of Londonderry, wth. theire sevll. Armes. dated 1622.
Corslets (all have 1 except Mr. Mayor who has 2)
Mr. Mayor
Mr. WRAYE
Mr. WINSLOW
Mr. Hugh THOMPSON
Mr. RUSSELL
Christopher GIFFORD
William COTTISMORE
Mr. GOODWINS man
Mr. STEELE
Nicholas BAILY
Walter TUCKEY
Edmond GLOVER
John FREWEN
Mr. Brute HAMOND
George NEWTON
George DOWNING
William HAILE
Thomas SHERRINGTON
Robert SHAWE
Pikes (each has 1)
Robert FLAVELL
Thomas CRAFORD
George HAMOND
Piece
One of ye Sherrifs men (1)
Muskets ( each has 1)
blank
Mr. WRAYES Servant
Mr. GOODWINS man
Richard JONES
one servant
Richard MUTTERVELL
Thomas HAMOND and his two servants
Isaac SMITH
Mr. Simon PITT
Mr. Robert BIVES
John SEACH
Richard WILLSON
John KNEALAND
Richard MORRICE
Leonard DAVIS
Francis DOLLOWAY
a servant
Richard BINGLEY
James STEWART
Thomas BLANY
John EAWKE
Stephen GODFREY
Richard SADLER
William COOKE
Timothy POOLIE
Nicholas BLANEY
Walter HAMILTON
Richard PERCY
Henry ADDISON
Donnell M'CACLES
Ermine M'SWINE
Richard STOCK
John ENICKSON
George CLARE
Robert THOMPSON
John COOKE
Roger KIRKE
Donnell M'KEROGE
John WALLACE
William SIMPLE
John PALMER
Henry DUNKIN
Mr. CARRIDGE (3 servants)
Adam MODERWELL
John BRADIN
John WOLRIDGE, the younger
Thomas SPAN
Anthony BOWEN
John WOLRIDGE, the elder
Thomas SHERRINGTON, a souldier
John SMITH 1 Calivr.
William BRIDERS
James O'DOHERTY
Thomas WOOLDNEY
Robt. M'CONOGHIE, Mr RUSSELLS man
Robert BARTLLET, Mr (blanks) man
John PATT
Halberts (except where otherwise mentioned, each has 1)
Mr Shreiffe SMITH
His servant
Mr GOODWIN
Mr. Aldr. BALL
Mr. DAWSON
Thomas YARBORROWE
Henry SCOLLECH
Christopher STUDDALL
Edward BLUNDELL
George SANDECH 1 brownbill
Ninian ENGLISH
Mr CASTELL
Brute HAMONDS man
Richard APLETON
Mr LONG (a souldier)
Michael GRAVELL
John PALMERS servt.
Peter SHENINGTON 1 brownbill
Serjent RICHARDSON
William WELLS
Thomas BROOKE
Thomas BAKER
Thomas VALE
Edward CHAMBERS
John M'MISH 1 Caliver
Thomas SMITH
John COTTISMORE
William FFIXTER
George MNOPHEY 1 Sword
Thomas SHERINGTON and HEILE (2 men) 2 Swords
The whole number of Masters and Servants very well armed are 110.
signed by John WRARY Capt.