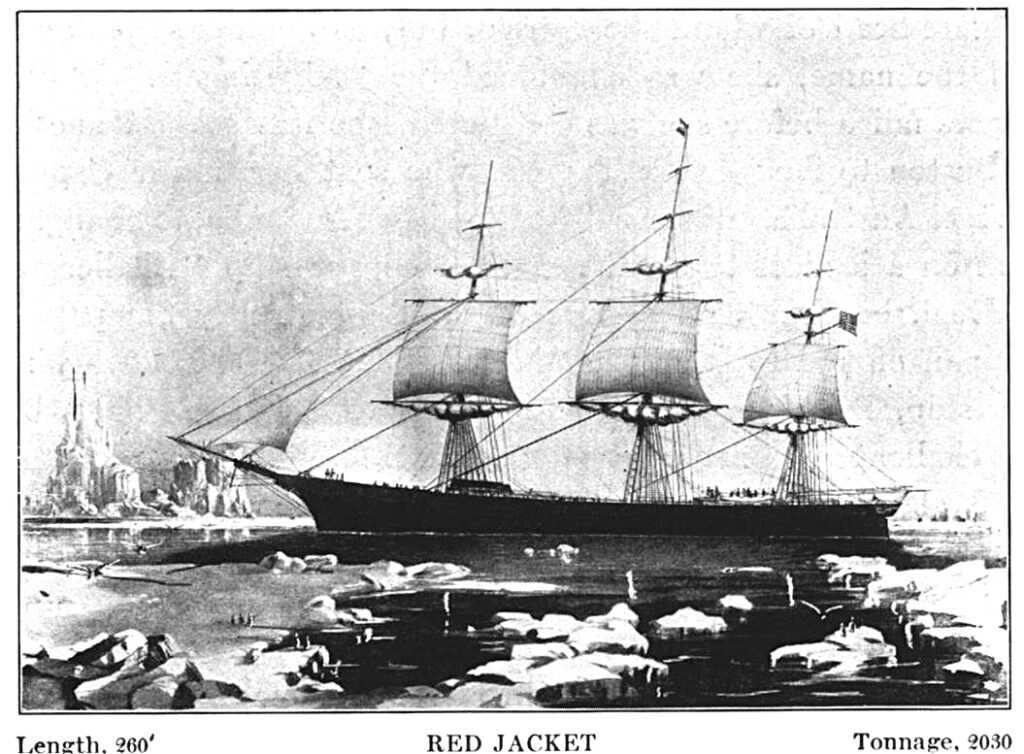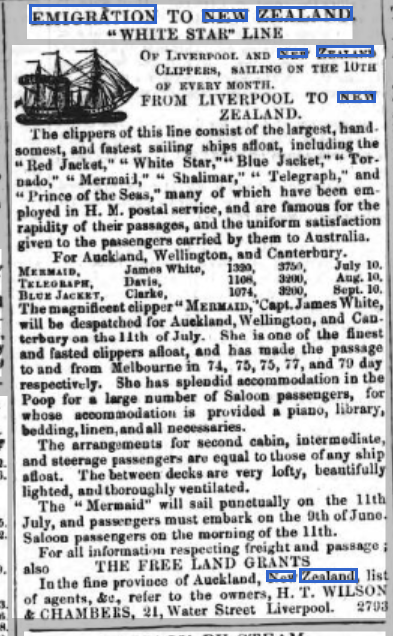 Transcription of above advertisement – in the Armagh Guardian 10 June 1859
Emigration To New Zealand
White Star Line
Our Liverpool and New Zealand Clippers, sailing on the 10th of every month from Liverpool to New Zealand
The clippers of this line consist of the largest, handsomest, and fastest sailing ships afloat, including the "Red Jacket," "White Star", "Blue Jacket", "Tornado", "Mermaid, "Shalimar," "Telegraph" and "Prince of the Seas", many of which have been employed in H. M. postal service and are famous for the rapidity of their passages and the uniform satisfaction given to the passengers carried by them to Australia.
For Auckland, Wellington, and Canterbury.
Mermaid James WHITE, 1320, 3750, July 10.
Telegraph, DAVIS, 1108, 3200, Aug. 10
Blue Jacket, CLARKE, 1074, 3200, Sept. 10
The magnificent clipper "Mermaid" Capt. James WHITE, will be despatched for Auckland, Wellington and Canterbury on the 11th of July. She is one of the finest and fasted clippers afloat and has made the passage to and from Melbourne in 74, 75, 75, 77, and 79 day, respectively. She has splendid accommodation in the Poop for a large number of Saloon passengers, for whose accommodation is provided a piano, library, bedding, linen, and all necessaries. The arrangements for second cabin, intermediate and steerage passengers are equal to those of any ship afloat. The between decks are very lofty, beautifully lighted, and thoroughly ventilated.
The "Mermaid" will sail punctually on the 11th July, and passengers must embark on the 9th of June. Saloon passengers on the morning of the 11th.
For all information respecting freight and passage ; also the Free Grants of Land in the fine province of Auckland, New Zealand, list of agents, &c., refer to the owners, H. T. WILSON & CHAMBERS, 21, Water Street Liverpool. courtesy The British Newspaper Archive https://www.britishnewspaperarchive.co.uk/)
5 Nov. 1864 Free Emigration to New Zealand
Agricultural Labourers and others, of sober and industrious habits, together with their families, may obtain Free Passages to Auckland and Free Grants of land, The latter consisting of a Town Allotment and a ten acre suburban section. Small Farmers who can pay their own passages will, under certain conditions, and if approved, be entitled to a free grant of 50 acres of land. The same quantity of Land will be granted to each member of family of the age of 18 years and upwards, and 25 acres to those upwards of 12 under 18. (Bedfordshire Mercury)
Assisted Government Immigrants to New Zealand 1866-1869
With our Thanks to Papers Past for permission to re-post. https://paperspast.natlib.govt.nz/newspapers
if the source is not noted the extracts are from the 'Press'; only people from the Province of Ulster are recorded.
Lyttelton Times 23 May 1863 Ship "Sebastopol"
The ship Sebastopol, Captain Duncan TAYLOR, arrived from London on Thursday evening, after a long passage of about 124 days. She left Gravesend on the 17th January and encountered heavy gales in the Channel, losing a few sails; lost sight of the land on the 9th February. She brings us 17 cabin and 27 2nd cabin passengers, besides 205 assisted Government immigrants.
Comparatively little illness has occurred on board, no deaths, 3 births and 1 marriage. The passengers speak in very high terms of the captain, surgeon, and the officers of the ship for their uniform kindness, courtesy and skill. A few days before arrival a purse of sovereigns was presented to the captain, in addition to a very flattering testimonial bearing about 230 signatures; also one of a similar character was presented to the chief officer, Mr. W. R. GREEVES, signed by all the passengers.
W. J. BLAKELY and wife, Down labourer
Wm. BURKE and wife, Down labourer
James CAMPBELL wife and child, Antrim farm labourer
Wm. BAXTER wife and child, Antrim farm laborer
James LEGG wife and child, Antrim farm laborer
Edwin RUDDOCK and wife, Armagh farm laborer
Single Men
Wm. J. FALLOON, Armagh farm labourer
Joseph LOONEY, Armagh farm labourer
W. RUDDOCK, Armagh farm labourer
Single Women
Sarah FALLOON, Armagh domestic servant
Mary FALLOON, Armagh domestic servant
Ann LONEY Armagh domestic servant
Jane LONEY Armagh domestic servant
Jane RUDDOCK Armagh domestic servant
Eliza HALL Armagh domestic servant
Mary Elizabeth BECK Armagh domestic servant
Ann J. IRVINE Armagh domestic servant
Elizabeth FALLOON Tyrone domestic servant
per "Eastern Empire" sailed August 30,1864
Farm Labourer
Daniel LEDDY and wife Cavan
Labourers
Arthur CAMPBELL, Antrim
John O'BOYLE, Antrim
Charles CAMPBELL, Antrim
Henry BAIRD, Antrim
Robert STEELE, Antrim
Samuel BOYCE, Down
John BOYCE, Down
Thomas M'BRIEN, Fermanagh
Carpenters and Joiners
Moses HAMILTON, Down
Domestic Servants
Ellen CAMPBELL, Antrim
Catherine DORRIAN, Down
Tabitha GLASSEY, Tyrone
Ellen GLASSEY, Tyrone
Margaret MOONEY, Antrim
Elizabeth LUNDY, Down
Jane LUNDY, Down
Margaret CAMAC, Tyrone
Mary Ann CAMAC, Tyrone
Dairy Women
Marjory O'BOYLE, Antrim
Catherine GRIMES, Antrim
Ann BAIRD, Antrim
Rosanna OFFICER, Antrim
Needlewoman
Susan DOHERTY, Donegal
Dressmakers
Margaret O'BOYLE, Antrim
Undescribed
Sarah M'CULLOUGH and four children, Down
Lyttelton Times 1 Apr. 1865 per "Greyhound", which sailed on January 21st 1865.
Farm Labourers
James MOORE wife and child, Tyrone
William M'KEOWN wife and 2 children, Armagh
Weaver
James M'DONALD wife and child (no location)
Single Men Farm Labourers
John M'KEOWN, Armagh
Richard WHITE, Cavan
John BRAWLEY, Armagh
James PEACOCK, Armagh
Alex. CALDWELL, Antrim
John IRWIN, Armagh
Carpenters
Thomas M'KEOWN, Armagh
William SMITH, Cavan
Mason
John SLOAN, Tyrone
Bricklayer
Robert CROZIER, Fermanagh
Ploughmen
Thomas MORLAND, Down
Patrick MORLAND, Down
Single women Domestic Servants
Annie and Eliza Jane M'KEOWN, Armagh
Hannah STEVENSON and Jane M'MIN, Down
Mary WILLIAMSON, Cavan
Matilda BELL, Tyrone
Dairy woman
Eliza. RAINEY, Down
Jane FARQUAR, Cavan
Dressmaker
Isabella SMITH, Cavan
Jane WHITE, Cavan
Laundress
Isabella M'MIN, Down
Milliner
Mary Ann CROZIER, Fermanagh
23 Aug. 1865 per ship "Tudor", sailed from Gravesend June 10th
Arrival of the Tudor
The Rangitoto brought the tidings that a ship had been seen off Banks Peninsula; it proved to be the Tudor. The pilot boat started and boarded her off Pigeon Bay at 7.30 p.m. on Saturday and she arrived at Camp Bay on the same evening. Dr. DONALD went on board and determined to place the vessel in quarantine. The Tudor had a protracted voyage of 105 days, owing to light winds as far as the Cape of Good Hope. Stewart's Island was lighted on Wednesday last. The ship was released from quarantine yesterday by the Immigration Commissioners. Four deaths took place on the passage of children under four years of age. One case of small-pox occurred during the early part of the voyage. The passengers, 18 in number, in the cabin, amongst whom are Mr. and Mrs. WAITE, are in good health. Dr. MacDONALD, lately surgeon of the Blue Jacket, is the surgeon in charge.
Farm labourers
Thomas ADAMS and wife, Cavan
Francis KELLY wife and 4 children, Cavan
Single men
General Labourer
Robert BEATTIE, Antrim
Quarryman
John HAMILTON, Donegal
Blacksmiths
Patrick BUTLER, Antrim
Domestic Servants
Sarah BEATTIE, Antrim
Matilda STEELE, Londonderry
Lyttelton Times 25th July 1865 per the "Indian Empire"
farm labourer
Samuel MONCRIEFF and wife, Monaghan
Carpenters
Thomas BRIEN, Tyrone
Thomas HOLDEN, Monaghan
Farm Labourers
William MAGORY, Down
William MAGORY, Down
John BARR, Down
Labourers
William MATTHEWS, Down
George PURDIE, Down
Single women Dairy woman
Ellen Jane SMITH, Down
Domestic Servants
Mary Ann HALL, Cavan
Mary MATTHEWS, Down
Agnes MATTHEWS, Down
Mary IRWIN, Tyrone
Elizabeth MOORE, Tyrone
Milliners
Mary A TAAFFE, Londonderry
Bridget TAAFFE, Londonderry
Needlewomen
Anna PURDIE, Down
Margaret M'CONNELL, Antrim
24 Feb 1866 immigrants by the ship "Victory" sailed from London on the 16th Dec. 1865
Farm Labourers
James NICHOLL wife and child, Tyrone
David GREER and wife, ditto
Samuel McILROY, wife and 5 children, Down
John McKEE wife and 3 children; ditto
Single Farm Labourers
Thomas T. McKEE, Down
Hugh McCONKEY, Down
Robt. McCONKEY, ditto
Labourers
William John McCROY, Down
James McILROY, ditto
Robert LUNDEY, Down
William MILLIGAN, Antrim
Masons
John McCROY, Down
Single Domestic Servants
Elizabeth ROBINSON, Tyrone
Sarah LECKEY, Antrim
Bridget M'ELGUN, Cavan
Ann Jane DUFFY, Tyrone
Cooks
Annie M'MINNIS, Tyrone
13 Oct 1866 To arrive per ship "Blue Jacket" which sailed 14th July 1866
Yesterday, at 6 p.m., the Blue Jacket arrived from London, after a passage of 92 days. The ship anchored off Camp Bay at 5.30 p.m. The Health Officer, Dr, DONALD boarded the ship at 7 p.m. and very soon gave a clean bill of health. On inspecting the 'tween decks occupied by the single females, also the compartments of the married couples and single men they were found in excellent order, well ventilated and scrupulously clean. The passengers expressed their satisfaction with the provisions served out to them and the treatment they had met with from the Captain and Doctor, who received flattering testimonials signed by all the passengers, The following is an account of her voyage: She left Gravesend on July 15, at 3.30 a.m. weighed anchor and proceeded in tow of a steam tug, sailed through the Downs the same day at 4 p.m. 16th, discharged the pilot off the Isle of Wight, passed Start Point next day; 18th, latitude 47° 42′ N. longitude 8° 49′ W. signalled ship Star of Tasmania from London to Otago, another ship in company, supposed to be the Electra bound to Wellington; 19th saw the Star of Tasmania again, when they parted company, being on opposite tacks; 27th, passed Madeira to the westward; 31st, signalled the English ship Anna Cecilia, from London to Melbourne, 14 days out; had light north-east trades and lost them between the 12th and 13th degrees of north latitude and had little or no calms in the calm belts; August 16th. Crossed the equator in longitude 24° 60' W.; had good south-east trades
September 9th Passed the Meridan of the Cape of Good Hope, in latitude 43° 21′ south; passed north of the Crozet and Kerguelen Islands; had steady favourable winds from north to south-west and vice versa. 22nd, in latitude 48 0 40′ S., longitude 92 0 12′ E., encountered a heavy gale, commencing at north north-east, and blowing out at south-west, when the weather glasses fell to 28° 72′; on that occasion the Blue Jacket ran the extraordinary distance of 380 statute miles in 23 and a half hours. 25th – Passed the meridian of Cape Leuwin in latitude 48° 22′ south and a large iceberg same day, also several small pieces of detached ice. The berg was about 500 feet high, and from 2 1/2 to 3 miles in circuit. It was a very grand sight for those who had never seen anything like it before. Passed within 5 miles of it. 30th-Passed meridian of Port Phillip. October 6th-Passed Auckland Islands, wind north. Ran down easting in latitudes 47 and 48; since then, baffling winds and calms. Sighted Otago Heads on the 12th and desired to be reported all well. Had no sickness or death; one birth.
Families & children Farm Labourers
Barnard McNAMARA and wife, Down
Charles SiIMPSON and wife, Donegal
Single Gardeners
William CLELLAND, Down
Single women
Domestic Servants
Eliza BRADY, Down
Bridget LOUGHREY, Donegal
Catharine McCLURE, Donegal
Catharine HOUSTON, Donegal
Martha CAMMAE, Tyrone
Selina MAGOR, Down
Mary A CRAWFORD, Fermanagh
Eliza CRAWFORD, Fermanagh
Mary A CRAWFORD, Fermanagh
Dressmaker
Mary BURNS, Armagh
Embroideress
Fanny SiIMPSON, Down
23 May 1866 per ship "John Temperley" sailed March 10th
The ship "John Temperley" 976 tons, Ralph R. LIDDLE Lieut. R.N.R., commander, left the Downs on Tuesday, 13th March, and had strong gales for about a week after leaving; then had fine moderate weather till passing Madeira on 28th March; after which had steady N.E. trades to 4° N.; thence to the Equator had light variable winds; crossed the Equator on Thursday April 12th, 30 days from the Downs; got S.E. trades in 0° 30′ south, which were light and variable for the first 3 or 4 days; lost S.E. trades in 21° south; after which, had very variable winds till passing Tristran d'Acunha, on May 3rd. then had steadier winds; passed the meridian of the Cape on May 10th, 58 days from the Downs; after which had very variable winds, with an unusually low barometer, till within a week's sail from the Snares, the wind sometimes veering twice round the compass in 24 hours; made the Snares on Saturday last at daylight, the next day Sunday being off Otago; since then, been knocking about the coast, becalmed the greater part of the time. On the 27th and 28th ult., had a very heavy gale, beginning at N.E., and gradually veering to N.W.: lost several sails and part of the bulwarks, and had a boat stove. The whole of the passengers have enjoyed good health during the voyage. The vessel is consigned to Messrs. J. T. PEACOCK and Co.
Families & children
Farm Labourers
Daniel McVEIGH wife and 5 children, Antrim
Abraham GRIGG and wife, Down
Baker –
John SHIELDS and wife, Cavan
Single farm labourers – Ploughmen –
Bernard McGILL, Antrim
Single labourers –
Joseph SHIELDS, Cavan
James GRANT, Armagh
Robert DALZELL, Down
Single Carpenter-
Daniel McVEIGH, Antrim
Single Baker
Joseph LEATHEM, Down
Single Domestic Servants
Catharine M'VEIGH, Antrim
Elizabeth McVEIGH, Antrim
Sarah McVEIGH, Antrim
Catherine McANULLY, Tyrone
Ann DONNELLY, Tyrone
Ellen GOUGH, Tyrone
Mary GOUGH, Tyrone
Eliza KINLEY, Down
Lizzie McCANN, Down
Elizabeth THOMPSON, Down
Ellen GERNER, Antrim
Janet GERNER, Antrim
Anne FARR, Antrim
Elizabeth WHITTEN, Armagh
Susannah FALLOON, Antrim
Elizabeth SMYTH, Antrim
Eliza GILBERT, Antrim
Catherine McGILL, Antrim
10 Aug. 1866 per ship "Bombay", sailed May 4th 1866
This vessel arrived off Camp Bay on Saturday evening after a voyage of 107 days from London. This is accounted for by meeting with a succession of head winds and calms, crossing the line on the 45 day out. On Sunday morning the ship was moved from Camp Bay to her present, anchorage off Diamond Harbour. Capt. SELLARS has furnished our reporter with the following particulars of the voyage;
Left Gravesend May 6,1806; weighed anchor and proceeded on our voyage with a fresh S.W, breeze, and cloudy weather; went outside of the Goodwin Sands, where we found a short chopping sea. May 8th Still turning down channel against light winds, discharged the pilot at 8 p.m. off the Owens light vessel and proceeded; 12th, strong westerly gales, took our departure from the Start Point; 14th, westerly winds still continue; got clear out of the channel: 16th, infant child of Mr. Sydney SMITH died of dysentery and was buried same day; 28th, passed east of the Island of Madeira without seeing it and we have been very unfortunate, having had only one day's fair wind since leaving Gravesend; 30th, in latitude 30° 4′ N., long., 18° 10′ W. spoke tho ship Cursitjee Furrondjee, from Liverpool to Calcutta, only 12 days out, and we are 26 days, they having had N. Westerly winds all the way; 31, Got N.E. trades in 27° 50′ N. long., 19° 50′ W. which continued until the 10th of June; very light and variable throughout.
June 15 – Crossed the equator in 27° 50′ W. having got through the Doldrums pretty well, and without any very hot disagreeable weather, or calms, wind proving southeasterly and light, got the S.E. trades same day, which carried us into 21° 18′ lat., and 35° 9′ long., they proving very light, from thence up to the meridian of Greenwich, had very indifferent winds making little progress. June 27th – Got caught in a heavy squall which carried away mizen top mast and top gallant mast. June 30th – Got up new mizen top mast and yard, sail bent and set. July 5th – Main top sail tie broke when the yard broke in two. On the 11th – Got up top sail yard, bent and set sail again. From meridian of Greenwich to the Cape, which was passed on the 10th in 43 1/2° south; we have had moderate breezes, but from thence up to Tasmania a great deal of light and very variable winds, indeed since leaving the S.E. trades we have never had a steady wind for 12 hours together; 16th – Got up mizen top gallant mast and yard and set sail. 21st – Had a severe gale with furious squalls, wind varying from north to W.S.W. and back, causing a heavy cross, confused sea: ship taking a good deal of water on board; one sea carried away part of bulwarks and stove in main hatch; a large quantity of water got down below, frightening the passengers greatly; 25th – Had another gale similar to the above; sea high and cross; ship rolling heavily, at times taking much heavy water on board, quantities of which got down below in spite of all attempts to stop it; Aug. 5 – Had another heavy gale; indeed it has been gale, calm, gale, calm, rolling continually round, flying about round the compass for this last month, From August 5th – had light variable winds making poor progress. On the 11th and 12th – Had S.E. gale and on the 13th, a calm until sighting the Snares on the 15th, having nothing but baffling winds and calms coming along the coast till Friday morning, got a strong breeze from S W which lasted till the ship got round the Peninsula; was off the Heads on Saturday morning and anchored as above.
The passengers generally are in the enjoyment of good health, and speak kindly of the Captain and his officers and also of Dr. BATT the Surgeon Superintendent, for their unremitting attention to promote the comfort of all on board. The ship is a pattern of cleanliness, and the class of immigrants appear to be well suited to our growing wants. Mr. J. D. MacPHERSON is the agent for the Bombay.
Farm Labourer
Robert TUBINAN (TUBMAN?) wife and 3 children, Fermanagh
General Labourers
Walter McCLINTLOCK wife & 3 children, Donegal
Single Farm Labourers
Hamilton GIBSON, Down
Thomas FITZPATRICK, Tyrone
Alexander GILLESPIE, Derry
Andrew GALBRAITH, Donegal
Single General Labourers
Alexander McCLINTOCK, Donegal
William John HOBISON, Antrim
Robert GILLESPIE, Derry
Shoemaker
Henry ANDERSON Tyrone
Single Domestic Servants
Mary M'KEE, Antrim
Margaret TODD, Antrim
Susannah M'CLOY, Antrim
Rose FITZPATRICK, Tyrone
Martha ANDERSON, Tyrone
Isabella BROWN, Tyrone
Isabella MARSHALL, Tyrone
Mary BALMER, Down
Isabella DUNLOP, Down
Martha DUNLOP, Down
Margaret GOLDE, Down
Margaret A. MURLAND, Down
Flora THOMPSON, Down
Anne GOUGH, Tyrone
Nancy DEMPSEY, Antrim
Mary McGUIRE, Cavan
Alice HANNA, Fermanagh
Isabella HANNA, Fermanagh
Mary PRICE, Fermanagh
Elizabeth HAMILTON, Donegal
Catherine BOYLE, Donegal
Anne WILKIE, Donegal
Cooks
Jane GALBRAITH, Donegal
Jane WILKIE, Donegal
Nurses
Mary McCLINTOCK, Donegal
Margaret GALBRAITH, Donegal
Dressmakers
Annie NULTY, Cavan
30 Nov 1866 per Ship "Mermaid", sailed September 15th 1866
Families & children labourers
Thomas McFADDEN and wife, Cavan
Single men
Farm Labourer
William McCAN, Down
Labourers
William McCONNELL, Down
Patrick COLL, Donegal
John COLL, Donegal
William IRWIN, Tyrone
Single Women
Domestic Servants
Jane IRWIN, Tyrone
Elizabeth WHITTEN, Armagh
Catherine McCLEERY, Armagh
Mary L. MATHEWS, Tyrone
Mary A. RICHEY, Londonderry
Isabella BARR, Londonderry
Rose DOHERTY, Donegal
Barbara SCANLAN, Donegel
Anne SCANLAN, Donegal
Mary SCANLAN, Donegal
Dairywomen
Mary Ann FEE, Down
Maria FEE, Down
Eliza J. MATHEWS, Tyrone
Margaret DEYELL, Cavan
Anne J. DEYELL, Cavan
Dressmaker
Jane FEE, Down
Milliners
Ellen STEELE, Londonderry
Nurse
Margaret M'CONNELL and 7 children, Down
Lyttelton Times 28 Jan 1867 per ship "Himalaya"
Farm Labourers
Hamilton SMITH wife and 3 children, Down
Labourer
John DEWSBURY wife, and 4 children, Armagh
Single men
Farm labourers
Thomas MOFFIT, Down
Single women
Domestic Servants
Ellen DALTON, Down
Elizabeth HILLS, Antrim
Catherine WARD, Antrim
Sarah E JOHNSTON, Tyrone
Jemima COOK, Tyrone
Margaret MOFFET, Down
Jane, Elizabeth, and Amelia SARGENT, Cavan
Cooks
Rebecca JOHNSTON, Tyrone
Dairy Women
Jane Rose Smith, DOWN
Jane M'JURY, Down
Laundress
Margaret McSWEENEY and 6 children, Armagh
20 June 1867 per ship "Lincoln" sailed February 15th 1867
Families and children
Shoemaker
Hugh HOLLAND and wife, Londonderry
Single men
Farm Labourers
Samuel REID, Down
Thomas McCAFFERTY, Donegal
Labourers
Moses WHITE, Fermanagh
James HATTON, Antrim
Carpenter
William WHIT,E Fermanagh
Single women
Domestic Servants
Margaret HOLLAND, Londonderry
Elizabeth HOLLAND, Londonderry
Eliza WHITE, Fermanagh
Mary A. CLINGAN, Fermanagh
Ellen VERNER, Down
Martha VERNER, Down
Mary A. ANDERSON, Monaghan
Prudentia ANDERSON, Monaghan
Rebecca KENNEDY, Donegal
Bridget MANON, Monaghan
Margaret MANON, Monaghan
Mary MANON, Monaghan
Bridget MANON, Monaghan
Housekeeper
Isabella GRAHAM, Fermanagh
30 July 1867 per "Lancashire Witch" sailed April 2nd 1867
Families & children labourers
Thomas HENDERSON wife and 3 children, Armagh
Single Labourers
William WALKER, Londonderry
Robert WELL, Londonderry
Single women
Domestic Servants
Mary Jane WALLS, Londonderry
Catherine GILCHRIST, Donegal
Rachel FRIZELL (or TRIZELL), Tyrone
Jane BOYD, Tyrone
Hannah M. WRIGHT, Armagh
Annie BENNETT, Down
Ann KELSO, Down
24 Oct 1867 per "Glenmark" sailed 18th August 1867
This ship arrived at the anchorage opposite the town yesterday, at noon, after a very pleasant passage of 80 days from Plymouth to sighting the Snares. She left the East India Docks on the 15th August; sailed from Gravesend on the 18th, and left the Downs on the 20th; the pilot left the ship off the Start on the 25th; passed the Lizard on the 26th, and after a good run, passed Madeira on the 3rd Sept; the Canaries on the 4th and Cape de Verds on the 10th.
The Equator was crossed on the 27th and Trinidad was sighted on the 29th. On the 4th October, a lady saloon passenger named Mr BARNARD died: the Meridian of the Cape was passed on the 14th October, and the run to the Snares was accomplished in 28 days. The land was made on Sunday the 10th inst. and on coming up the coast the. passage was made under a succession of head winds, accompanied by heavy showers of rain. Capt. WRANKMORE has reason to be pleased with his favourable voyage.
From the saloon to the fore-cabin, all the passengers express their satisfaction at the efforts made by the Captain and his officers to ensure their comfort. With the exception of the death of one of the saloon passengers every one has arrived in excellent health. Dr MITCHELL, a gentleman well known in this trade, is the surgeon superintendent in charge of the Government Immigrants, comprising about 125 statute adults- mostly young females of a superior class. By this vessel it will be seen by reference to the passenger-list that some of our old colonists have returned, including Mr and Mrs Mark STODDART and family, Miss SKILLICORN, and Mrs C. THOMSON, and others. The Glenmark is consigned to Messrs. Miles and Co, and may be expected to be the 3rd wool ship this season.
The following testimonial was presented to Capt. WRANKMORE by the saloon passengers:
The Ship Glenmark, Nov. 12th 1867
Dear Sir
We the undersigned cabin passengers, being on the eve of terminating a most successful and rapid passage from England, wish to convey to you our thanks and to express our thorough appreciation of your universal kindness, courtesy, liberality, and desire to promote the happiness and comfort of all under your charge, and to bear testimony to your excellent qualities as a commander and gentleman in this most responsible position.
We also desire to state our entire satisfaction at the capital fare provided and all arrangements of the department, We beg that you will express to your officers and crew our sincere thanks for their uniform kindness and attention and, in conclusion, we can but wish you every success on your return and assure you that you will carry our best hopes for your future happiness.
We have the honour to be, dear sir, yours faithfully
Mark P. STODDART, Mrs STODDART, Mrs Chas. THOMSON, Mrs G. JONES, the Misses L. and A. JONES, SKILLICORN, Mrs W. B. E. BROWN, Miss BROWN, W. HUTCHISON, William MINCHIN, F. S. MARTIN, Richd. H. DAVIE, James A. HENDERSON, Thomas MOORE, T. H. LLOYD, W. A. STACK.
Single men
Ploughmen
James BROWN, Tyrone
Shoemaker
Henry FERGUSON, Cavan
Single women
Domestic Servants
Mary FALLON, Monaghan
Mary BOYD, Antrim
Mary BLAIR, Londonderry
Annie CONNOR, Antrim
Jane HAMILTON, Tyrone
Sarah REID, Londonderry
Margaret WARD, Antrim
Jane Ann WOOD, Tyrone
Margaret WOOD, Tyrone
Margaret JOHNSTON, Ireland ?
Dairy women
Emily FLEMING, Armagh
Caroline FLEMING, Armagh
27 Dec 1867 per ship "Mermaid" sailed October 5th 1867.
Farm Labourer
Samuel FORBES and wife, Antrim
Single men
Labourers
Patrick McCLOY, Antrim
Single women
Domestic Servants
Mary Ann McCLOY, Antrim
Catherine McCLOY, Antrim
Margaret CUNNING, Londonderry
Ellen McCANN, Londonderry
Martha ARMSTRONG, Down
Eliza CREERY, Down
Margaret PROCTOR, Armagh
Rachel J. PROCTOR, Armagh
Eliza NEAWELL, Londonderry
Margaret Ann NEAWELL, Londonderry
Agnes LOGAN, Donegal
Sarah LOGAN, Donegal
per ship "Gainsborough", sailed January 25th 1868
Farm Labourers
William ANDERSON and wife, Monaghan
Single men
Farm Labourers
John McDOWELL, Cavan
Thomas McDOWELL, Cavan
William McDOWELL, Cavan
Single women
Domestic Servants
Elizabeth WELLS, Derry
Cathe. ARMSTRONG, Tyrone
Eliza MOFFITT, Down
Mary GILBERT, Antrim
Cooks
Mary J. MILLS, Monaghan
Matron
Matilda KELLY, Cavan
Lyttelton Times 28 July 1868 per ship "Light Brigade", sailed 19th May 1868
Farm Labourers
Charles CAMPBELL and wife, Tyrone
Alexander ROUNTREE wife and 2 children, Cavan
Single men
Labourers
Beriah ROBINSON, Antrim
Beriah ROBINSON, Antrim
William ROBINSON, Antrim
Single women
Domestic servants
Jemima ROBINSON, Tyrone
Charlotte ROBINSON, Tyrone
Sarah ROBINSON, Tyrone
Ellen CROSSAN, Down
Agnes CROSSAN Down
Margaret MOFFATT Down
Eliza ATKINSON, Down
Elizabeth HEWITT, Armagh
Anne E. STOTHERS, Armagh
Mary Ann KEATING, Antrim
Ann M'CARDY, Antrim
Jane MOORE, Antrim
Agnes BAIRD, Antrim
Margt. CRAWFORD, Tyrone
Margt. KILLEN, Tyrone
Eliza M'CAUSLAND, Tyrone
Eliza SOMERVILLE, Tyrone
Ann SOMERVILLE, Tyrone
Mary J, GORDON, Tyrone
Mary A, STEWART, Tyrone
Sarah STEWART, Tyrone
Jane M'FADDEN, Cavan
Ann SWEENY, Donegal
Dressmaker
Mary CURRY, Armagh
9 Dec 1868 per ship "Mermaid", sailed 5th October 1868
Farm Laborers
Samuel CLARKE wife and child, Tyrone
Charles LOCKHART and wife, Down.
Single men
Farm laborers
Robert WALLACE, Tyrone
John PHILLIPS, Antrim
Robert HENRY, Tyrone
James HOLLAND, Down
Ploughmen
Jamee STEELE, Londonderry
Thomas McGUIRE, Fermanagh
Robert HASTY, Antrim
Single women
Domestic servants
Mary J. WALLACE, Tyrone
Isabella WALLACE, do
Mary CHERRY, Down
Susan HEYLAND, do
Mary J. HAMILTON, do
Mary JOHNSTON, Antrim
Louisa E. KAY, do
Charlotte E. KAY, do
Martha CLARKE, Tyrone
Margaret A. CLARKE, do
Catherine CLARKE, do
Anna McDOUGALL, Antrim
Mary J. WOODS, Tyrone
Mary PARKER, Donegal
Elizabeth McDERMOTT, do
Hester HENRY, Tyrone
Eliza J. MULLIN, Tyrone
Jane McELROY, do
Margaret McELROY, do
Mary Ann McMAHON, Fermanagh
Isabel DOHERTY, Donegal
Jane RAMSAY, Antrim
Dorothea NEILL, do
Mary LONEY, Armagh
Dairy Women
Isabella McCARTER, Tyrone
Cooks
Jane McMAHON, Fermanagh
4 Feb. 1869 per ship "Matoaka" which sailed from London for Lyttelton on Nov. 12th 1868
Ploughman
James DENISTON wife and 4children, Tyrone
Single men
Farm Labourers
John GROWER, Fermanagh
Samuel J GALLAGHER, Donegal
John Thomas GALLAGHER, Donegal
Alex. GALLAGHER, Donegal
Charles ROBINSON, Tyrone
John HAMILTON, Antrim
Michael WILSON, Down
Alexander GIBSON, Down
Hans GILMORE, Down
Robert TODD, Antrim
Alex. GILLESPIE, Londonderry
James GILLESPIE, Londonderry
William McCONNELL, Donegal
Ploughmen
Hugh BALLAGH, Down
John MATTHEWS, Tyrone
Henry MATTHEWS, Tyrone
Henry BLACKBURN, Donegal
John GARLAND, Donegal
John McCANN, Down
Single women
General servants
Susan TAYLOR, Fermanagh
Jane BALLAGH, Down
Mary GALLAGHER, Donegal
Mary HAMILTON, Antrim
Eliza GILLESPIE, Londonderry
Jane GILLESPIE, do
Eliza MAGILL, Antrim
Annie WILSON, Antrim, Down?
Sarah BRADY, Down
Catherine MAGUIRE, Fermanagh
Sarah McCORMICK, Down
Ann MONAGHAN, Tyrone
Margaret BONNER, Donegal
Margaret McCONNELL, Donegal
Cooks
Mary C. HILL, Down
Jane DONAGH, Antrim
Dairy Women
Maggy HIGGINS, Londonderry
Margaret MARK, Antrim
Sarah REID, Londonderry
Grace LOWRY, Down
Martha McCLOY, Antrim
Lyttelton Times 16th Sept. 1869 per ship "Hydaspes"
Arrival of the ship "Hydaspes"
Captain BABOT has furnished the following report: Left Gravesend on the 3rd July at 6 p.m.; parted with the pilot off the Isle of Wight at noon on the 6th, wind westerly with dense fog; turned down Channel, and on the 8th, at 6 p.m. the last English land, the Scilly Islands, was seen, bearing north, 26 miles; on the 9th, signalled the ship Robert Henderson, from London to Otago; remained in company up to the evening of the 11th, when the wind freshening we gave her the go-by. From this time, we experienced light and variable winds. In latitude 32 N. we fell in with the N.B. trades, which were very light and were lost in latitude 14 N. From this up to 1 N we had light and variable winds when the S.E. trade winds set in. On July 21 signalled the barque Stormy Petrel, from Rangoon, bound north; on the 25th signalled the barque Akbar, from Liverpool, bound to Buenos Ayres. The captain being sick, Dr FOX volunteered to go on board and on his return, sent medicine back. On the 30th exchanged signals with the Maori, from Auckland to London.
On Aug. 2nd lat. 6 N., long. 20 W" signalled and passed the ship Brockham from London to Melbourne. On Aug. 4, signalled and passed the barque Safeguard from New York, bound to Madras. On Aug. 5 crossed the equator in 20 W longitude; same day signalled the ship Asealon, from London to Sydney. The S.E. Trades were brisk, but lost in 30 S. latitude. On the 17th exchanged signals with the City of Agra, bound to Calcutta, On Aug. 30th passed the meridian of Cape of Good Hope, in latitude 43.30 S. The longitude was run down between the parallels of 42 and 45 S..
Strong gales and high seas and very unsettled weather were experienced in running down the easting. The largest day's run was 331 miles; for 7 days the ship made over 300 miles in the day; 1900 miles were made in one week. On Sept. 24 passed the meridian of Tasmania. On Sept. 27, at 2 p.m., sighted the Snares, blowing a heavy S.W. gale with high sea. On Sept. 28, at noon, was off Otago Heads, S.W. gale increasing; at midnight was off Banks Peninsula. Captain SPROUL, pilot, came on board at 11 o'clock on the 29th Sept. and we anchored off Port Levy. The Hydaspes has made a fine passage, the run from the Line being especially noteworthy.
Ploughmen
John O'DONNELL wife and 3 children, Donegal
Singlemen
Ploughman
James GALLAGHER, Donegal
Thomas BOYD, Donegal
Patrick GALLAGHER, Donegal
William M'CAUSLAND, Tyrone
James JOHNSTON, Tyrone
Farm Labourers
Henry MULLIER, Tyrone
Michael MULLIER, Tyrone
Single women
General Servants
Bridget MULLIN, Mary Ann MULLIN, Jessie MASON, Tyrone;
Elizabeth WILSON, Armagh
Mary DONNELLY, Tyrone
Mary McSURGAN, Tyrone
Catherine GALLAGHER, Donegal
Letitia CALDWELL, Margaret CALDWELL, Tyrone
Susanna GOOLD, Down
Unspecified
Bridget MULLIN, Tyrone
31 May 1873 Free and assisted Emigration To New Zealand,
Free and assisted passages are granted by the Government of New Zealand, as under;
To Married Agricultural Labourers, Navvies, Ploughmen, Shepherds, and a few Country Mechanics, on their giving a promissory note for £10, payable in the Colony by instalments; or by paying £5 in cash.
Free Passages are given to Single Female Domestic Servants.
Daughters and sons of twelve years of age and upwards, and going out with their parents, are taken, the former free of charge, and the latter on payment of £4 in cash, or on giving a promissory note for £6.
Single men are taken on payment (before sailing) of the sum of 8£, or on payment of £4 in cash, and giving a promissory note.
For terms and conditions apply personally, or by letter, to the Agent General for New Zealand, 7, Westminster Chambers, London, S.W.; or, R. T. TURBITT, Emigration Office, Strabane, County Tyrone. London March 17th 1872
(Coleraine Chronicle)
Extracted transcribed and compiled by Teena